It's officially summer, which means; cold drink season! I recently go to review the Hamilton Beach Professional Quiet Blender, and I've been testing different recipes. Smoothies, Slushies and I even made my famous Haitian epise using it. By far my favorite thing to make using it is my fizzy strawberry Daiquiri Mocktail. It literally takes two ingredients – 3 if you count the ice! It's so refreshing and easy to make that I just HAD to share the recipe with you guys.
Fizzy Strawberry Daiquiri Mocktail Recipe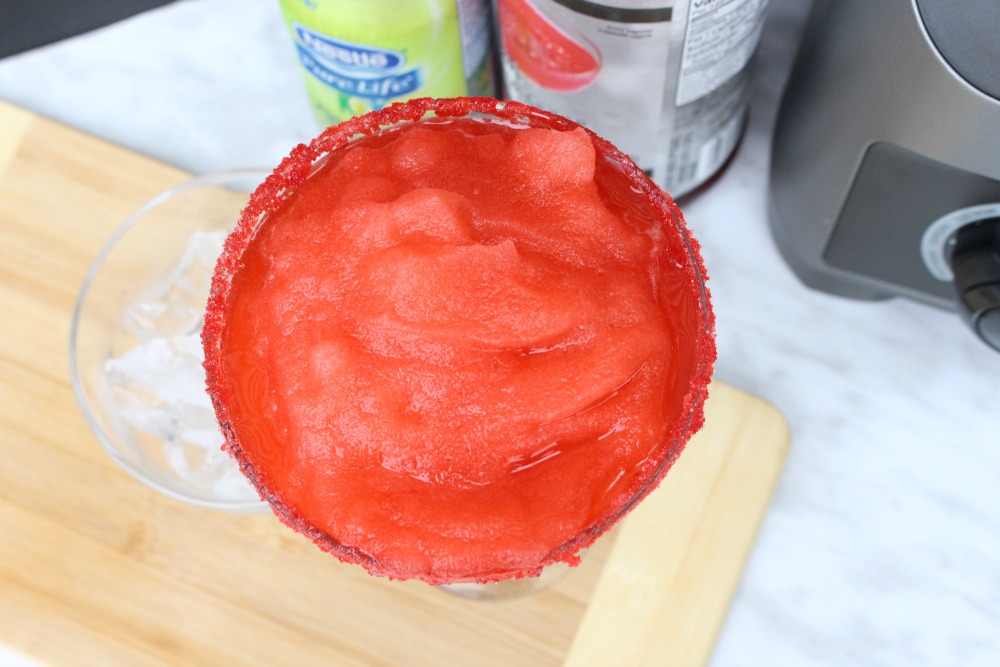 *I received a PR sample of the Hamilton Beach Professional Quiet Blender for review purposes. This post may contain affiliate links*.
This Fizzy Strawberry Daiquiri Mocktail doesn't require a lot of ingredients. I used the Hamilton Beach Professional Quiet Blender and had a batch of this deliciousness ready in just a few minutes. The blender is pretty high-end and comes with a 5 Year Limited Warranty. The blender comes with four program settings, and it's incredibly easy to clean.
To create this Fizzy Strawberry Daiquiri Mocktail you will need:
12 oz of Strawberry Daiquiri Mr & Mrs. T's Drink Mix
One can of Nestle Pure Life Sparkling Water (or any  other bubbly water you prefer)
5 cups of Ice
Colorful Sugar for the rim (mix some sugar with two drops of red food coloring mix well)
Serves about 3-4
Directions
Pour the ice and the Daiquiri mixture into the blender. Turn the mixer on to the "crush" setting for 1-2 minutes or until ice and mixture are completely smooth. Pour the everything into a large pitcher and top with the sparkling water. Stir well and serve in drinking glasses (with colorful sugared rims).  You can also top your glass up with some lime wedges for presentation.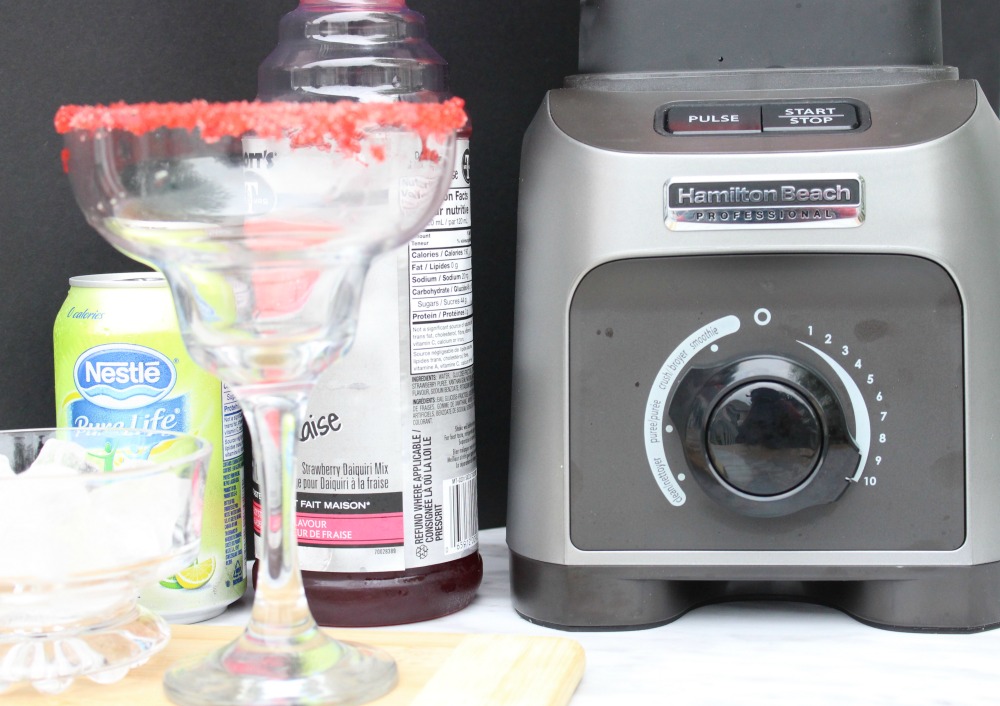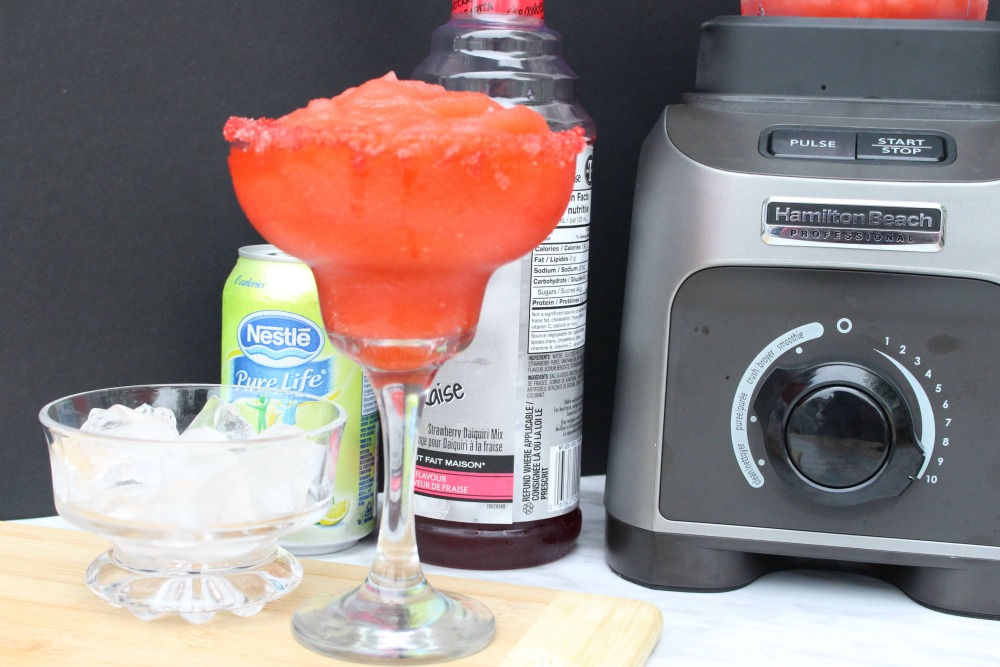 [Tweet "Use the @HamiltonBeachCA Professional Quiet Blender to create this fizzy cold drink #recipe"]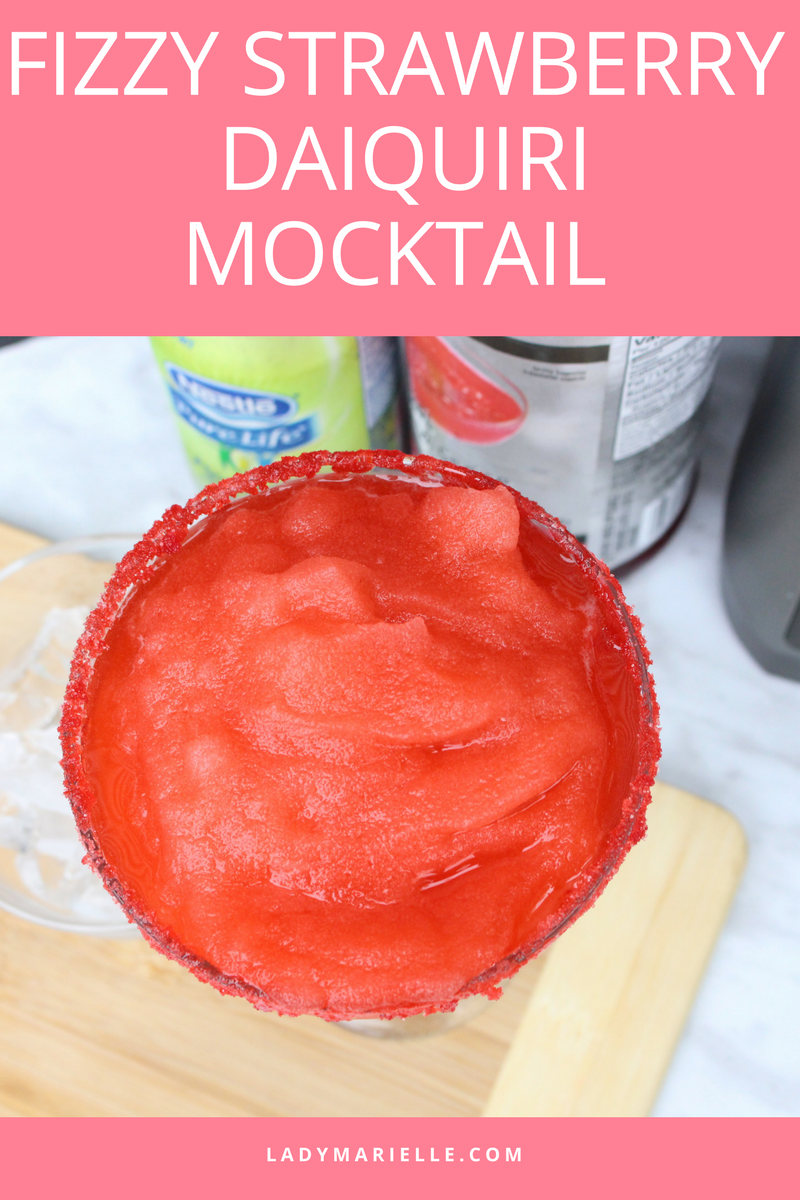 You can purchase the same blender that I use on the Hamilton Beach website or Amazon (my affiliate link).
This recipe is a new favorite, and I hope you will give it a try. What's your favorite summer drink?
Want more simple recipes?  Be sure to subscribe to my blog for an update of when a new post is live!
Let's connect!