As I am writing this, my phone is on my desk, and it won't power on anymore. I've gone through the 7 stages of grief, and now I'm at "acceptance/hope".  Since starting my monster Chronicle series a couple of years ago, I have learned two things. The first thing is; expect the unexpected. The second thing that I learn is; even when you expect the unexpected, you will get unpleasant surprises.  My phone dying came at a bad timing but honestly, it was bound to happen. Today's post is all about unexpected expenses and 2 ways to plan for them.
Unexpected Expenses + 2 Ways To Plan For Them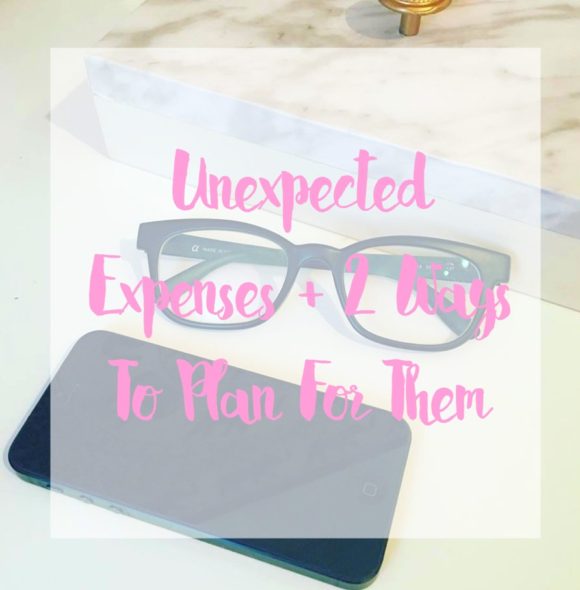 Have a "just in case" saving account
A couple of years ago I had an issue with my iPhone. It was HUGE; I even wrote a post about it here. As I was venting to my friend/mentor, he asked if I had a "just in case" saving the account. He told me to open a free (no fee) checking account with Tangerine (Formerly known as ING at the time). I already had an account but wasn't using it. He said I should set up a pre-authorized payment for 10-20$ monthly to go into my account. I started this about two years ago. That savings account has been useful for times when I faced unexpected expenses.
Tip: Have the amount set to go automatically into your saving account. That way, you don't have to remember to do it.
Have a backup plan
Let's face it; we rely on our electronics a lot. For example, I use my phone for everything. My cell phone is our primary house phone. I also use it for my online banking and as an alarm clock. Not only that, but I use my phone a lot for blogging and taking pictures. It would have been nice to have an old phone that could have held me off for a couple of weeks. Sadly, I didn't. Don't be like me! Having a backup plan will ensure you are not scrambling all over the place and paying even more than you anticipate.  Having a backup plan will allow you time to shop around.
In conclusion
My unexpected expense is my phone suddenly dying one me. I didn't have a backup plan, but thankfully, I did have a "just in case" savings account. Sure, I would have rather spend that money on something else (like a DSLR camera* I've been drooling over for months!!), but knowing that I had that little bit of cash helped with my decision to get a new phone.
Life is all about the unexpected. Do what you can to plan for the things that you have some control over. I mentioned opening a savings account with Tangerine. Please note, I am not being compensated nor sponsored for this post. You can open a free account with them too. If you do, please use my orange key (17427338S1)  so that I can get a referral credit. For a limited time, you can earn 50$ (regular referral bonus is 25$) check their website for details.
Tell me, what are some ways you can plan for the unexpected expenses in your life? I love to hear from you.
Subscribe to my blog for updates on my phone situation. You can also follow me on Instagram and Facebook.