Jazzy has always been my sweet little helper. Last year she turned 3, and her love for helping her mama hasn't changed one bit. I'm pretty sure she thinks that chores are all fun and games. I'm not going to tell her otherwise lol. Today I'm sharing some easy toddler chores that your little helper will enjoy along with my review on the LG QuadWash Steam Dishwasher.
Easy Toddler Chores | LG QuadWash Steam Dishwasher Review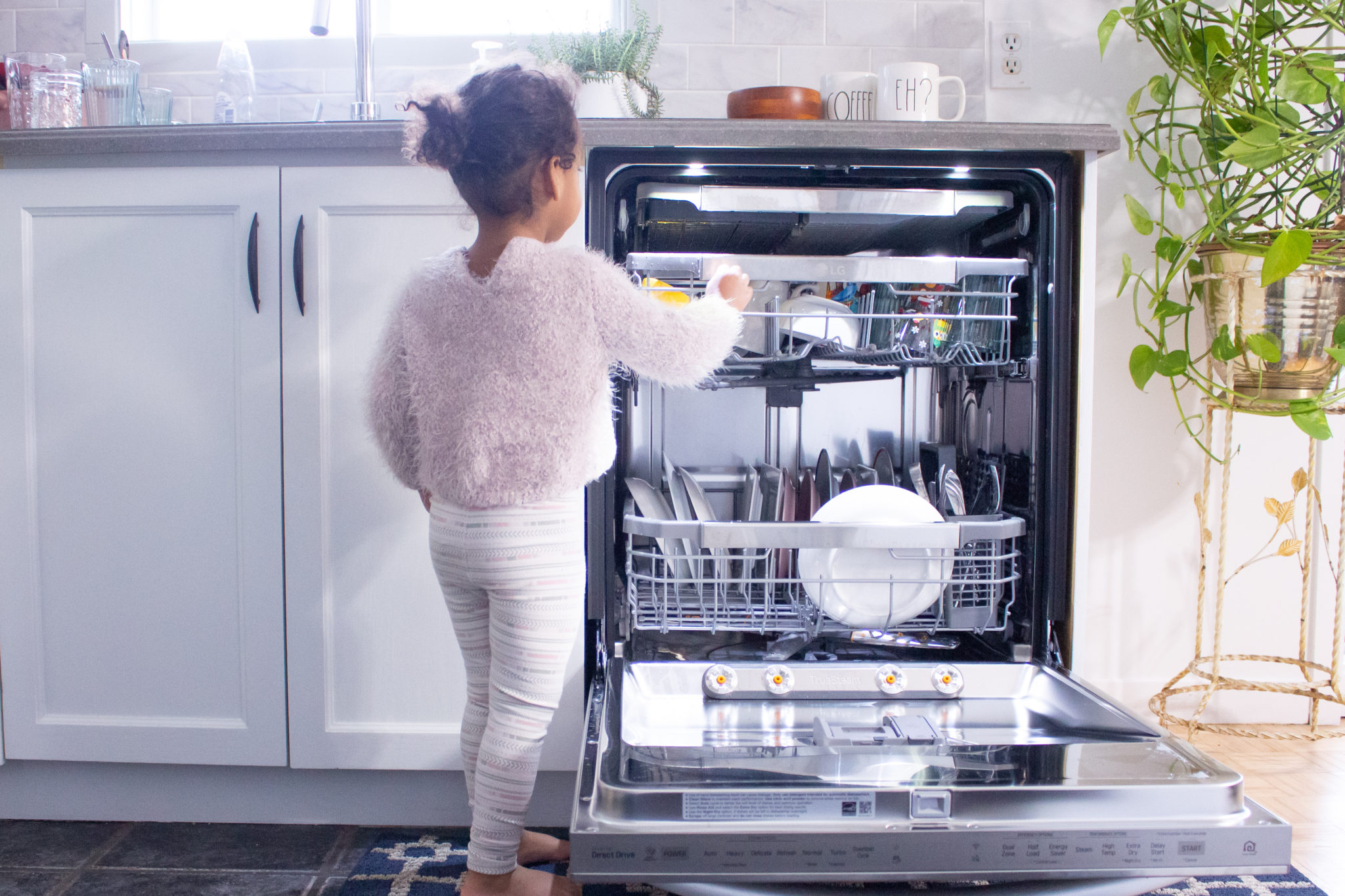 This blog is sponsored by LG. The opinions I have expressed are my own
Everyone in the house has a set of chores or things they are in charge of doing. My son and his dad are in charge of the garbage and the yard work. I'm in charge of the laundry (only because I don't want Demo mixing my whites with his black socks) and most of the house cleaning. Ever since Jazzy was a tiny tot, she would see me wipe down the fridge and the counter, and she would follow me around and try to do as I did. When it comes to toddler chores, keep in mind that you will more than likely have to go back and finish the work. So choose tasks that are simple, and that won't end up giving you extra work in the process lol. Below are some of the chores that she helps with that are easy for toddlers.
Easy Toddler Chores
Help to set the table

Pick up the toys

Help sort the recycling

Water the plants

Help sort the dirty clothes for laundry

Help sort the clean clothes for folding

Pick up dead branches and

rake leaves

Help with loading and unloading the dishwasher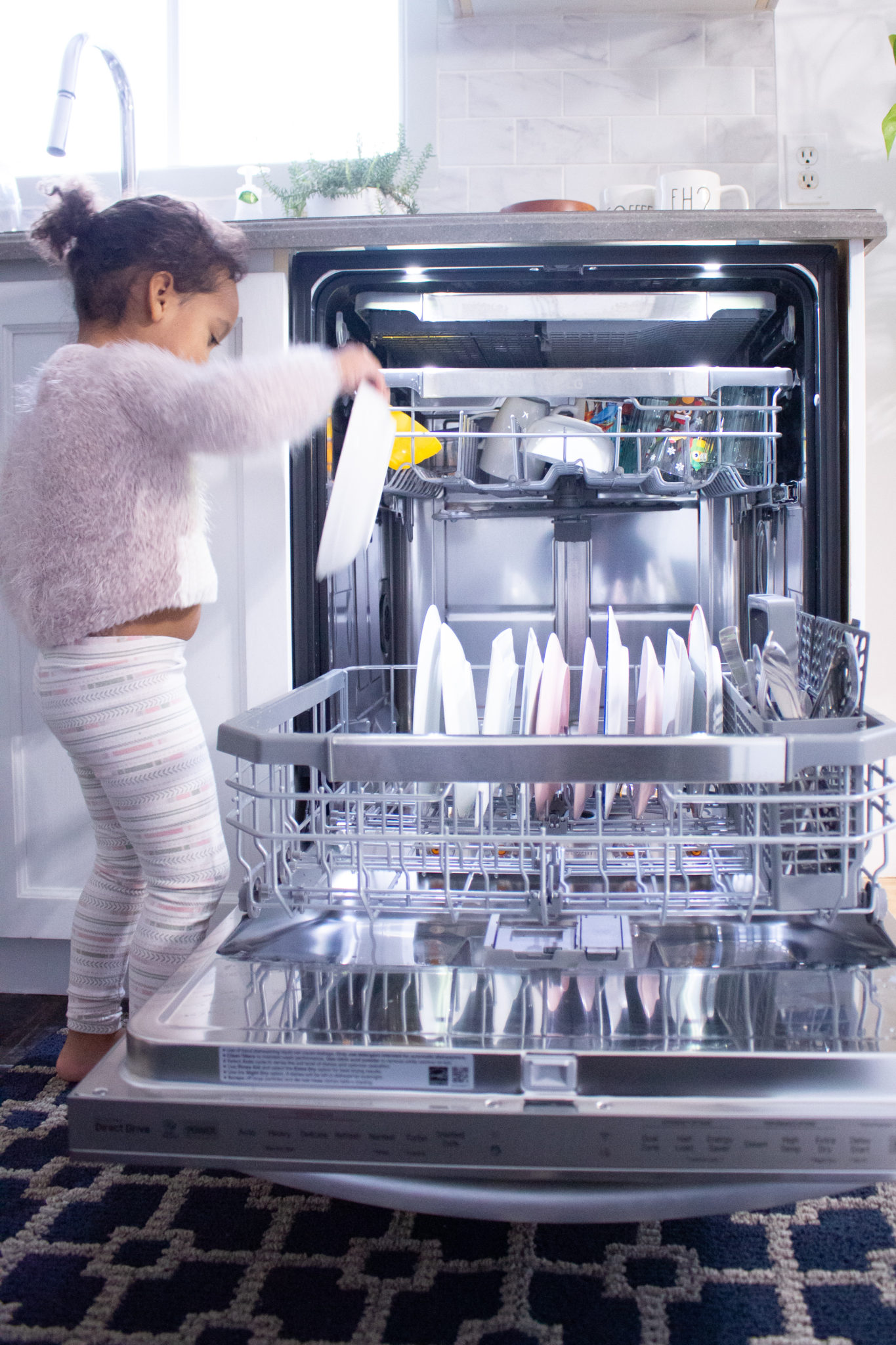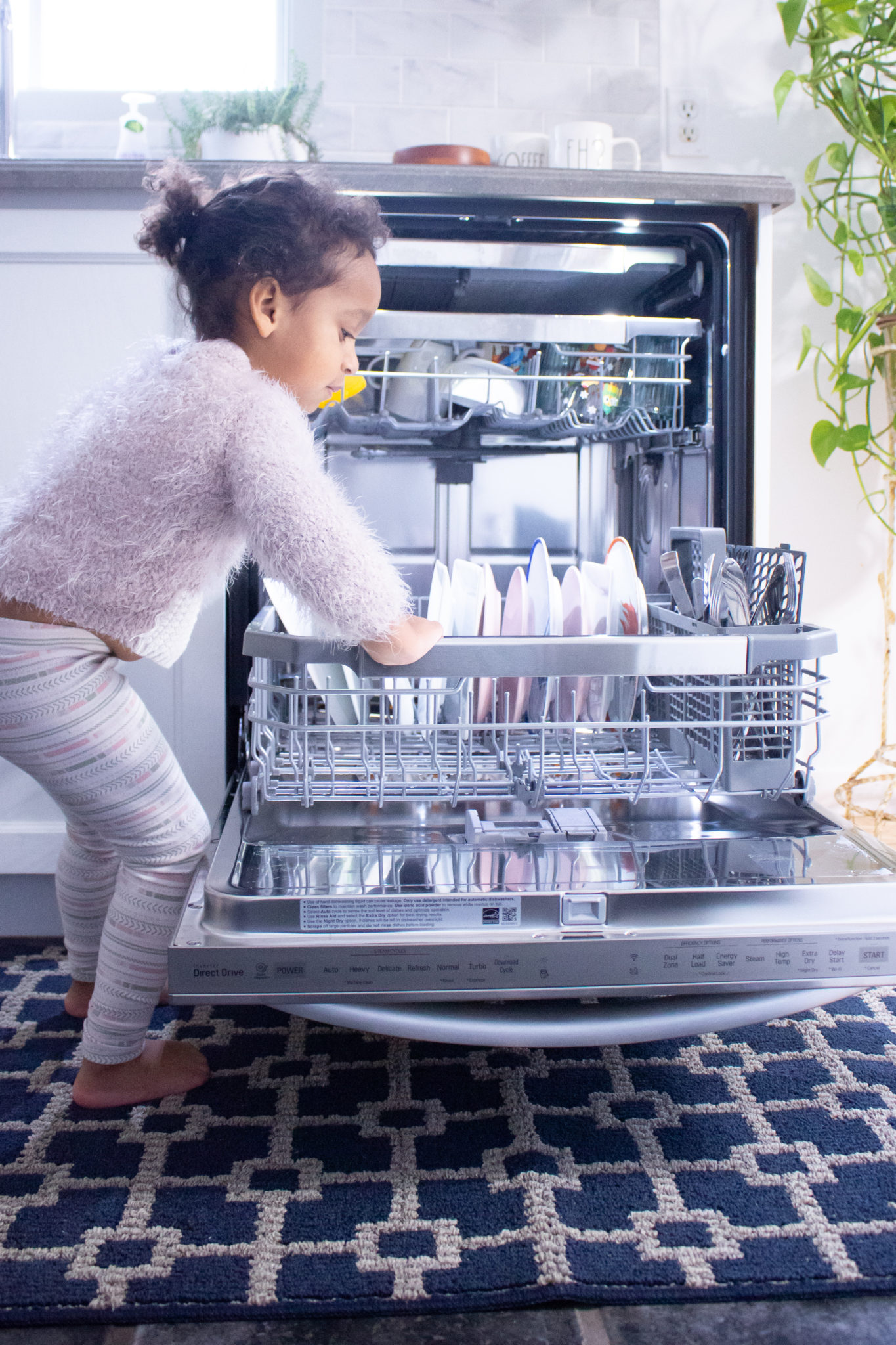 She recently started asking to be in charge of sweeping the floor which is the cutest thing to watch. Two of her favorites are setting the table and loading/unloading the dishwasher. Now thanks to the new LG QuadWash Steam Dishwasher, loading and unloading it has gotten easier for both mommy and toddler.
About the LG QuadWash Steam Dishwasher
The LG QuadWash™ dishwasher gives you maximum cleaning coverage, outstanding flexibility, and the ultimate in convenience. QuadWash™ technology uses four spray arms instead of just two, as well as Multi-Motion action and high-pressure jets to power-clean dishes and reach every nook and cranny.
The I've been using the LG QuadWash™ for a couple of weeks and I'm so impressed with it. Below are some of the features that make this dishwasher one of the best in the market.
EasyRackTM Plus
With a family of 4 and weekly dinners with Grandma "with the white hair" and uncle Rene, we do a LOT of dishes. With our old dishwasher, we'd always run out of space and end up washing the remaining dishes by hand. The LG QuadWash™ has enough room for up to 15 place settings of dishes. It also has a third rack that is adjustable. So let's say one day you made soup for dinner and need space for bowls, then you can move the folding tines to fit the bowls.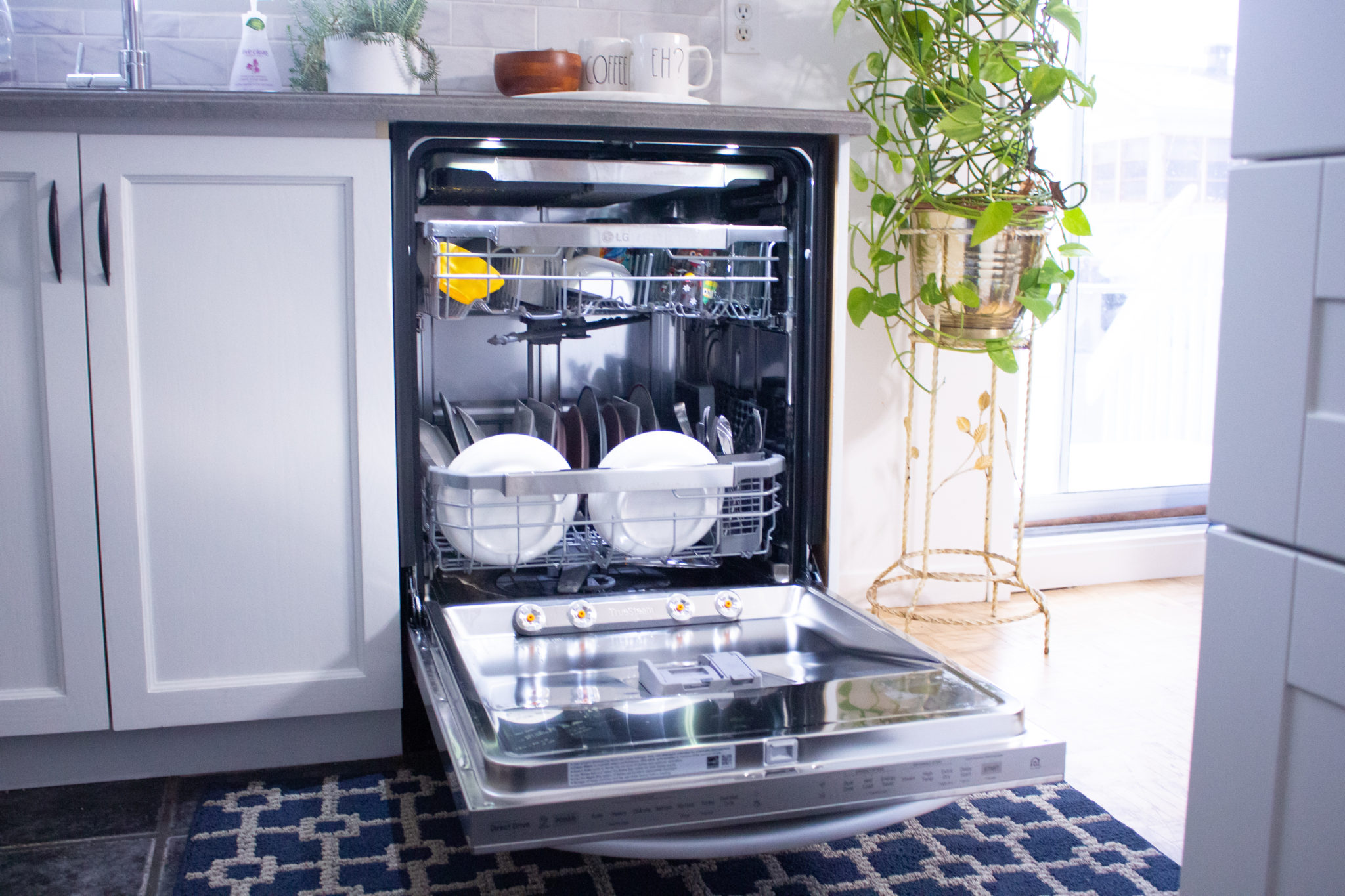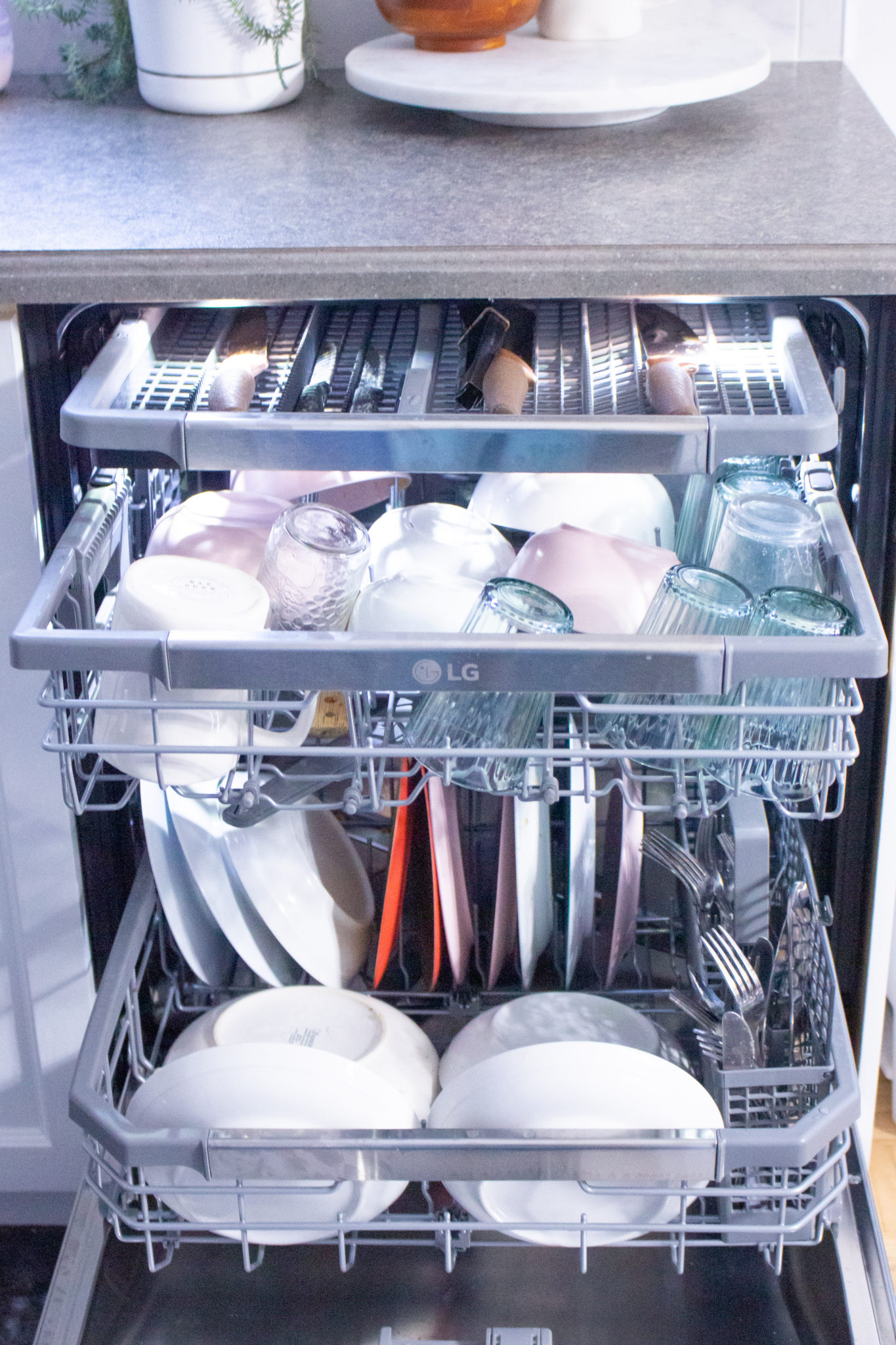 TrueSteam technology
What's the point of having a dishwasher if you have to pre-rinse? With the TrueSteam technology, you get maximum coverage, and water spots are reduced by 60%.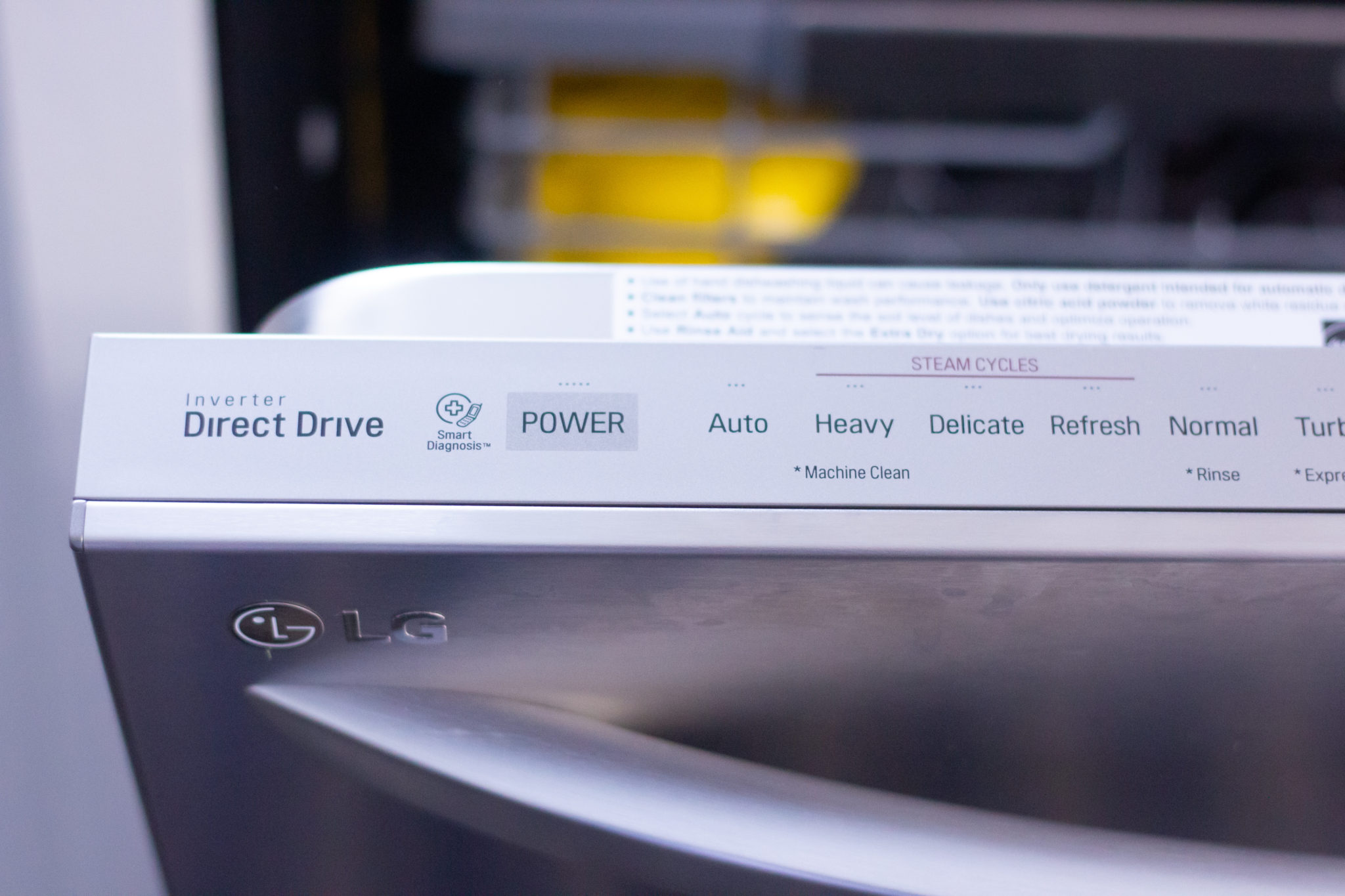 QuadWash TM
LG QuadWash™ has a Multi-Motion spray arm that rotates back and forth while spinning. This feature provides enhanced coverage to clean every dish on every rack.
I love the sleek look of the LG QuadWash™! We recently updated our kitchen cabinets, and it goes so well with the new look. It's stainless steel which means that I can easily wipe it down.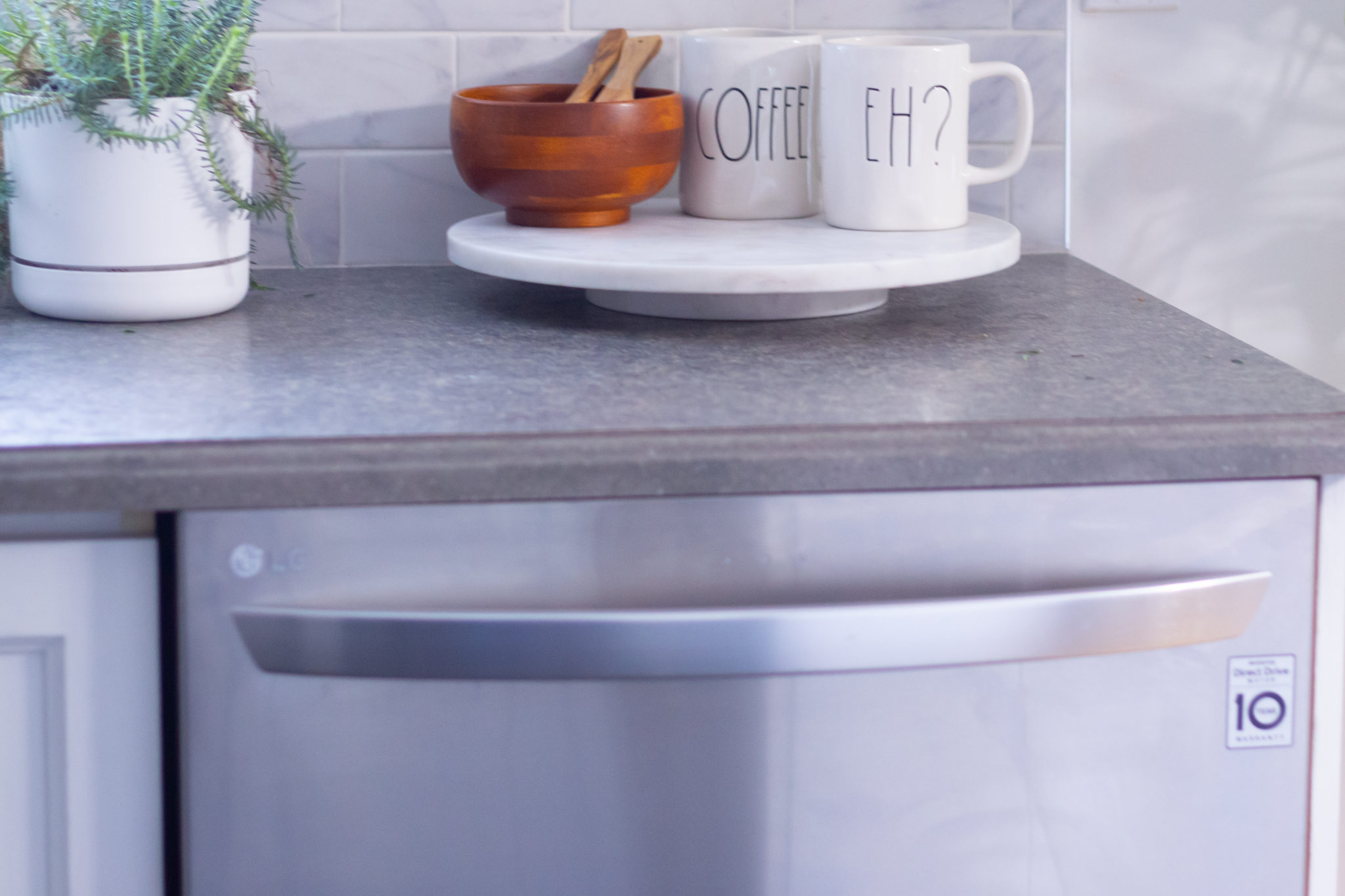 Another feature that I need to mention is how quiet it is. The first time I used the LG QuadWash™ I kept waiting for the big vibrating sound that I'm accustomed to. I could see it was on, but I couldn't hear it. That to me is so impressive.
What feature would you say is your favorite about the LG QuadWash™? Visit LG to learn more about the LG QuadWash TrueSteam.
Hope you like the list of toddler chores and my LG QuadWash TrueSteam review!
Be sure you are subscribed for more tips.
Let's connect!