I can't remember the last time I made grilled salmon with my delicious tangy cucumber sauce. It used to be a staple in our home, but when I got pregnant with my daughter, I couldn't stand the sight of salmon. I was recently sent a Hamilton Beach Stack & Snap™ Compact Food Processor and thought it would be fun to make my cucumber sauce and share it with you guys. It's a simple recipe that goes perfectly with grilled salmon.
Tangy Cucumber Sauce Recipe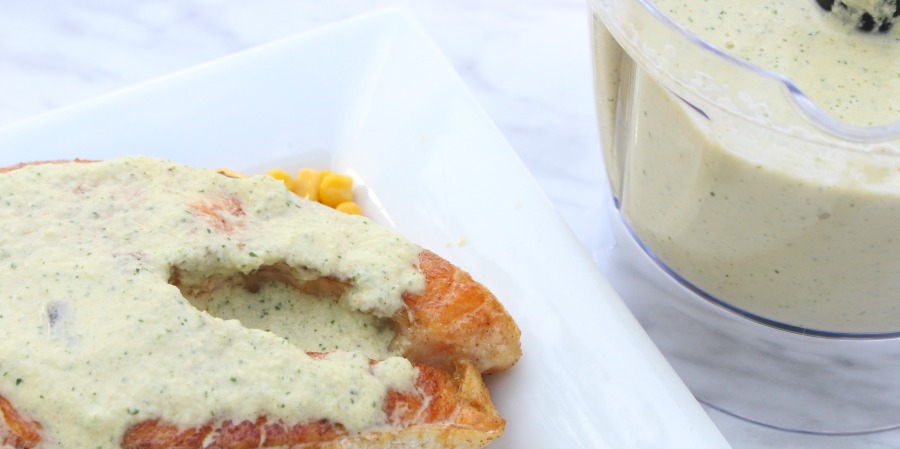 *I received a  free PR sample of the Hamilton Beach Stack & Snap™ Compact Food Processor for review purposes. This post may contain affiliate links*.  
What I love about this tangy cucumber sauce is how simple it is to make. It doesn't take a lot of ingredients to make it either. Heck, I bet you have all the ingredients in your fridge already! We usually pair it with white rice and some corn niblets.
What you will need for your tangy cucumber sauce recipe:
One cucumber
Half of a lemon juice (about two teaspoons)
1/2 cup of Hellmann's Mayonaise
1/2 teaspoon of Goya Adobo (or any seasoning salt you preferer)
One teaspoon of Paprika (not optional!!)
One tablespoon of Dijon mustard (you can opt for yellow mustard if you don't have Dijon mustard on hand)
Directions:
In a medium bowl, mix the mayo, seasoning salt, paprika, and mustard together. Cut cucumbers into chunks and add in the food processor (or blender).
Pour your mayo mixture in and squeeze the juice from half of a lemon.
Use the pulse setting on your food processor for about 1-2 minutes to break down the cucumber chunks. Then use the ON setting and let it run for about three more minutes until everything is smooth.
Chill mixture for an hour and serve over grilled salmon or any fish of your choice.
Pro Tip: Don't peel the skin of your cucumber. Your sauce will have a nice chunky texture.  Store your remaining sauce (if there is still some left lol) in the fridge for up to  3-4 days.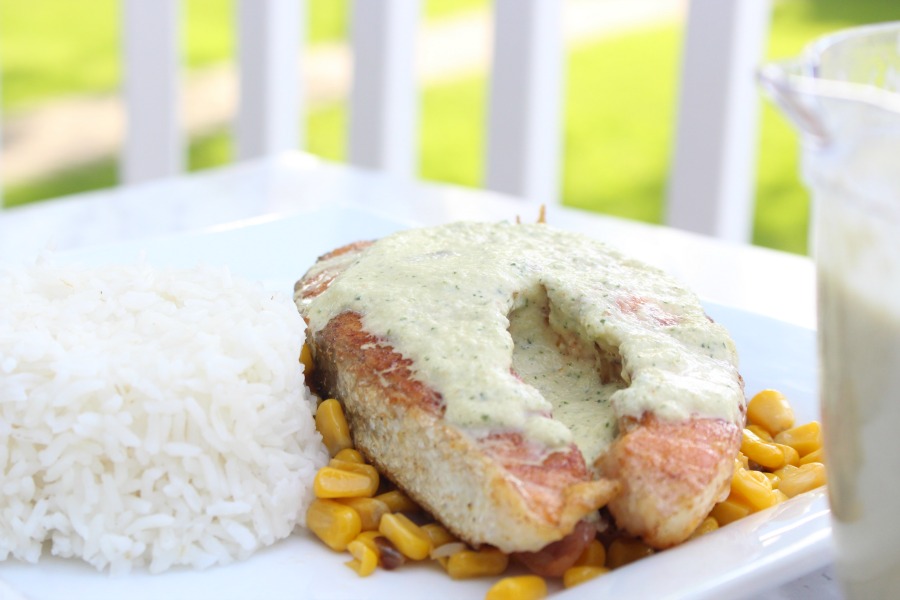 The Hamilton Beach Stack & Snap™ Compact Food Processor!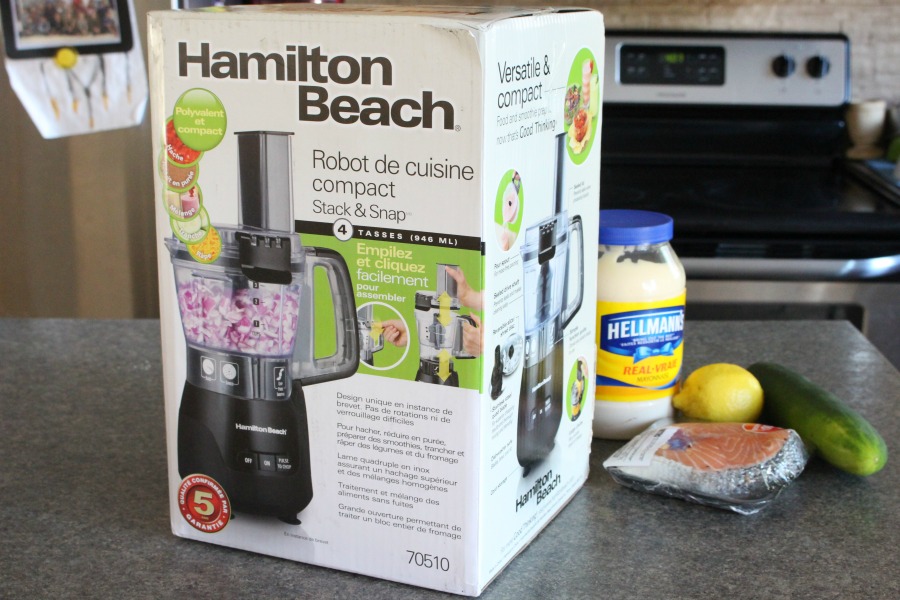 I'm so happy that I got to test the Hamilton Beach Stack & Snap™ Compact Food Processor. The last time I used a food processor was in Home Economics when we made pizza from scratch. Yup, that was a LONG time ago. I've wanted one for a while, but we didn't have much storage space before. What I like about this food processor is how compact it is. Gets the job done but doesn't take up too much counter space. The snap feature prevents liquid from spilling all over. The food processor is simple to assemble and use.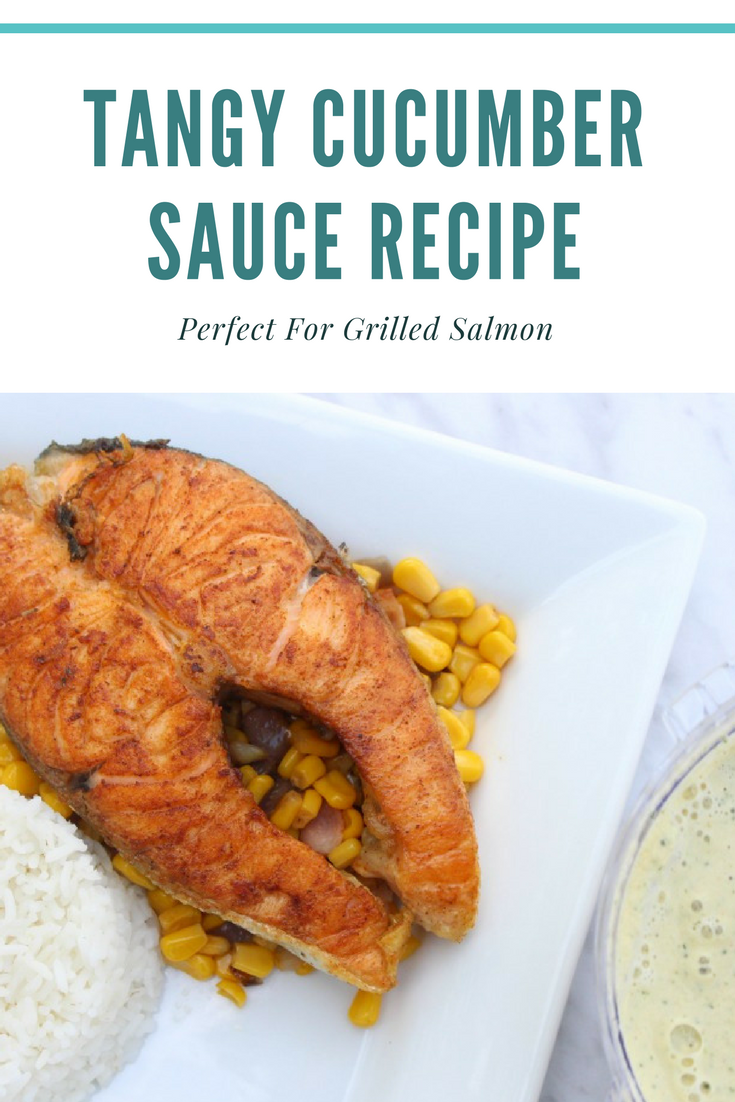 Looking for a food processor that won't break the bank or take too much counter space? The Hamilton Beach Stack & Snap™ Compact Food Processor is very affordable, and definitely, a must have.
I hope you will give this delicious recipe a try.
Want more simple recipes?  Be sure to subscribe to my blog for an update when a new post is live!
Let's connect!