Happy New Year my loves!  For my Haitian folks reading this, I want to wish you all a Happy Independence day! Independence for us Haitian also means, the long awaited for Soup Joumou recipe! Just one of the many perks of being Haitian! 😉
Delicious Soup Joumou Recipe
I wrote a post a couple of years ago about Soup Joumou, and I had all the intention of making it myself this year. But lucky for me, my sister was sweet enough to make it again for us this year. She makes it so well. Maybe next year I will be brave enough to make it.
This time around I tried to help out as much as possible. We picked up the ingredients together. I peeled, and she chopped. I "supervised" and she cooked! Fair deal no?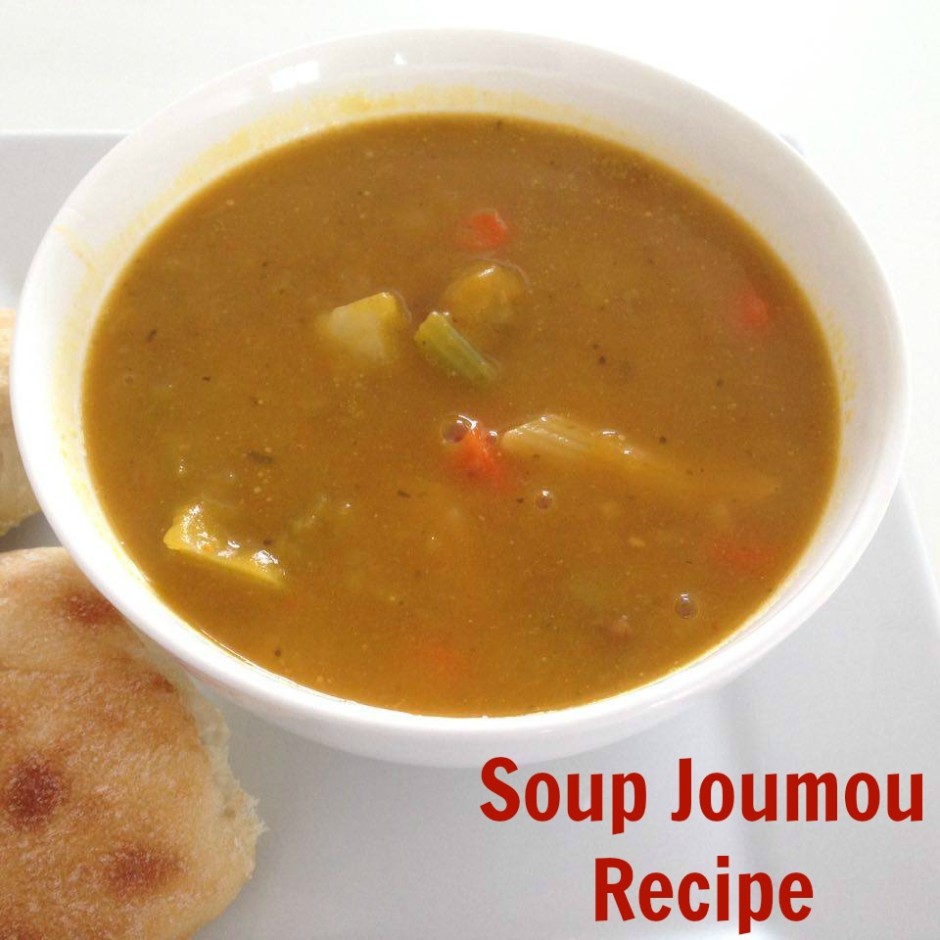 There're multiple ways to make Soup Joumou. This recipe is the way my sister made it!
Ingredients
1 lb beef (seasoned with Homemade Haitian spices
Buttercup Squash (peeled, cleaned and cut)
Acorn Squash (peeled, cleaned and cut)
Butternut Squash (peeled, cleaned and cut)
4 Carrots (peeled and cut)
3 celery stalk (cut)
1 scotch bonnet pepper
1 head of cabbage (chopped)
4-5 potato (peeled and cut)
1 cup of penne
Instructions
The night before making your soup.
****************************************************
Clean your beef first. Seasoned your beef with some homemade Haitian epices.
Add 2 cups of water to a saucepan.
Put the seasoned beef along with the scotch bonnet pepper.
Let it cook for about 1 hour on medium heat. Keep an eye on the meat and add water to keep it from burning. Cook until tender. Remove from heat and set aside.
Your Vegetables
********************************
In a large pot, add all the squashes and cabbage and cover with water.
Cook on medium heat for about 20 minutes.
Add your carrots, celery, and potato to the same pot. Remove just the squashes and let the rest of the vegetable finish cooking.
************************************
Using a blender, blend the squash along with the water that was used to cook it until it is pureed.
In a larger pot, add your cooked veggies to the cooked meat then pour the pureed squash and let everything simmer on medium heat for about 5 minutes. Stir in your pasta into the pot. Cook until pasta is completely done (8 minutes)
Remove from heat when completely cooked. Serve hot with warm bread.
Notes
*When blending the Squash, be sure to let it cool to avoid any accidents.
My sister's recipe is easy and quick to make. The parts that take the more time is the meat. It HAS to be tender and savory. That and the squash makes the perfect soup Joumou recipe in my opinion.
[Tweet "Happy New Year! Check out this yummy Soup Joumou Recipe #delicious"]

This Soup Joumou recipe is a staple of Haitian cuisine. It is best when shared with lots of people. We always make a huge batch and have it all day!
How are you spending New Year's Day? Don't forget to subscribe to my blog for more delicious recipes.
Let's connect!