Not too long ago I wrote a post on the Amazingly Beautiful AM and PM moisturizer. It's part of my skin care routine, and I love it. Today I wanted to do a quick review on another product from Trusted Health Products that I love. I'm talking about the Amazingly Beautiful Body Moisturizer And Revitalizer! There's also a giveaway so be sure to keep reading for your chance to win a free bottle.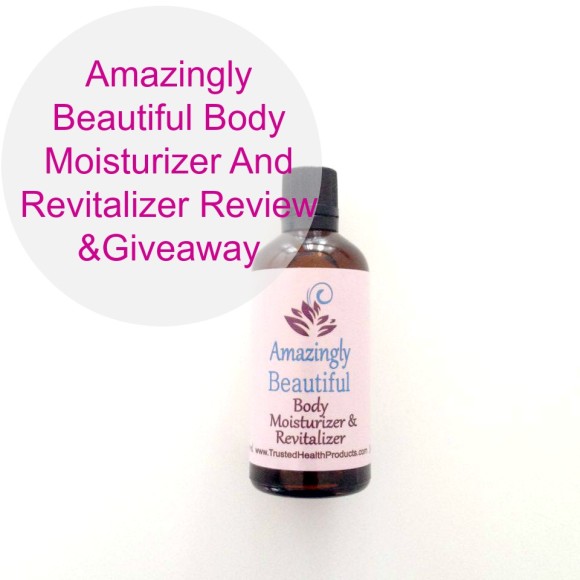 To me, winter means two things. Runny nose and dry skin. Both are equally dreadful! For my runny nose, I try to stay warm and carry tissue with me at ALL time!
My dry skin is another issue. My bathroom cabinet probably has eight bottles of different kinds of lotions. But most of them are just scented and doesn't help with my dry skin. So imagine how happy I was when I got to try the Amazingly Beautiful Body Moisturizer And Revitalizer.
This body moisturizer keeps my achy skin smooth! I apply it right after my shower when my skin is still damp. I find it absorb better that way. The moisturizer is packed with amazing oils that will help get rid of dry patches, scaly, and dry skin.
The Amazingly Beautiful Body Moisturizer And Revitalizer are made of 100% pure, Live Cold Pressed Botanical Ingredients such as lemons, oranges, lime, avocado oil, olive oil and almond oil.  Your skin will thank you!  The oils smell AMAZING! I just love it!
I know I'm not the only one that suffers from the dry, flaky skin during the winter.
[Tweet "Treat your skin with love. Try Amazingly Beautiful Body Moisturizer @OraMD #skincare @ladymarielle "]
Giveaway 
Trusted Health Products is offering three winners the chance to win one bottle of their Amazingly Beautiful Body Moisturizer And Revitalizer. If you suffer from dry skin or simply want to have smooth skin, enter for a chance to win.
The Giveaway is open to  U.S., Canada, Europe and Australia. Good Luck!
Amazingly Beautiful Body Moisturizer And Revitalizer
For a limited time, save 20% off your first order at trustedhealthproducts.com Just enter the code TH20 during checkout.
While shopping on the Trusted Health Products, be sure to check out the Man collection:
The Man – Facial A.M. day face oil serum and P.M. evening face oil serum
The Man – Body moisturizing body serum
Be sure to enter the giveaway and share it! You can connect with Trusted Health Products on Facebook, Twitter, and Instagram!
Hope you enjoyed this review and will share it with others.
Be sure to subscribe to my blog for more awesome reviews and giveaways.