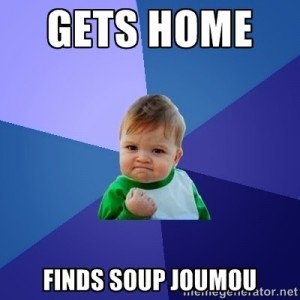 First and foremost, I would like to wish all my fellow Haitians a
Happy Independence Day
. For those of you who didn't know, January 1
st
mark the 210th year since Haiti became independent. FREEEEDOOOMMMM!! Which brings us to the famous soup joumou that EVERY Haitian has had at one point or another in their life. Like dude, it's a tradition; you can't mess around with traditions. You don't question traditions. Especially in a Haitian home. You just go with it till you are old enough to decide whether or not you will continue with said traditions.
All my life I've been told that soup joumou is something you have on the first of the year. When I got a bit older, I found out it had to do with Haitians gaining their freedom. It was only recently that I was able to find out that soup joumou was a dish reserved solely for the rich slave masters and when the slaves gained their freedom, they celebrated it by having some of that delicious forbidden soup. Take that slave masters!!!
As I'm writing this up, I've already had my 3
rd
bowl of soup. I feel full and happy. A lot of you were wondering why this soup is so famous or what makes it so good? I believe it has to do with the sense of pride that comes along with knowing that THIS soup is what our ancestors shared on the first of the year to celebrate their victory. It also helps that is it freaking delicious!
Since moving out of my aunt's house in 2005, we've missed out of the soup joumou binge. But this year my sister was kind enough to volunteer to make some for us. She went to bed late last night and woke up this morning to make us the amazing freedom soup. The awesome thing about soup joumou is that NO one makes it the same, but it all taste great. I even found a vegetarian version of the soup (not my cup of tea, I'm a meat lover baby!!). The golden color is achieved using squash. I won't go into details on how it is made, but you can check out here for recipes. 
A couple of my Facebook friends were kind enough to let me use their pictures for your viewing pleasure. So I leave you all to the Freedom Soup and wish you a Happy New year with much success and happiness.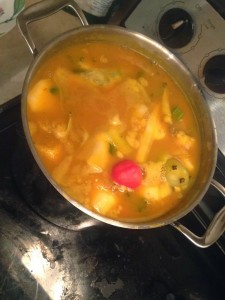 Soup from my good friend here in Montreal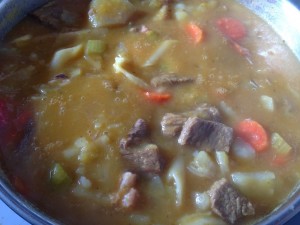 The masterpiece by my sister dear!
So there you have it my lovelies, Haitian's Freedom soup! We've made enough of it to last us the next two days! Does your family have special traditions that you follow? Ever wonder where they originated from? Love hearing from you guys!
Subscribe for more awesome recipes!