The kitchen is by far my favorite part of a home. Why may you ask? Because FOOD!! I love food, eating it, COOKING it, spending countless hours looking at pictures of it on Instagram and Pinterest, I just LOVE Food! Today I made a list of some of the must-have kitchen tools that you'll need to create delicious food. What more, you can score one of those kitchen tools for yourself. So let's get right into it!
5 Must-Have Kitchen Tools  + AnySharp Giveaway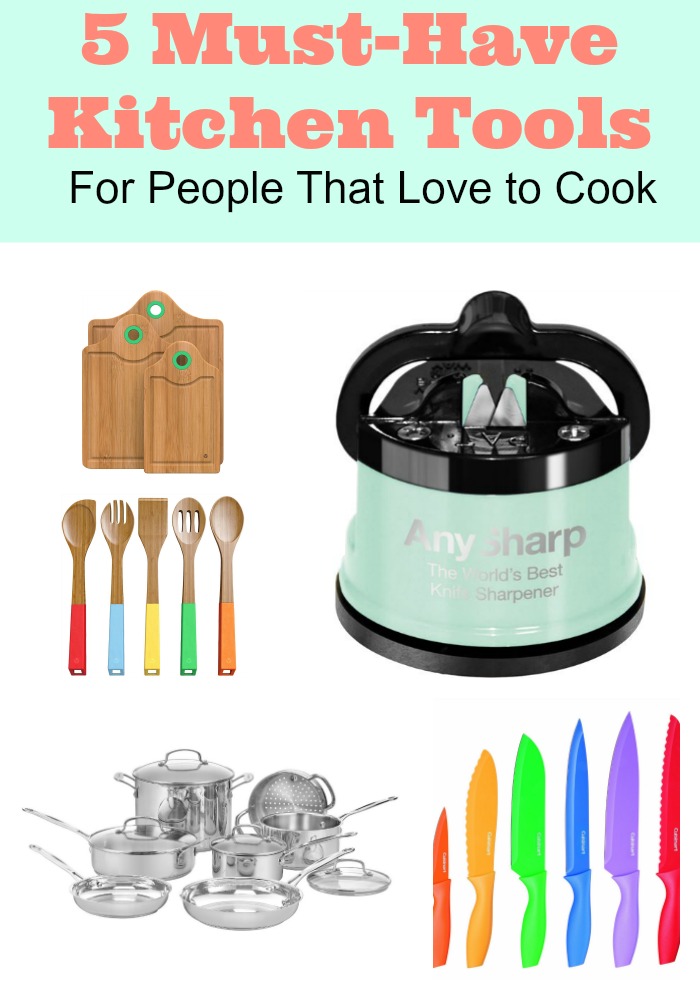 Set of Knife: Every Kitchen needs a good set of knives. Sharp that can cut everything from raw steak to big ole buttermilk squash. Demo and I are always talking about investing on some high end set of knives but haven't yet. We are waiting on for our lottery numbers to win!
Cutting board: I'm always using my cutting board. Like ALWAYS.  I highly suggest you get a good quality cutting board and make sure you dry them right away to avoid running it. We've had to replace our cutting board three times in the last two years because we forget to dry it after each use.
Must-Have Kitchen Tools
Pots and pans: You can't really cook much of anything without some pots and pans. You don't need to spend a whole lot, but I suggest you get a good set of quality pots and pans that will last you a long time. And don't feel the need to buy matching sets either but if you must, Cuisinart has a really nice set, and so does Rachel Ray and Le Creuset (my dream set!!!)
Cooking Utensils: Sort of like pots and pans, you need cooking utensils. Unless you are into using your hands for stir frying your veggies, in which case, don't you EVER invite me over for dinner! LOL Seriously, though, cooking utensils are must-have kitchen tools if you love cooking.
Knife Sharpener: Because let's face it, we can't all afford those expensive knives. And with all the cutting and chopping you will be doing, you'll end up burning through knives like its no body's business. The AnySharp is the perfect knife sharpener.  I love that you don't need to use your hands to hold the knife sharpener (perfect if you are a klutz like me and value your fingers). The AnySharp has a suction base which you stick on any soft/smooth surface and it won't move. Check out the video on how to use the AnySharp knife sharpener.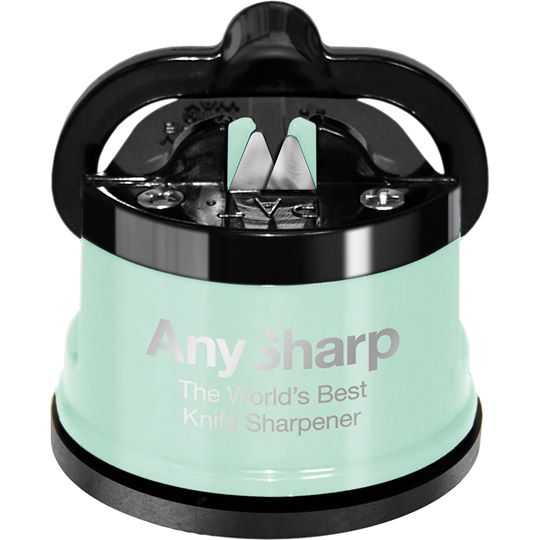 Now that you know which kitchen tools you need, how about a giveaway?! AnySharp is giving one of my readers the chance to win 1 AnySharp knife sharpener (random color).  Giveaway is open to USA & CA!
Enter HERE!!
a Rafflecopter giveaway

What other items do you think should go on this list? Do you have a knife sharpener at home?
Visit AnySharp to learn more about their cool knife sharpener.  You can also connect with them on Facebook and Twitter. 
Don't forget to
Subscribe
for more giveaways.