I wanted to share my recent experience with an online order I placed at Bath and Body Works during their huge semi-annual sale (that is still ongoing, while supplies last). If you've read my Christmas 2013 Recap, you would know that I had already gone into the store and came out with quite a few items and was extremely happy about my haul. Somehow I ended up on the bath and body works website and next thing i knew I had submitted and paid for an order.
Everything that I bought ranged between 3$-6$ and I got lots of great scents that I've been wanting to try.
Yesterday my online order finally came in by Purolator. It was a bit delayed due to the bad weather. I placed my order on the 27th of December and got it on the 6th of January, which is roughly 6 business days. Not bad!
Soon as I open the box I could smell something was broken. Let's just say their packaging methods needs improvement. Anyway, I took a picture of the box and went on their website to see what steps I can take to do a refund/exchange. Was very disappointed to learn that returns from Canada are only done by mail and shipping cost are not refunded. Normally I would have called in to complain-not really, I HATE calling in to complain about stuff. The bottle that spilled cost around 5$ "Dancing Waters". The thought of having to pay 20$ for shipping + more for international handling fees (nonrefundable) for a bottle of body spray isn't too appealing to me.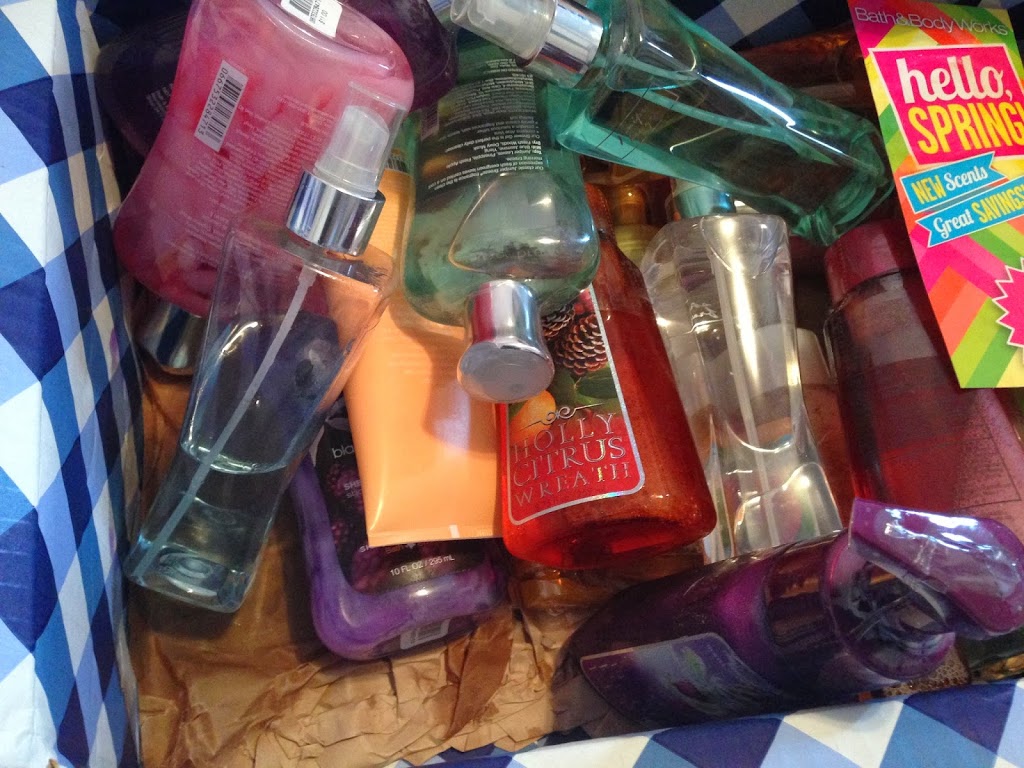 spilled goodies =(
My advice to them would be to do a better job with their packaging. For the price I paid for shipping that's the least they could do. I did get everything I ordered and everything smells amazing, so it's not ALL bad!
Ever placed an order on BBW? What was your personal experience? Would you have called to complain about the bottle that spilled? I love hearing from you guys!