This post is an unfiltered conversation I had with my 8-year-old son the other day. Ok, it was more of a debate that got pretty heated. At the end of it all, I was left thinking "Where did I go wrong with him?" and "Is it because he is so much like me?". Why am I sharing this story with you guys? I guess part of me wants to feel that I'm not alone in my struggle. Keep reading to find out how a debated about Master Chief VS Popeye had me questioning my parenting skills.
When Master Chief VS Popeye Has You Questioning Your Parenting Skills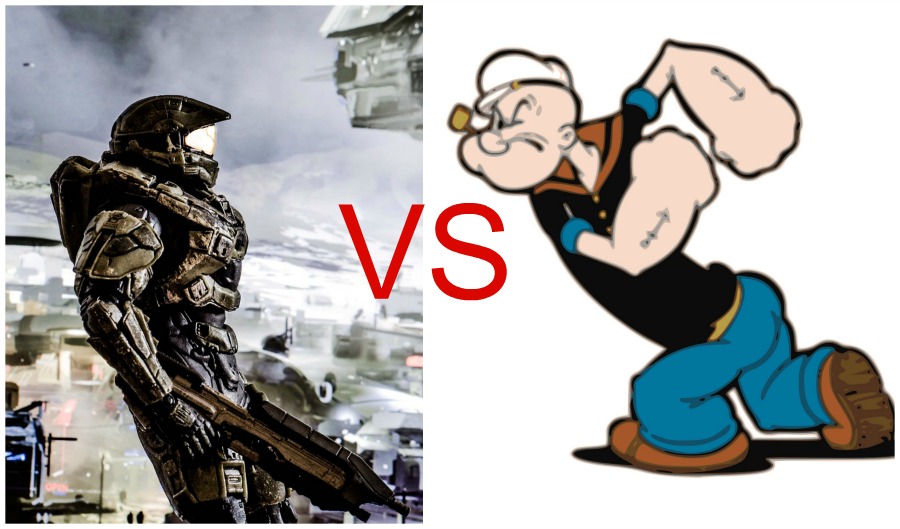 Alright, so I know that not everyone knows who Master Chief is (more about him in a bit), but you remember Popeye, the sailor man? I'm sure at one point or another your parents told you that eating all your spinach will make you strong like Popeye. I never bought into that, but I know some of you might (no shame here). Anyways,  I'm in the kitchen making breakfast. My son is sitting at the table with the iPad watching some random video on YouTube. That's when I hear the Popeye the Sailorman theme song playing. Being me, I started to sing along. My son isn't a big fan of my singing, but because I was showing interest in his video, he let it slide. Then he asked me "Who's Popeye?"
Who's Popeye? What do you mean? How do you not KNOW who Popeye is? 
So I told him the truth. That "Popeye is the strongest man alive. You want to be like Popeye. To do that, you have to make sure you eat all your spinach."
It should have ended there…But my son is a Master Chief fan. According to him, he is "the biggest fan." So he didn't buy into my answer at all!
For those of you that do not play video games or have no children that plays, Master Chief is the main character of this Xbox* game called "Hallo."  I wish I could give more info, but that's all I know about the dude.
We went back and forth for a good 10 minutes (while unloading the dishwasher and making sure the eggs didn't get burnt).
He did have some valid points. The Master Chief has an assault rifle and rocket launchers.  Whiles Popeye has large muscles.  I wish I had recorded our conversation. My son is excellent at debates. I think he gets that from his father.
Parenting is hard enough without random discussions about Master Chief and Popeye. Here're a few things to keep in mind.
Try not to beat yourself up that your child doesn't know who the heck Popeye is.
Show interest in what they do. Even if it is something as boring as playing Halo (I can't, I just can't).
It's ok to let them win arguments (especially the ones about Master Chief VS Popeye).
Enjoy every little moment you have with them.
Who do you think would win? Master Chief or Popeye? I'd like to think that Popeye would win!  Leave a comment below and tell me which one of the two would win. Ever had debates with your kids that left you questioning yourself as a parent? Share! I can't be alone!
Subscribe for more updates and family fun post.
Let's connect!
Twitter | Facebook | Instagram | Bloglovin