When I was growing up, we ate turkey every week. Not just on Christmas and special holidays. I always look forward to making turkey meals for my family because it reminds me so much of the time I would eat when I was a child. Turkey chili and turkey meatballs are huge favourites in our home an excellent source of protein.  If you're looking for some ways to incorporate turkey into your everyday meals and meal planning preparation, then you've come to the right place. Today I'm featuring a tex-mex tasty turkey meatloaf recipe. This recipe is delicious and super easy to make! I'm also sharing some ways you can make over your meal using Canadian Turkey. 
Tex-Mex Tasty Turkey Meatloaf Recipe | Meal Makeover With Canadian Turkey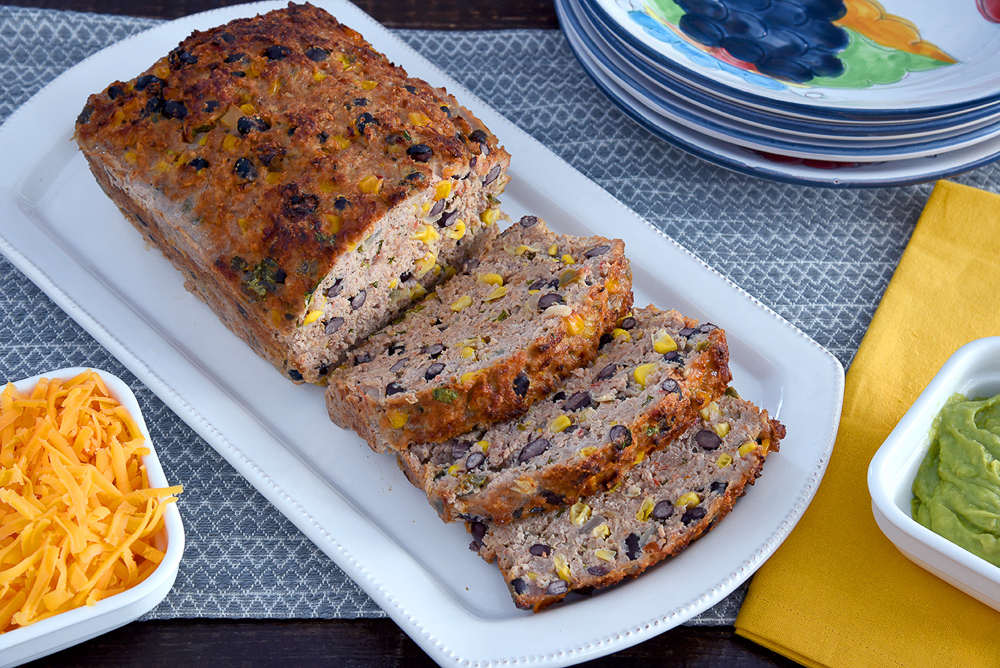 This is a sponsored post written by me on behalf of Canadian Turkey. All opinions are 100% mine.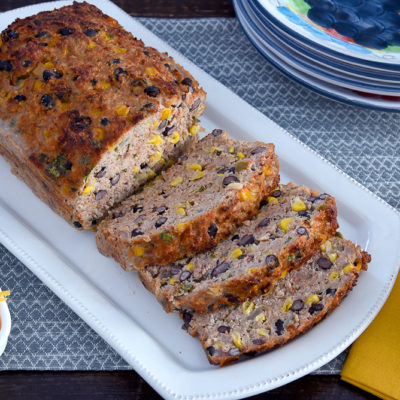 Tex-Mex Tasty Turkey Meatloaf Recipe
Ingredients
2

lbs.

lean ground turkey

2

cups

diced onions

1

cup

Panko breadcrumbs

3

eggs

3/4

cup

salsa

3/4

cup

sour cream

2

tbsp

HP sauce

2

tbsp

Chili powder

1

small can

398 ml black beans, drained

1

small can

398 ml corn, drained

Salt and pepper to taste
Instructions
In a non-stick skillet, sauté onions until softened and slightly cooked, 2-4 minutes. Set aside to cool.

Pre-heat your oven to 350°F (175°C).

Combine remaining ingredients in a large mixing bowl. Gently mix together until ingredients are combined. Do not over mix.

Bake in a standard size loaf pan for 45 minutes or until an instant thermometer registers a temperature of 165 °F (74°C).

Let cool slightly before slicing and serving.
Notes
TIP: Serve this meatloaf with a selection of healthy sides so your family can enjoy their favourites and create a well-rounded meal. Try salsa, avocado slices, shredded lettuce, tomatoes, and guacamole or shredded cheese.
Below are some tips on how you can makeover everyday meals with Turkey.
Plan ahead!

When it comes to meal planning, a whole turkey delivers huge value as a 'cook once, eat twice or more' meal. You can buy a whole turkey to cook on the weekend and feed your family for several days during the week.  Freeze portions of leftovers to use as meal-starters for quick weekday dinners and lunches.

Get back to basics!

Enjoying more meals at home is one of the best things you can do for your family. Cooking meals from scratch let you control the ingredients and include more health-boosting whole foods such as turkey, veggies and whole grains.

Make the switch!

Turkey makes a fantastic everyday choice for all your protein needs.  Think about switching to turkey and turkey cuts for breakfast, lunch, dinner, and snacks.  Turkey is lean, nutrient-rich and packed with protein to give you long-lasting energy that powers you through your busy everyday schedules and activities.  

Boost your nutrients!

Swap in turkey to any of your favourite dishes for an instant nutritional boost.  Turkey is packed with nutrients like vitamin B12 (important in keeping your nervous system – the body's electrical wiring – working well), selenium (an antioxidant mineral) and zinc (for a strong immune system).

Bump up the protein!

Eating 20 to 30 grams of quality protein with all of your meals, along with being active, can help build and maintain muscle.  Protein delivers hunger-curbing satisfaction to keep you energized for longer. Turkey is the power protein of choice – it's an excellent source of high-quality protein with each 100-gram portion serving up about 30 grams of lean protein.
I've attached the Canadian Turkey Meal Makeover Guide for even more delicious and easy recipe ideas.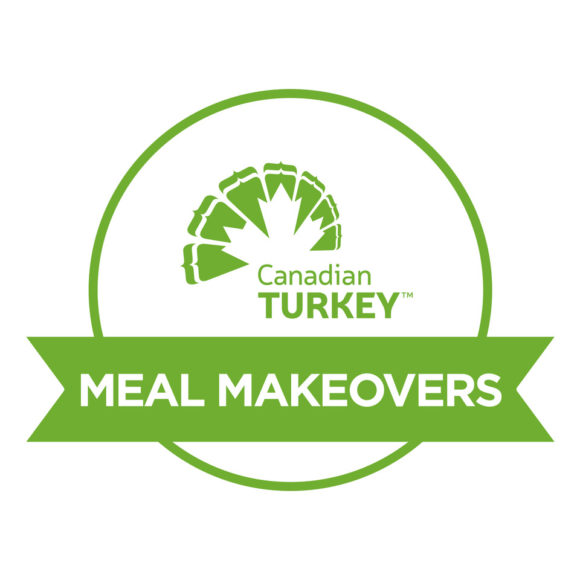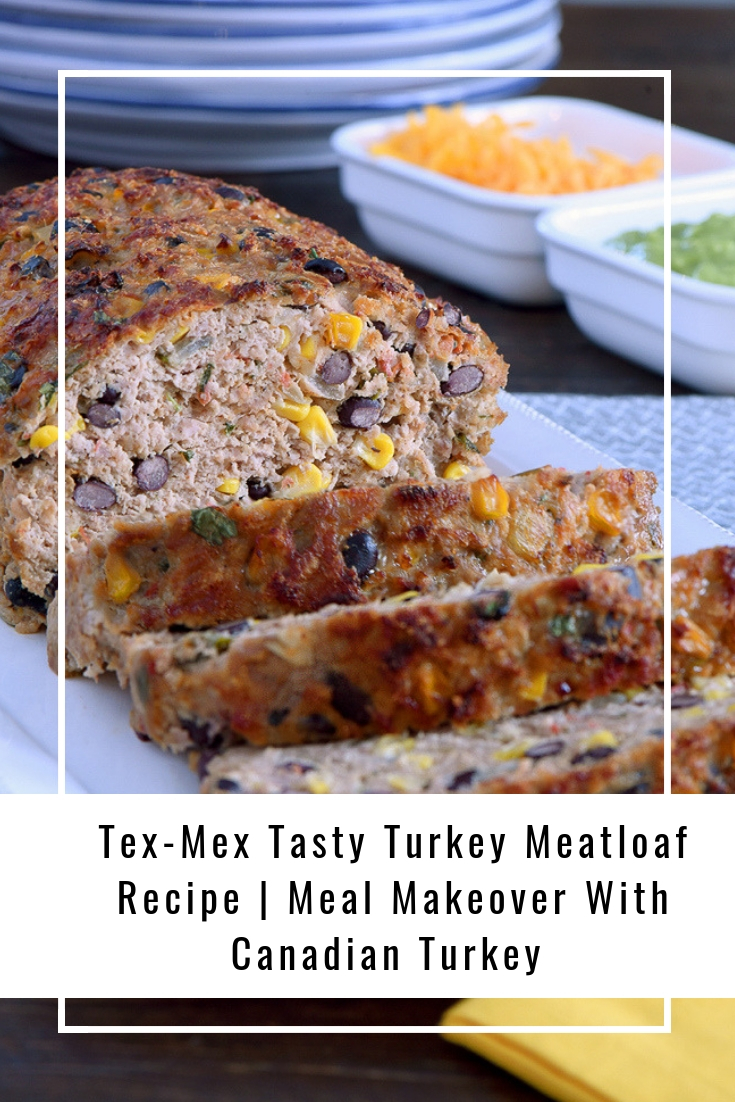 GIVEAWAY!
Canadian Turkey wants to give one lucky ready a head start by giving them a $75 prepaid Visa gift card. The giveaway is open to Canadian residents.
Choosing healthy ingredients and creating nutritious turkey meals for your family doesn't mean you have to compromise. I hope that this turkey meatloaf recipe along with the Canadian Turkey Meal Makeover Guide will inspire you to go even further with making something out of turkey more frequently. Looking for additional tips, recipes? Visit canadianturkey.ca for all your healthy cooking inspiration.  The recipe section is packed with a wide variety of amazing recipes for full meals, appetizers, and snacks. 
Be sure to subscribe to my blog for an update when a new post is live!
Let's connect!