My son is a bit peculiar when it comes to his toys.  I remember buying him his first toy car when he was just about 18 months old. He would play for hours just lining them up.
Now that he is 7 (going on 40) and no longer into cars (insert sad face here), his gift ideas have become a bit pricey (in my opinion). I usually ask him what he wants for Christmas  all throughout the year. That way, when I see the items (from his never ending list) I can get it and save it. Toys are expensive but I find that buying them "off season" lets you to save a little.
*This post contains affiliate links*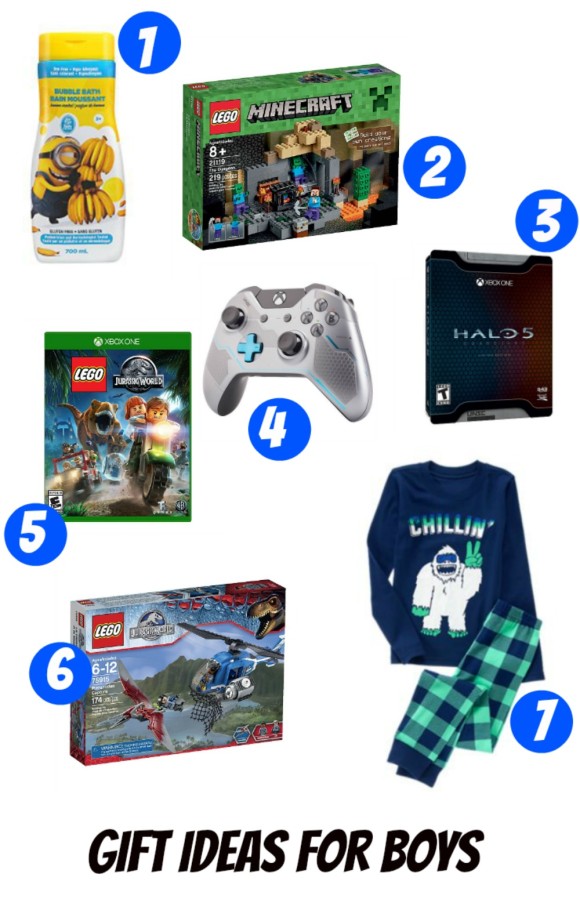 1. Minions Bubble Bath: That's probably the least expensive thing from his list. Bubble bath. Makes me all warm and fuzzy to know that he is still 7 years old after all.
2. LEGO Minecraft The Dungeon: To this day I still don't understand anything about Minecraft. But the Little Man LOVES everything Minecraft related. 
3. Xbox One – Halo 5: Guardians Limited Edition: My son is totally obsessed with Halo and Master Chief. His dad is a huge gamer so I'm not surprised that the Little Man is too. They've both been anticipating the release of Halo 5. If you want a good laugh check out this video from a few years ago of the Little Man receiving the Halo 4 game.
4. Halo 5: Guardians Spartan Locke Limited Edition Controller for the Xbox One: Can't have the Halo 5 game without the limited edition control! Must be a gamer thing because I seriously don't get it!
5. Xbox One – LEGO Jurassic World: My son and I got to see the Jurassic World movie in the summer. Ever since that day, he's become and HUGE Jurassic fan.
6. LEGO Jurassic World – Pteranodon Capture: I know he would be happy with any of the Lego Jurassic World toys (there's quite a few), but this one is the least expensive one.
7. Chillin' Monster 2-Piece Pajama Set: Pajamas are still cool for my 7 years old! Come to think of it, pajamas are ALWAYS cool!
Hope you guys like these gift ideas. I'll probably end up getting the Little Man a couple of these gifts (not all). Anyone else waiting till the very last minute to get Christmas gifts? I love to hear from you guys!
Be sure to subscribe to my blog and connect with me on Facebook and Instagram!
*Disclosure: As I mention above, this post contains affiliate links.