It's been a while since I've posted anything Scentsy related. One of my goals for this year is to share more about Scentsy. I noticed in the last few months or so; I have not been sharing and posting about my other love. So to start off the New Year I wanted to do a Scentsy haul. This haul includes a bit of everything.
Haul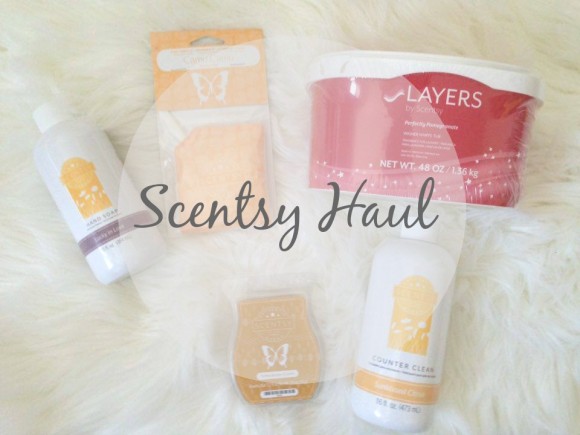 My recent order came a while ago, but I've only recently had the chance to go through everything. I'm really happy with what I got. I will list everything below along with a link to my website for you guys.
Washer Whiffs
You only need one scoop per load, and your clothes will come out smelling Ah-mazing! I love this stuff! I had run out, so I picked up the Perfectly Pomegranate because it was on sale. It's also my first time trying this scent.  This one scent is currently in the sale section, which means it's only available while supplies last. You can pick up different scents HERE.
Counter Clean
We now have an all-purpose spray to clean surfaces.  I was looking forward to trying this since it's a fairly new Scentsy product. I picked up a bottle in one of my favorite scents. Sunkissed Citrus smells amazing when warmed so I knew that this counter cleaner would smell just as good. I've already started using it, and I love it.
Hand Soap
 I picked up a pack of 3 hand soaps from our combine & save section. I love scented hand soaps. I had bought a bottle of Lucky In Love Hand Soap, and I could not get over how nice it made my hands smelled. It also doesn't leave my hands dry which is a plus to me. I also got a bottle of Love Story Hand Soap and Honeymoon Hideaway Hand Soap. These 3 scents would make a perfect gift for Valentine's Day (hint…hint).
Scent Pak
Seriously, Scent Paks are one of my all time favorite products from Scentsy.  They are meant for the Scentsy Buddies, but you can put them in your locker, gym bag, linen closet. I put mine in my drawer, my son's closet and the closet that's in the front of the house. That way when someone comes over and put their coat away they are greeted with a nice scent! I got four scents. 3 using the combine & save. Beach,
Sunkissed Citrus and Camu Camu. I also got Pineapple Sorbet from the sale section because it was on sale and smells so good!
 Light bulb
I ran out of light bulbs for my plugins, so I picked up a pack of 3 15 watt light-bulbs using host rewards.
Scent of the Month Scentsy Bars
I haven't signed up to get the monthly scent and warmer of the month in a while (since July 2015). So I picked up the most recent 5 scents before they run out/retires. The scent of the month is only available for 6 months or till it is out of stock (whichever comes first) before it is retired. Sometimes a scent comes back when they are very popular.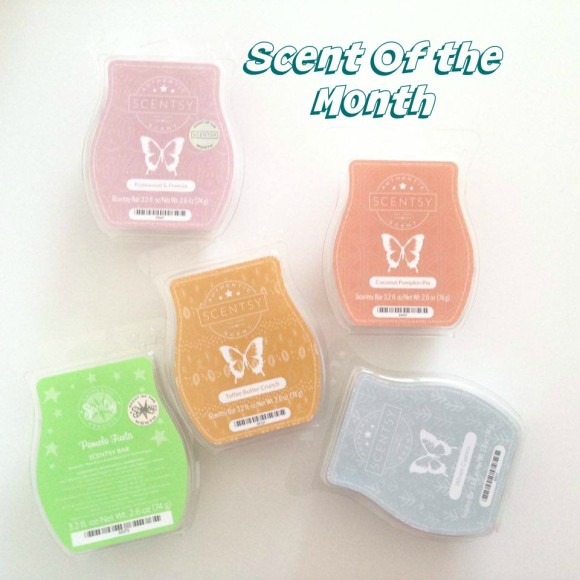 These are the 5 scent of the month bars that I picked up.
Pomelo Fiesta Scentsy Bar
Toffee Butter Crunch Scentsy Bar
Coconut Pumpkin Pie Scentsy Bar
Winter Cypress Scentsy Bar
Rosewood & Freesia Scentsy Bar
There's a new scent for the month of January. I didn't pick that up yet.
That's it! I also picked up some bars from Bring Back My Bars, but I will do a separate post on those bars.  I hope you enjoy my Scentsy haul.  Know someone that would love to get Scentsy? It's perfect for so many occasions. Tell them about your favorite Scentsy Lady (Me).
Awesome of you guys to stop by! Be sure to subscribe for more awesome reviews/hauls!
Let's connect!
Twitter | Facebook | Instagram | Bloglovin
**Disclaimer: I am an Independent Scentsy Consultant. When you place an order on my personal website, I earn a commission. Feel free to contact me If you would like to learn more about how you can earn commissions from buying and selling Scentsy products. All the items I mentioned were purchased by me.