So it took me close to 2 weeks to complete my owl, but it is DONE! Sewing is NOT easy!
My sewing knowledge comes from 7
th
grade Home Ec. (I will not mention how long ago THAT was).
So I took to
Youtube
for some help. I had the pattern, got the color
felt
that I wanted and picked out some buttons from my 
stash.
  It's started out ok, but then I sewed my owl completely closed without stuffing it 0.0 so had to undo the stitches (joy).
So stuffing was in, and an owl was completely closed up. Then I realized that I should have sewed in the wings BEFORE stuffing. I was getting overwhelmed so I talked my sister Marie into sewing the wings on for me (yay for little sisters)!
For my FIRST owl, I can't complain (much). I did end up using fabric glue for the eyes, nose, and the cute little heart and use hot glue to stick the buttons on. Honestly? I'm happy with it! I had fun, and I hope by practicing more, I will get better at hand sewing.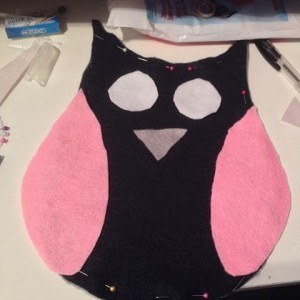 Stage one: High hopes! lol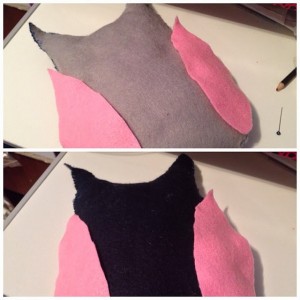 Stage 2-3: Decisions, Decisions…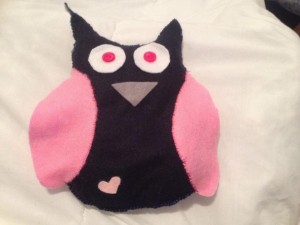 Final stage: ALL done! Pheww!
P.S I've put in a request to Santa (a.k.a  sister Marie and my bf Demo) for a sewing machine…more like I've been dropping hints all year. *fingers crossed* 
Now that I've completed my first owl, I feel all pumped up and ready for more DIY. Will probably be on Pinterest all night getting "inspired" 🙂
While I was "YouTubing", Tristan and I came across a diy for a bracelet made out of buttons. So today when he came home we "attempted to make one"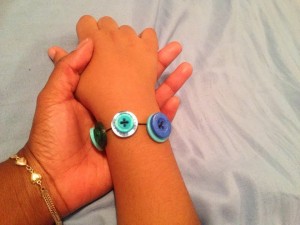 I just took this picture of his "arm candy".
 P.S.S The next owl I make, I will make a little opening pocket so that I can stick a scent pak inside! Scented owls = awesomeness!