I will be honest with you, I don't like winter. There, I said it. Not only does the cold weather gives me the blues and makes me want to eat all the food, but it's also the time of the year where everyone in the house gets sick. Like clockwork! It always starts with my son not surprisingly since he's the one that is around dozens of other children on a daily. Then he will either give it to his dad or little sister – sometimes to both at the same time. So I'm left alone to do all the nursing while I pray that I don't catch it as well. Here's the kicker, I always catch it. LOL Usually after everyone is all better and filled with energy! Mom life right? So what's a mom to do? Prepare, prepare and prepare some more! Today I'm sharing some cold and flu season tips to keep kids healthy, along with some products that will make this time of the year more bearable.
Cold and Flu Season Tips to Keep Your Kids Healthy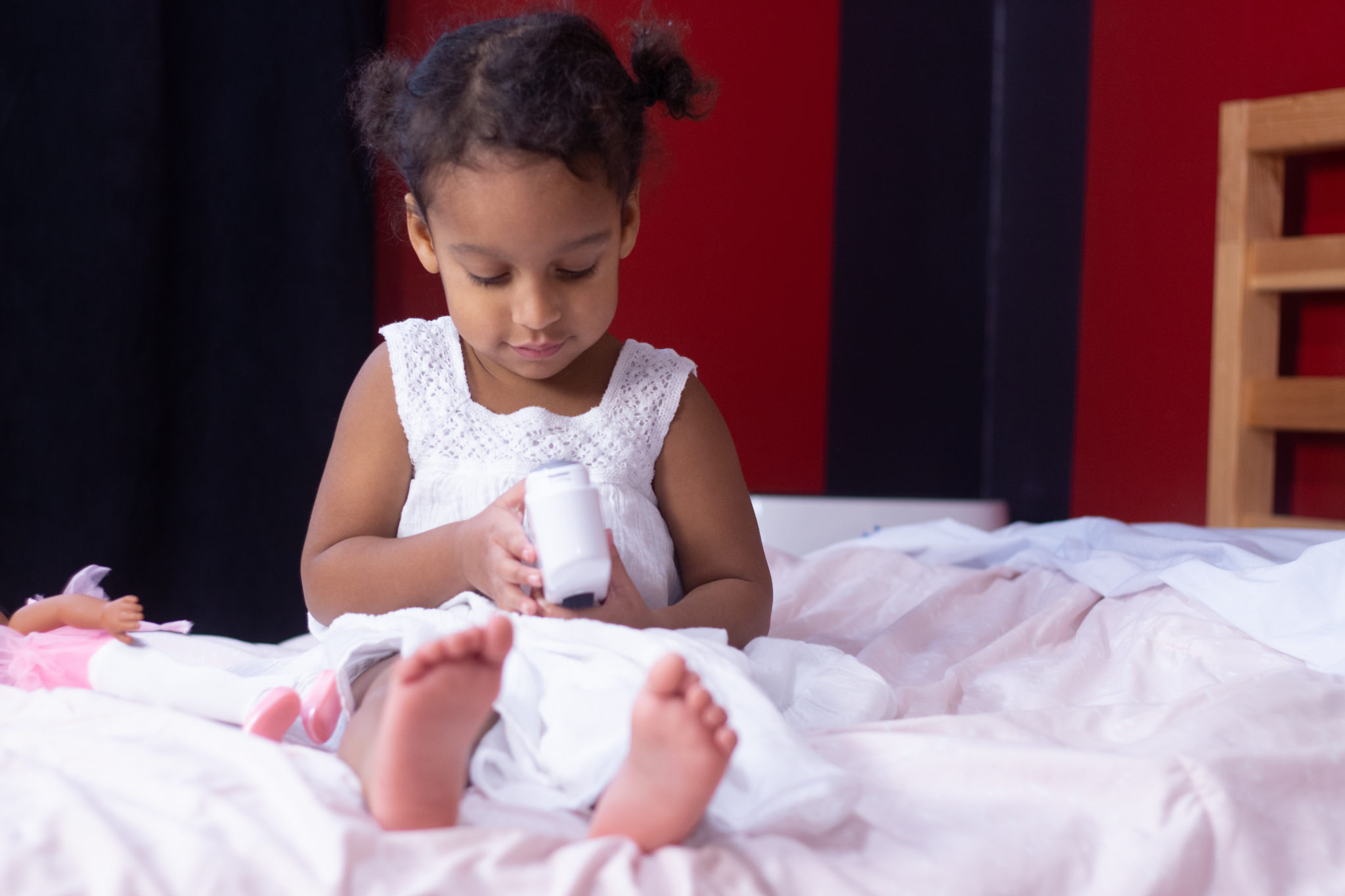 This blog is sponsored by Braun Thermometers and Vicks Humidifiers. The opinions I have expressed are my own.
Bundle up when you go out
Ah, the joy of the 40 layers of clothes in the winter. If you are a mom with a toddler than you know this is one part of winter that we dread. However, it's important to make sure the little ones are bundled up when they go outside to play.
Plenty of Vitamin C
Since our body doesn't produce or store Vitamin C, I make sure the kids get enough each day. We always keep fresh fruits around such as strawberries, oranges, and kiwis, which contain Vitamin C. Whenever I feel that one of the kids is starting to feel sick, I bright out my lemon and honey mixture and give them a big spoonful I learned that trick from my aunt.
Wash your hands frequently
During the cold and flu season, I always remind everyone to wash their hands, especially when you come from being around others and, of course, before you eat. I got Jazzy into the habit of washing her hands early on. Honestly, it wasn't too hard, give the girl foamy soap and water and she's in heaven!
Stay home if you are sick
Jazzy doesn't go to daycare yet, so I don't have to worry about that when she is sick. When her big brother is sick, I keep him home so that he can rest and so that he doesn't spread the germs to his school friends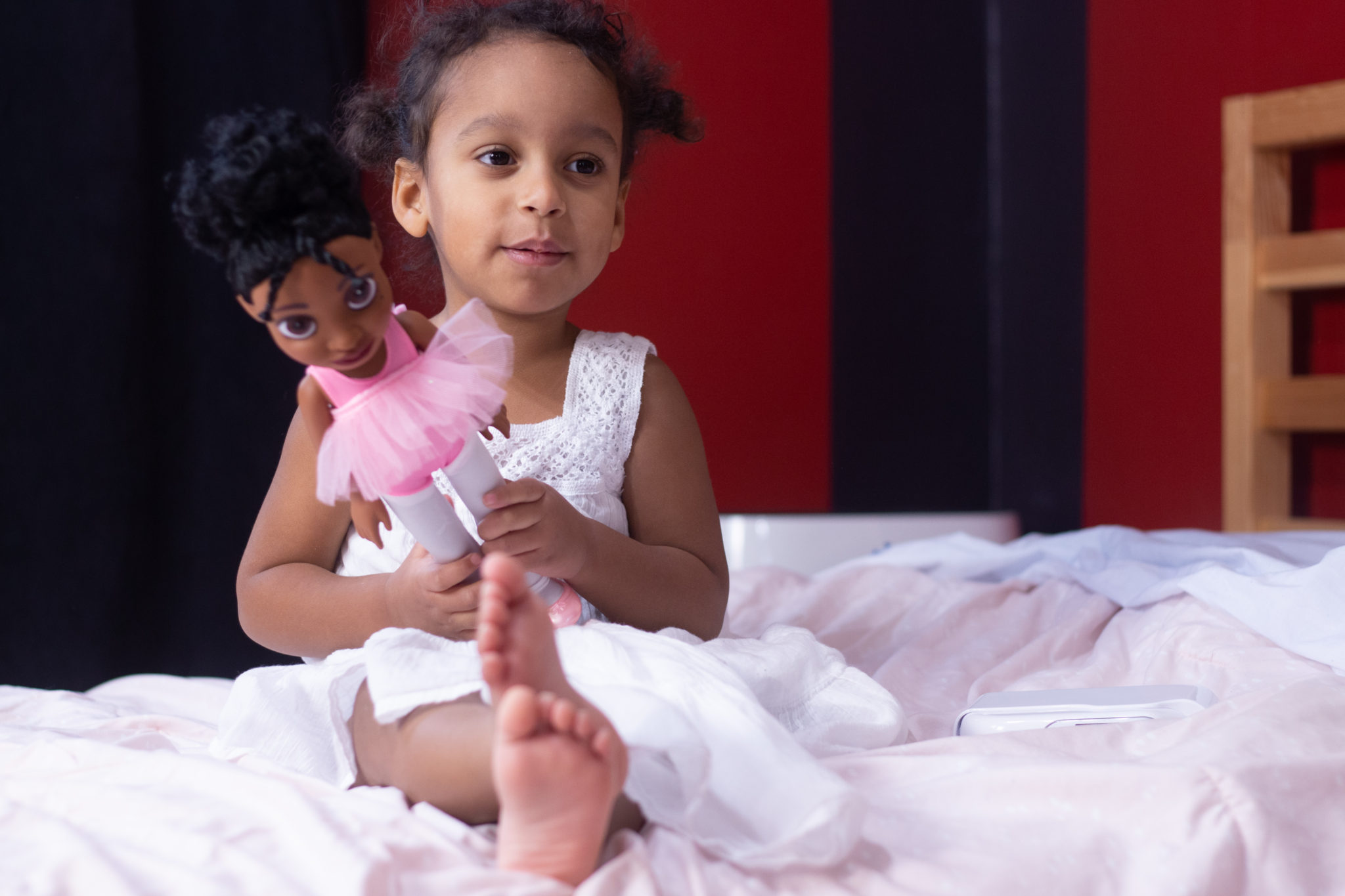 It can be tricky to stay healthy during cold and flu season especially when you have kids. However, I find that having a few key products around can make a big difference.
Braun ThermoScan® 7
When my son was little, he would get a cold at least once a month. I think a lot of it had to do with being around other little kids. Jazzy rarely gets a cold. That doesn't mean that I don't completely freak when she does because I do! Lol, Especially when she has a fever.
Taking the precise temperature is especially important when you have little kids which is why I love the Braun ThermoScan® 7 thermometer.
If you ever had to take the temperature of a cranky child, then you can appreciate how amazing The Braun ThermoScan® 7 thermometer is. You take the temperature in the ear, and it only takes a few seconds to get the reading. The thermometer also recalls the last 9 temperature readings. The thermometer also features Braun's Age Precision® Technology, which offers an accurate temperature reading based on your child's age.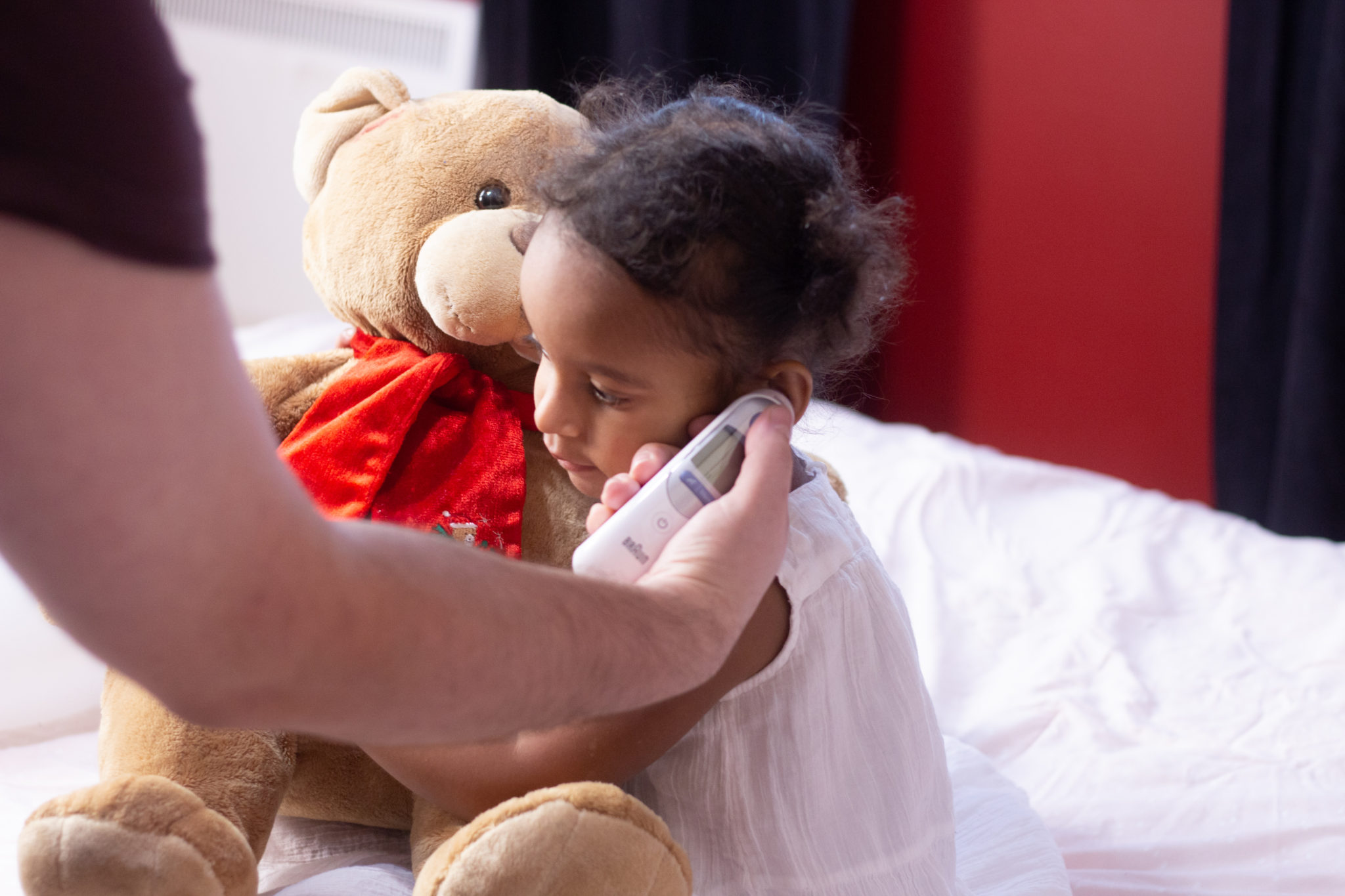 How to use The Braun ThermoScan®7 thermometer
1: Set your child's age with the Age Precision® button.
2: Take the temperature.
3: The colour-coded fever indicator will help you understand and interpret the results and act accordingly – green (normal temperature), yellow (elevated temperature) and red (high temperature).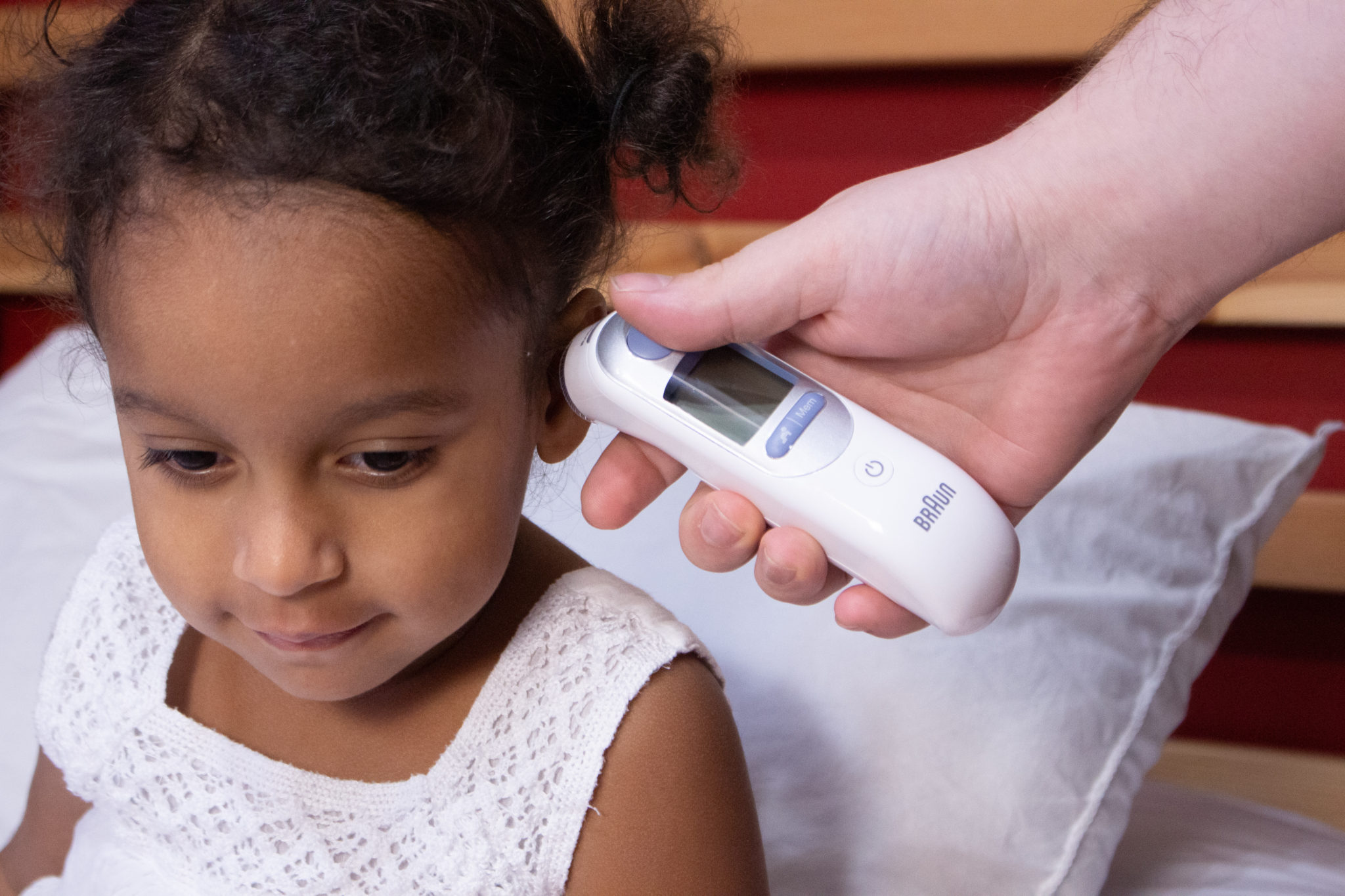 It comes with a protective case where you can keep the thermometer and the lens filter. You also get 20 disposable lenses.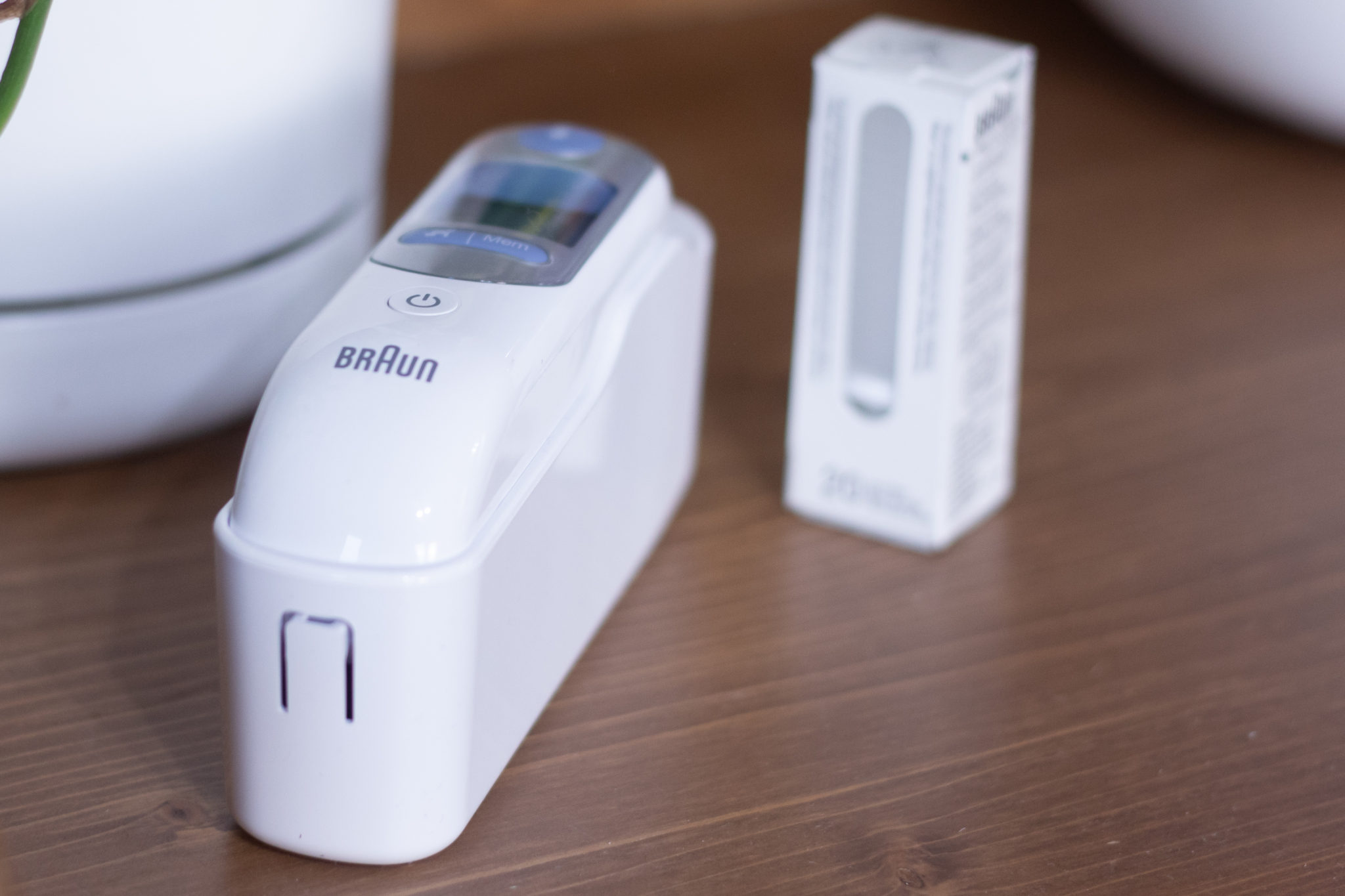 Another must-have for the cold and flu season is Vicks humidifiers. Our house tends to get super dry in the winter. Dry air for my family usually means stuffy noses and even nosebleeds.
Vicks has a cool and warm mist humidifier. Both are useful in their own ways.
Vicks® FilterFree Cool Mist Humidifier helps maintain overall room temperature in conjunction with Vicks VapoPads® soothing scent.

Vicks® Warm Steam Vapourizer works with liquid inhalants like Vicks VapoSteam® to provide cough relief and added comfort.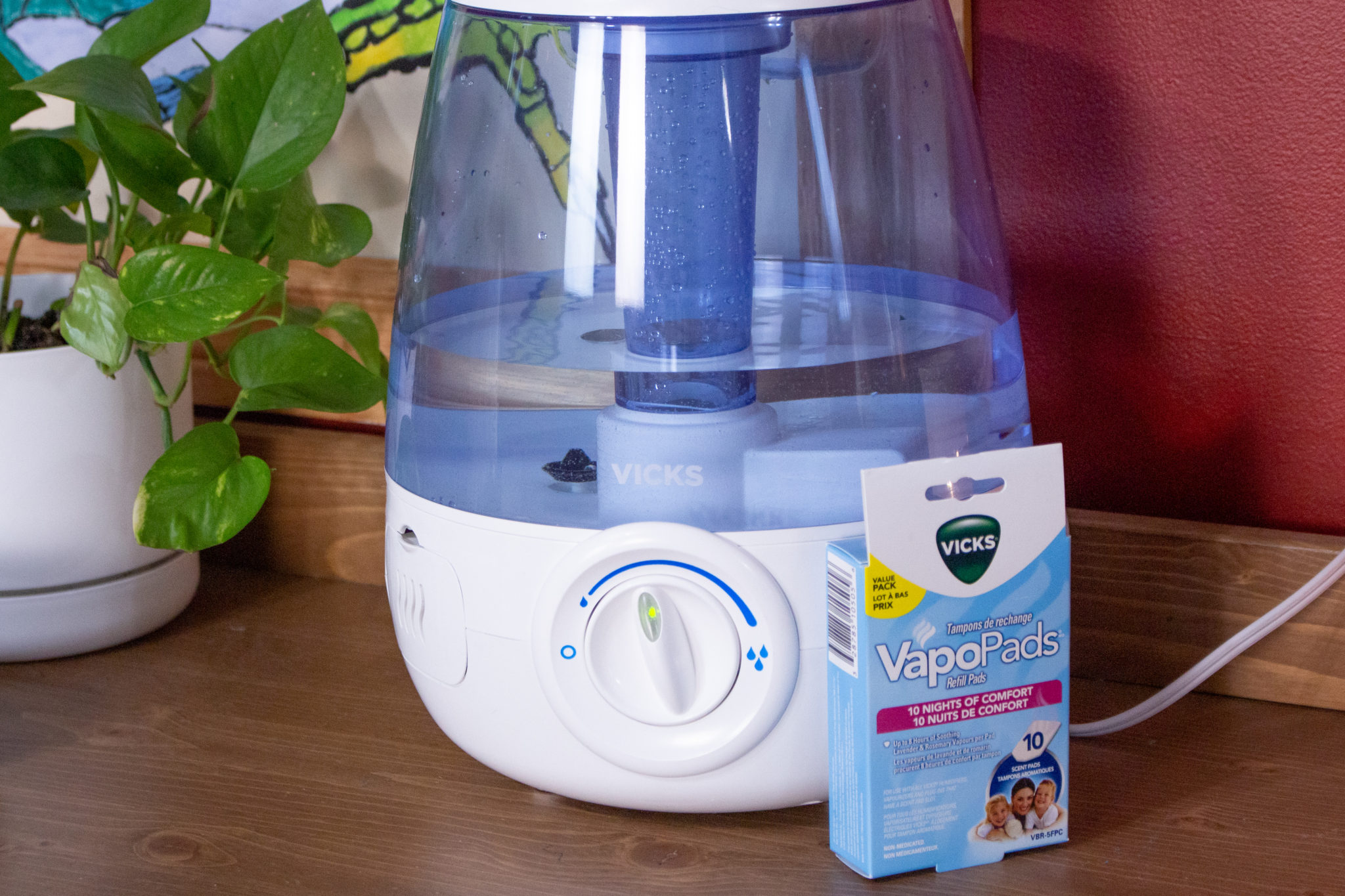 I added the Vicks® FilterFree Cool Mist Humidifier in my son's room since he's the one that usually gets the nosebleeds. I'll have to add one to my room as well to help with my congestion.
The warm mist will come in handy for the cold and flu season that's ahead of us as it helps relieve congestion and keep nasal passages moisturized.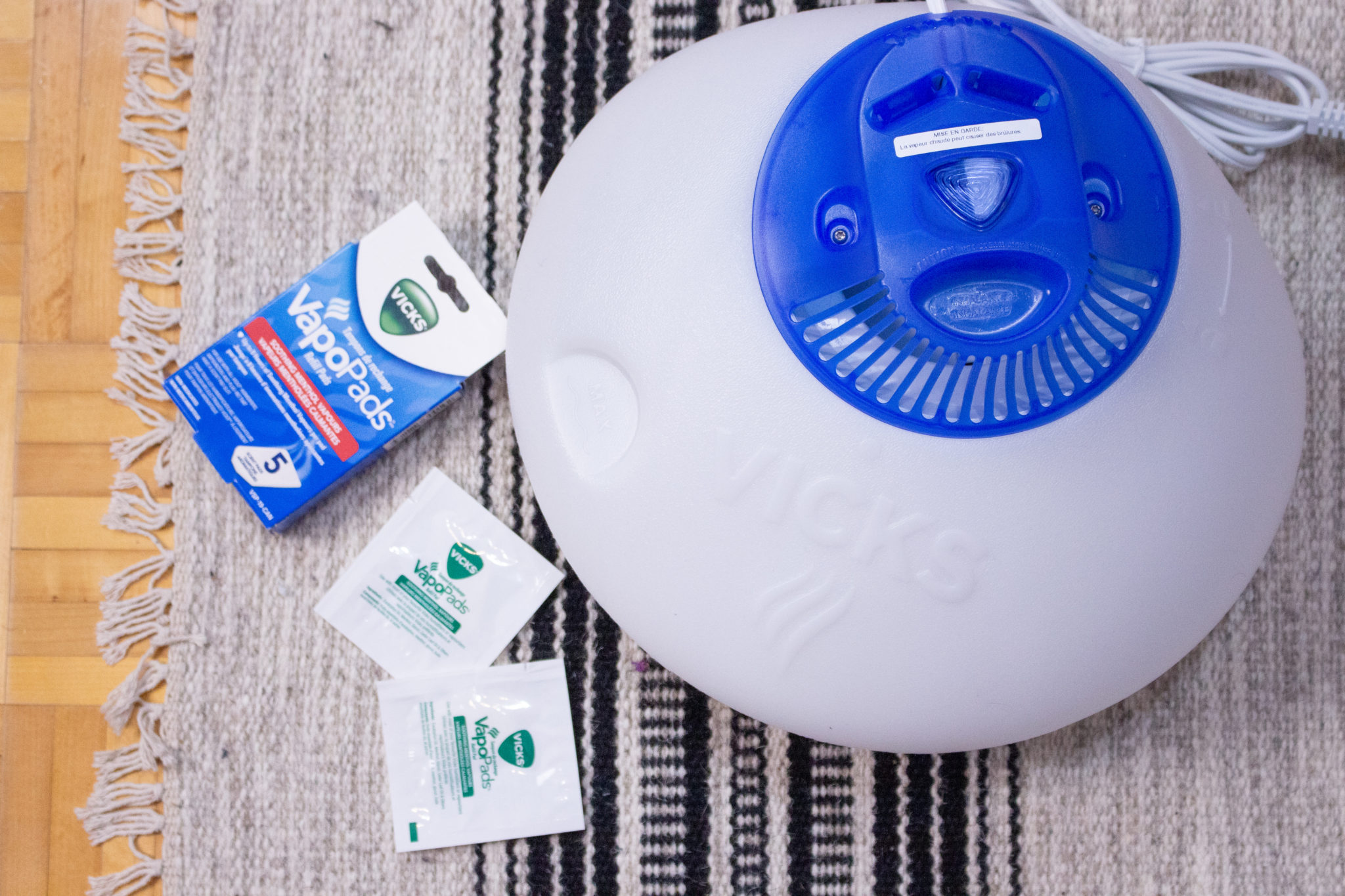 PIN IT!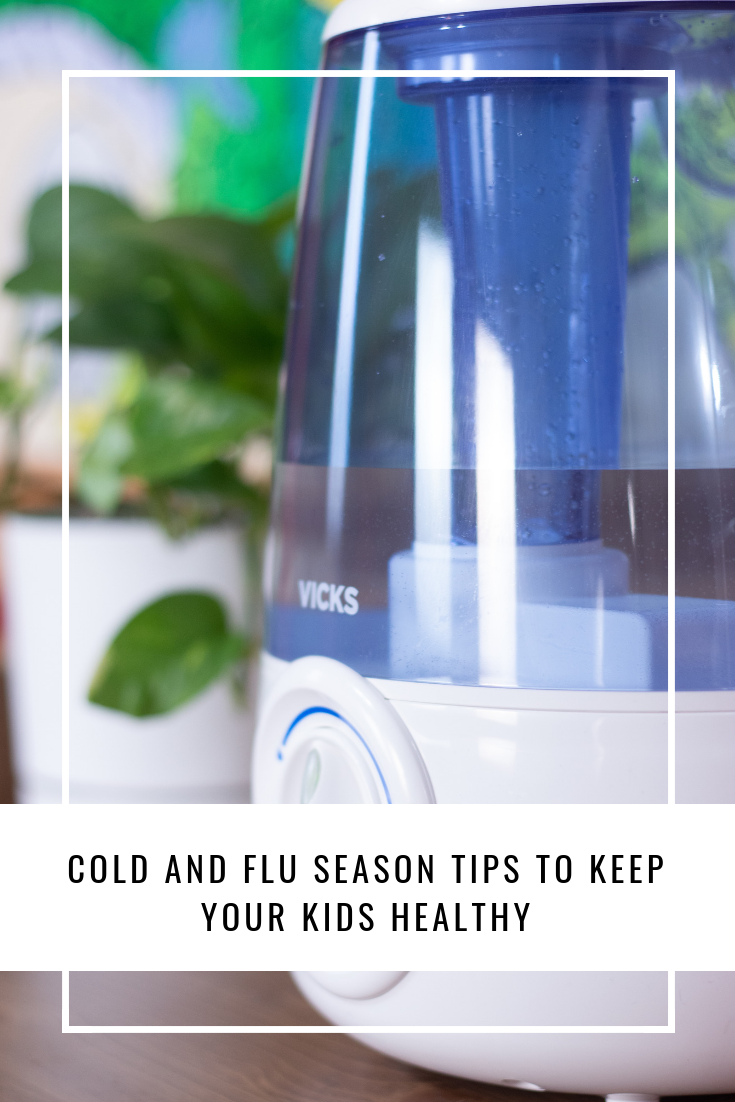 All three products including the Vicks VapoPads® are available at Home Hardware, Zehrs, Babies"R"Us and Toys"R"Us, Sobeys, Loblaws, London Drugs, Lawtons, Costco, Jean Coutu.
You can visit Vicks and Braun for more information about the products I mentioned above.
I feel that I'm more prepared for the cold and flu season (fingers crossed) this time around. With the Braun ThermoScan® 7 thermometer, I can get the temperature reading quickly and without any tears. The Vicks® FilterFree Cool Mist Humidifier and Vicks® Warm Steam Vapourizer will keep relative indoor humidity of 40 to 60 percent which will reduce the survival of flu viruses on surfaces and the air.
When the cold train does make a stop to our house, we will be ready!
What other tips do you have for tackling the cold and flu season?
Be sure you are subscribed for more tips.
Let's connect!