Leaves are changing colors; the weather is getting colder. Fall is in the air! For the first time in years, I've decided that I would decorate my home (a little bit) with Fall colors. Nothing major because I'm on a tight budget. Today I'm sharing some Fall home decorating ideas on a budget.
Fall Home Decorating Ideas On A Budget – Pinterest Inspired
As I mentioned before, I rarely (ever) decorate my home for Fall or any other season for that matter. But when your idea of a good time is spending hours on Pinterest, you are bound to get inspired! The only downside of using Pinterest is the unrealistic expectations that come with it. Alas, a  girl can dream. After browsing around, I round up a few of my favorite Fall home decorating ideas. These ideas are simple to recreate and not at all expensive.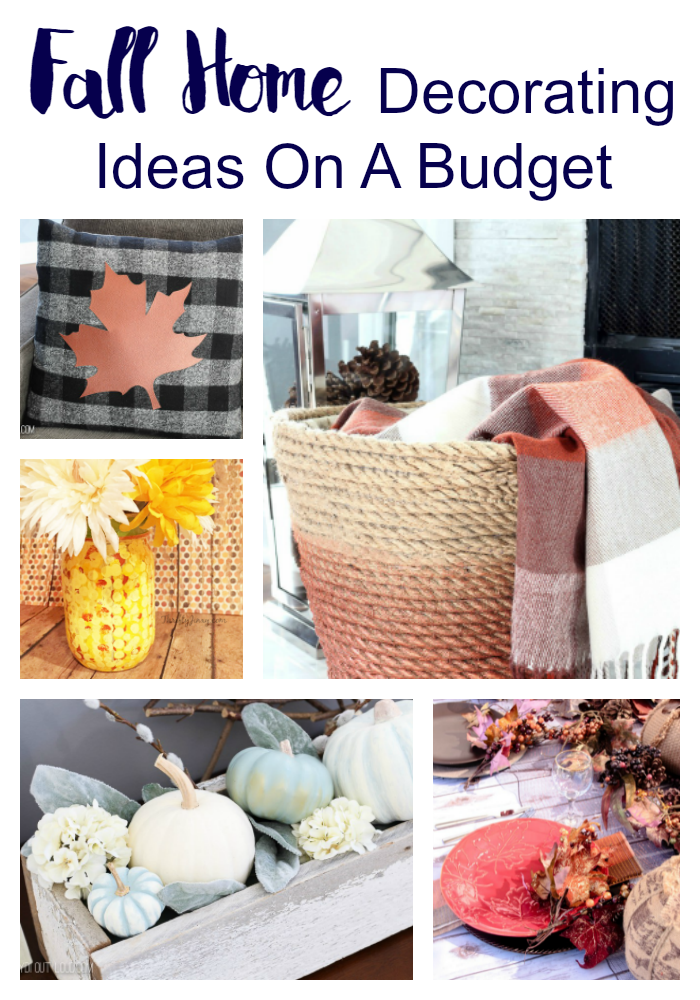 Clear Jars
Pick up some clear jars from the dollar store (1$-3$) and fill them up with leaves, acorn, and other Fall-ish items. What's fun about this idea, you can keep the jars and change them up with Spring items, Winter, or Summer. Get creative! Thrifty Jinxy has a cute diy using Masson jar that is simple to recreate.
Diy Fall Pillows
Changing your throw pillows for Fall ones is a great and inexpensive way to decorate your home. You don't even have to buy new pillows. Simple diy new ones using what you already have at home. Check out this tutorial by Lydi for inspirations.
[Tweet "You don't have to be rich to get your home Fall ready! #FallDecoratingOnABudget @ladmarielle"]
Diy Fall basket
While browsing on the internet, I came across an adorable diy. A simple plastic basket from the dollar store was transformed into a beautiful metallic rope basket.
Decorating Ideas On A Budget
Decorative pumpkins
Fall season means there is a surplus of pumpkin just begging to be decorated. What's fun about this idea, pumpkins are inexpensive, and there are plenty of ways to decorate them. For a chic look, you can paint the pumpkin using chalk paint like Lydi did in her post.
Get your Tablescape Fall ready!
Another inexpensive way to decorate your home for the Fall is to spice up your tablescape game! Anne at annsentitledlife.com shows you how to get your tablescape ready for the Fall.
See, you don't have to be rich to get your home Fall ready! Want more fun and inexpensive Fall home decorating ideas? Head on over to my Seasonal Inspirations Pinterest board. I saved some of my all time favorite Fall ideas there. Did you miss my 5 Fun Fall activities for a toddler? Go check it out now! Lots of fun things to do.
Where do you go for decorating inspirations? I love to hear from you!
Subscribe for more decorating ideas and tips.
Let's connect!
Twitter | Facebook | Instagram | Bloglovin