Last week we went out of town for the long weekend. On our way back to the city, we ended up eating at Mike's. This might not sound like the most exciting thing for most Montrealians, but it was my first time eating at Mike's, so yea…I was delighted at the idea.
The food was great and because we stopped at a Mike's that is located in a small-ish town AND on a Sunday afternoon, it was almost empty!! *Joy*
We "might" have gone a little bit overboard and ordered a LOT of food!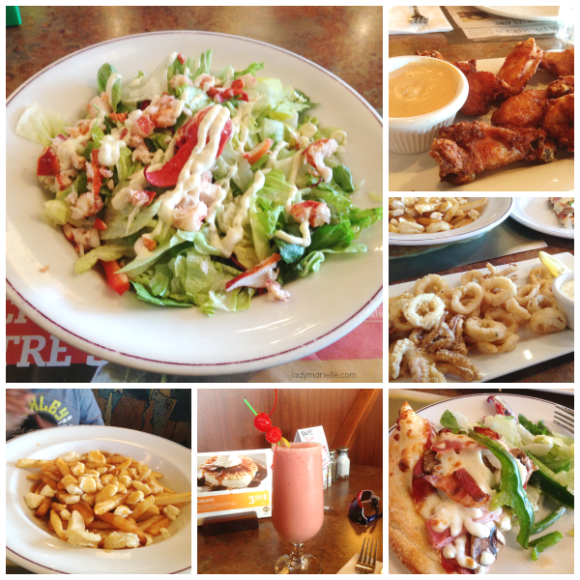 When we got done eating I was finding it hard to move! Yea, I ate THAT much!
Food was so great that we ended up at Mike's again today. But this time we ordered pasta and a sub!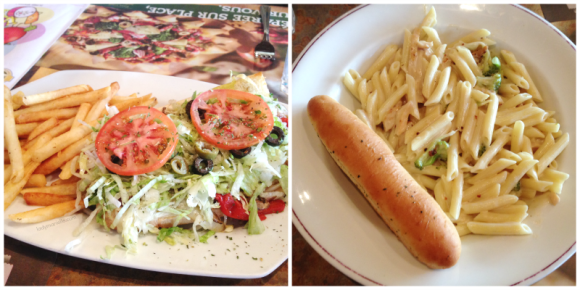 Only this time the place was complete empty when we got in *Joy* The food was still pretty good except that this time, my strawberry daiquiri did NOT have a fancy little arrow with a lemon edge and cherries. I wanted to make a scene BUT I held back. In any case, the daiquiri tasted just as delicious without the embellishments.
I wasn't too happy with the sub either but that's my fault because I ordered the Primavera Di Mikes Sub. Which is pretty much a bun topped with melted cheese, fancy looking salad and some green oil. Can you say, vegetarian?
Clearly, I'm a "Superstar Sub" kind of girl.
Read. And. Drool!!
"Sliced steak, mozzarella cheese, capicollo, mushrooms, pepperoni, green peppers and onions." Will be sure to order that one next time! Yum!!
I just love food! 🙂
What's your favorite place to go eat with family/friends? I think Mike's is going on my list of favorites for sure.
Don't forget to subscribe to get all my future posts.