Today I want to share with you a recipe that my little man personally requested that I  make. Cheese ball! We found this really easy cheese ball recipe while browsing the internet and wanted to try it.
Easy Cheese Ball recipe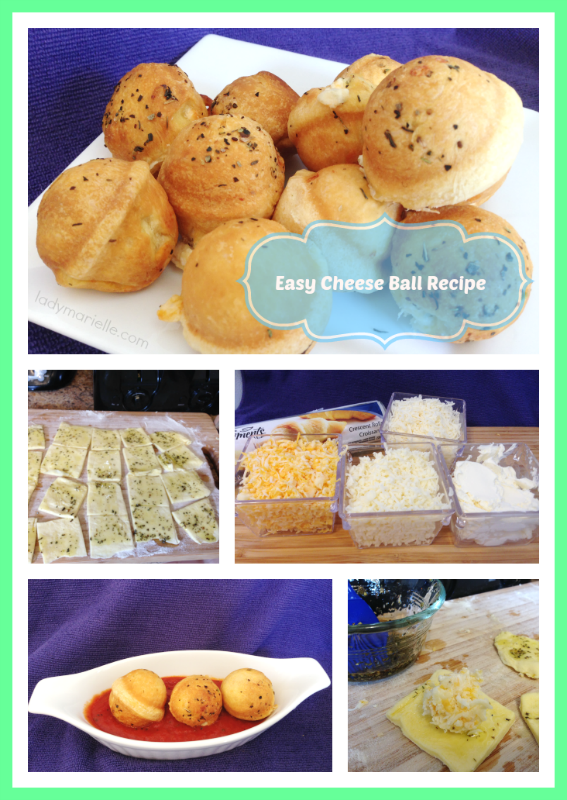 Funny story, I had no idea what cheese balls were until the other day when my 6 years old son asked me to make some for him. I assumed he meant cheese puffs or as he would call them,  the "orange chips."
After he had glared at me for not knowing what cheese balls were, he asked that I "Google" it so that I know how to make it. Yes, folks, my 6 years old son told me to "Google it"!
Not sure why I'm surprised. Whenever I answer one of his random questions with "I don't know," he tells me to "look it up!" Kids…right?!
Ok! Back to our recipe.
We found a video on YouTube that showed us how to make these famous "cheese balls." It was the first video that came up on the search engine for us. When I'm making something for the first time, I like to watch a video on how to or look for recipes that have a LOT of pictures.
Lucky for me, this cheese balls recipe was easy to make, AND I had all the ingredients. First I will link the video (HERE) to where I got this recipe from and then I will share with you what I did differently.
Ingredients
Your choice of cheeses
cream cheese
Crescent Rolls (or pizza dough)
salt and pepper for taste
Olive oil
Chopped Fresh Herbs
minced garlic

What we did:
We use 3 kinds of shredded cheeses for our cheese balls. We had a block of cheese in the fridge with no label, and I mistook it for mozzarella, but it was Swiss cheese (bot a big fan of Swiss cheese).  We added mozzarella and marble cheese. The cream cheese was use for holding the other cheeses together. We also ended up using a cake pop mold (that goes in the oven) since we don't have a cake pop maker (yet).
Since the little man was helping me cook, I skipped the minced garlic and used Italian seasoning instead of fresh herbs (we didn't have any). I won't go into many details since I've already linked the video on how to make this yummy goodness!
The result? De-LICIOUS!
I was really happy with how good these turned out. Even happier that the little man loved them.Will be stocking up on crescent rolls so that I can wipe some up again soon.
The best part was having the little guy helping me out! I think he enjoyed the fact that it was his idea and that it came out well. Hope you enjoyed this easy cheese ball recipe!
Be sure to Subscribe for more easy recipes!
Let's connect!
Twitter | Facebook | Instagram | Bloglovin