I'd love to be that mom. You know the one that has all her shit together? Hair perfectly coiffed while she creates beautiful craft projects with her well-behaved children. I'm "last minute" mom. I'm "forget to buy advent calendar" mom. But I'm also "I don't want to disappoint them" mom. I could have gone the easy way and bought the advent calendar from the dollar store. That's what my son's great-grandmother has been doing for the past three years. He loves it. It comes with the really gross and dry chocolate, but he doesn't care. It's the thought that counts and the excitement as he counts down the days till Christmas.  This year grandma with the white hair (that's how my son refers to her) forgot to get him a calendar. Instead, I wanted to be "I can be crafty" mom. So almost two weeks into the month of December, I decided to create a last minute advent calendar for him. 
 Diy Last Minute Advent Calendar Idea
(For The "I can be crafty" Moms)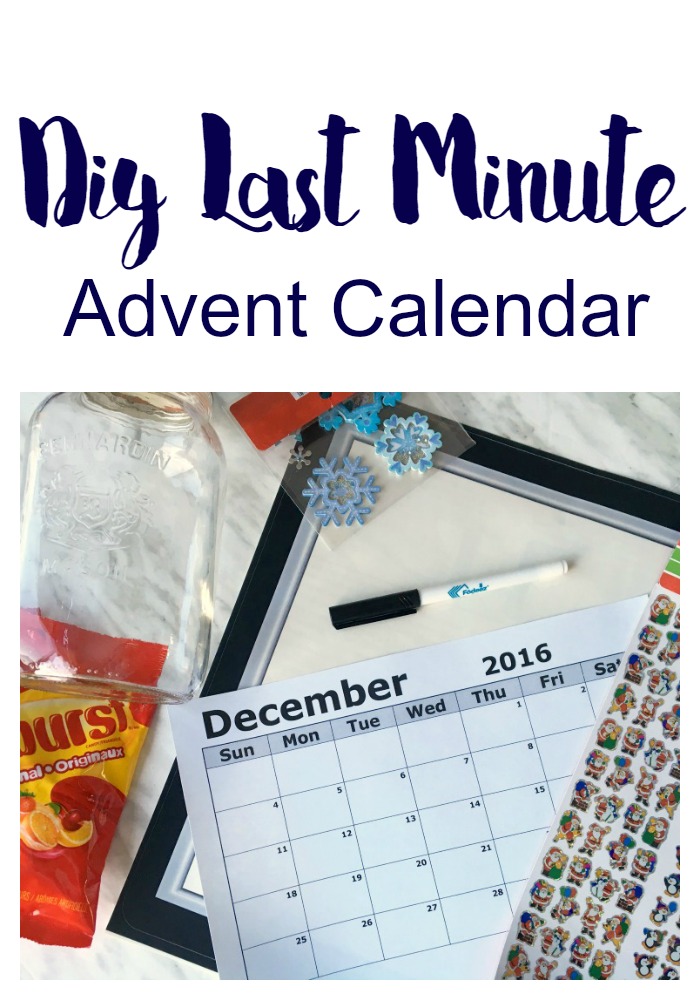 What's fun about this diy last minute advent calendar is that you don't need to be all that crafty to create it. Most of the items that you will need can be picked up at your local dollar store.
Here's what you will need
Mason jar for your treat
Prizes of your choice:  I went with starburst. He doesn't get them often so I figured it would be a nice treat for him)
Stickers: You know you have a box filled with stickers for all the failed Pinterest crafts that you had such high hopes for.
December's calendar. I found a site where you can print one out.
8 x 11 Fodeez Adhesive Frame. Trust me; they make this project 10x easier.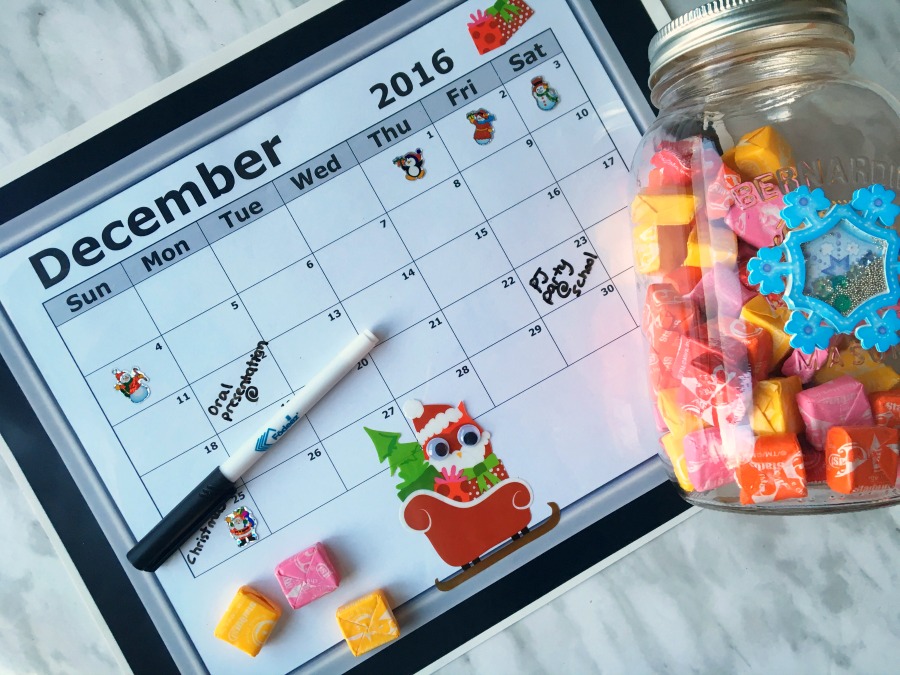 Directions
Print your December calendar (You can do a search on Google for "printable calendar" or use this link here)
Decorate your December calendar with Christmas-y stickers.
Decorate your Mason jar with more Christmas-y stickers & fill it up with your choice of goodies.
Use your 8 x 11 Fodeez frame to keep your calendar from falling apart.
And voila! You are now, "cool mom." You're welcome.
My son's reaction when I gave him the advent calendar was the highlight of this little project. Isn't that why we do it?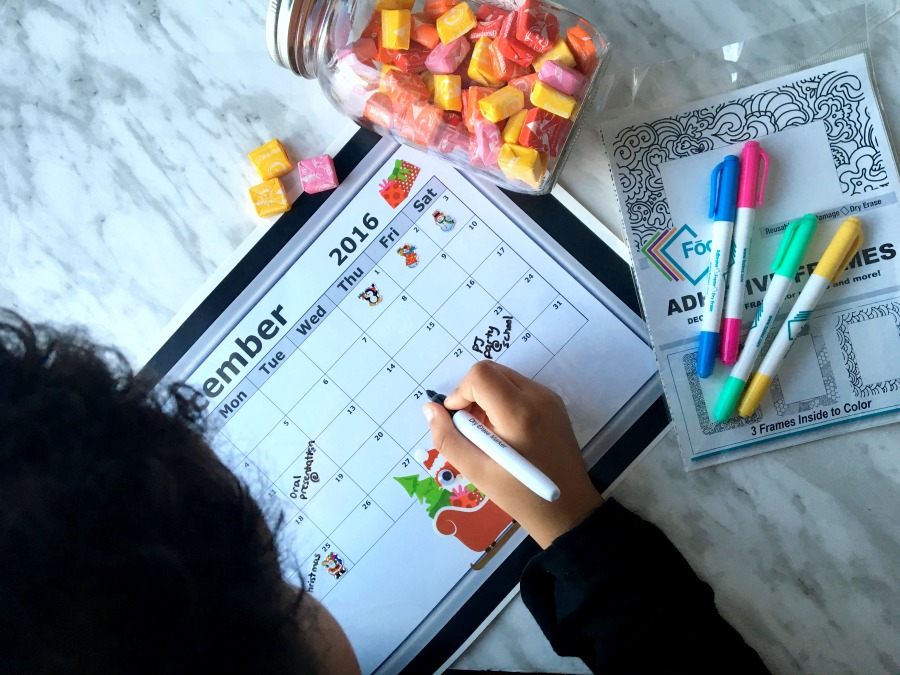 The Fodeez frame is adhesive and safe for your walls and any flat surface. I've already moved this four times in the last few days (thanks, kid!) and the adhesive is still holding on strong. I ended up cutting the calendar slightly to keep it from sticking to the frame. Another great feature to the Fodeez frame is that it also serve as a dry erase board. So we were able to add a few of the fun events that are happening before Christmas. When Christmas is over, we can use the frame for another fun project.
GIVEAWAY
Now that your the cool crafty mom (according to your child, and let's face it, we only need validation from them), how about a giveaway?
The lovely people at Fodeez are giving away a set of their colorful frames to two of my readers. You can choose from the Owls pattern or the Geo Pattern.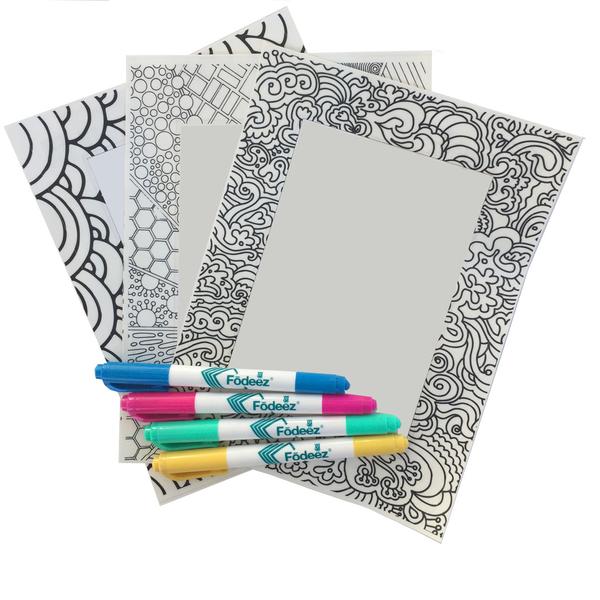 The giveaway is open to both USA & Canada.
Want to get your hands on some Fodeez Frames? Check out their website, and you can save 20% when you sign up for their weekly newsletter.
Connect with Fodeez on Facebook, Twitter, Instagram, and Pinterest
What do you think of this last minute Advent calendar? Easy right? As I mentioned earlier, this last minute advent calendar doesn't require a lot to create, and your kid (s) will thank you for it.  Now hurry, there are still 7 days before Christmas for you to do this Advent calendar.
Do you make an Advent calendar or do you usually buy it? I'd love to hear from you guys!
Be sure to Subscribe to the blog for more fun & simple diys.
Let's connect!