Dehydration is one of the oldest and most common methods of preserving edible items. Almost any natural food source can be dehydrated. Removing the moisture from foods like meat or fruits makes them lighter and more compact. Dehydrating saves space on storage and creates an ideal source of nourishment for on-the-go activities like hiking, camping, and fishing. Dried items don't need refrigeration. In a dehydrated form, fruits and vegetables don't get squashed or bruised during handling or transport.
Food and bacteria
Moist, natural foods are a banquet to many kinds of bacteria and other microorganisms that can cause enzymatic reactions that spoil food. Even keeping foods wrapped or covered won't completely prevent this once they're exposed to open air. Mold, natural yeasts, and especially multiple types of bacteria can exist even in clean kitchens. But they need sufficient moisture to grow and multiply. Once they get into your food, they continue to spread and eventually lead to spoilage. Removing most of the water content in food makes them less appealing to microorganisms and also slows any enzymatic reactions that they may cause. The result is that dried foods last much longer than moist food.
How food dehydrators work
The three elements necessary for drying food are heat, dry air, and airflow. The heat should be about 140 degrees Fahrenheit, enough to evaporate moisture without cooking the food. Dry air and consistent airflow are required to draw the released moisture away.
Modern Appliances
Today, food is most often dried using electrical dehydrators specially designed for the purpose. These can be large commercial units or countertop appliances for the typical homeowner. Most models come with timers, temperature controls, and even moisture indicators.
Electric dehydrators are the most reliable and cost-efficient means of drying foods. The process can take several hours, depending on the type of food and how it's sliced, sized, or otherwise prepared. Once dried, foods tend to change shape, color, and texture. They will weigh less and be harder to chew compared to the fresh item, but they will retain pleasant taste and healthy nutrients.
Components
Electrical food dehydrators operate using a heating element, a fan and vents for air circulation, and some kind of food tray for holding the product. Heating slowly turns any moisture to evaporated water vapor that's released into the dehydrator's airflow and carried away. The fan pushes this excess moisture through the dehydrator vents into the outside air. The air might circulate vertically or horizontally depending on the model. Normally, air that's moved horizontally requires a rear-mounted fan, while vertical airflow designs will have fans located at the top or bottom of the dehydrator.
Trays
The kind of food tray used will vary with the size and shape of the dehydrator. Many models utilize several stackable trays that can be easily removed for cleaning. Others will have rigid shelves. Modern designs may include circular drying racks or rotating trays to allow better airflow and faster, easier dehydration of foods. Shelves or trays may be adjustable to permit different sizes and shapes of food, or variations in air circulation.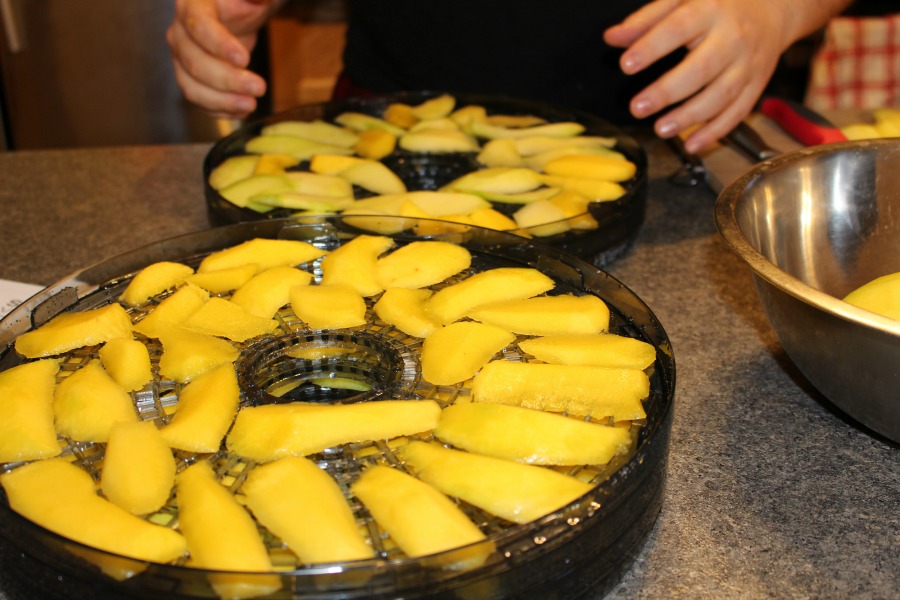 Temperature
Different types of food may dehydrate optimally at different temperatures, but the average range for a home appliance is a range of 95 to 145 degrees Fahrenheit. Meats should be dried at a higher temperature to kill or prevent the growth of harmful bacteria. Fruits and vegetables tend to have more moisture, but can be dried safely at lower temperatures. Dehydrating foods at too high a temperature may result in exterior surfaces that appear dry but are still moist at the center. The best choice is to find a dehydrator that ensures consistent temperature and airflow and follow the manufacturer's recommendations.
Common Uses
The most frequently dehydrated foods are those that provide tasty, healthy snacks but tend to spoil if left alone. This includes berries such as blueberries, strawberries, raspberries, and cranberries. Fruits like apricots, apples, peaches, bananas are also good choices for dehydration. Dried fruits and berries can be added to breads, cereals, cakes, trail mixes, and other snacks to give an extra level of flavor. These dried fruits can also be chopped up and added to yogurt or fruit rolls.
People with herb gardens will use dehydrators to dry out fresh herbs like basil or chives before chopping and storing them. Vegetables and tubers of many kinds are also commonly dehydrated for storage, such as potatoes, tomatoes, peppers, mushrooms, or carrots. These can later be added to soups or salads. Dehydrated meats can be seasoned first and turned into jerky. Meats most often used for this are beef, venison, turkey, and buffalo, though any kind of meat or even fish will work.
Food Texture
Dehydrating fruits is usually completed if the portions appear dry and leathery throughout. Dehydrated vegetables may seem crunchy without their natural moisture, while meats should come out with a tough but chewy texture.
Benefits of Dehydrated Foods
Nutrition
Common methods of cooking, especially boiling, may destroy many of the natural vitamins and minerals in food. Dehydrating food actually preserves the nutritional benefits. Dehydration is often used by those looking for a healthier dietary intake.
Long shelf life
Dehydrated foods can last for months and still be perfectly edible. Freezing can damage foods over time, particularly meat, through freezer-burn and the expansion of ice crystallizing throughout the food. Canning of foods takes a lot of effort, jars and supplies, and plenty of storage room. But because the dried version of foods is lighter and smaller, they can be stored anywhere in an air-tight container for a long period.
Portion control
Dehydrating can help for those looking to control their food intake or ratio food supplies over the course of a winter. The food is simply cut into fairly uniform sizes or placed in similar-sized baggies or containers. This is also convenient for those looking for a snack on a busy schedule, as they can just grab a bag of dried apricots and snack on it at work or in the car without worries about leaving a mess.
Easy to store
Dehydrated foods require no additional effort once they're fully dried. You can pack them into any convenient air-tight container and set them in a pantry or basement to be consumed whenever you wish. This saves a lot of space when your family refrigerator is filled with leftovers.
Smoothies and Beverages
One benefit of dried foods is that they can be rehydrated to an extent. Chopping up dried fruits and berries in the blender for use in healthy smoothies is easy. You could also add a piece of dried lemon, peach, or ginger to a cup of tea, or dried herbs to broth.
Cost-efficient
You can dehydrate a wide variety of foods and spices to preserve them in bulk. If you think about how much food you've thrown out due to spoilage, buying a dehydrator to preserve them makes good sense.
A food dehydrator is simply a convenient way of preserving your favorite foods. Extending the useful life of your kitchen staples is certainly a better alternative than throwing out perfectly good food every time you find yourself with extras.
Subscribe to my blog for more tips.
Let's connect!