I've been reluctant to make New Year resolutions. Why may you ask? Fear! The fear of failing by not following through with them that is. But there is one goal I want to set for myself, and that is being debt free!  Last month I posted about something that was personal. I debated whether or not it was something I wanted to share with the worl5d. I ended up sharing it and was glad I did. I read every single comment that was posted on that post, and I was left feeling like I wasn't alone. And that there is hope. Since then, I have been watching my spending, and I am happy to say that I ended up the year with a positive balance in my bank account YAY ME!! The most expensive present I got were gold dice my boyfriend wanted (he is a big nerd).   
 Debt Monster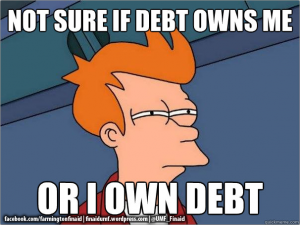 The first thing I did was face my monster head on. The way I did that was by writing down all the amount that I owed, the amount that I have in savings, investments, etc. Once I was able to visualize my monster (I was freaked out) I was able to come up with a game plan to get rid of it.
In the month of December, I went ahead and opened a free checking account with Tangerine. 
That's right, FREE. Not paying the "other" guy 15$ a month to use my own money! You can read all about what other services Tangerine offers here.
(When you open an account with them using my key we both get 25$, how awesome is that?!)
I also started to use cash only when going out to buy things. I tend to spend way over too much when I use my debit card because I don't "see" how much is being spent. 
I've also been following some blogs that give tips on living "frugally." Plus I have a friend that is very "savvy" when it comes to money, and he just LOVES giving me advice.
So here's my December report (below). I like that I can SEE the amount that I owe going down. It makes me want to do better each month. Can't wait to see what January has in store for me!
| | | | |
| --- | --- | --- | --- |
| Assets | | $ Diff | % Diff |
| Cash | $465 | $220 | 89.80 % |
| Stocks | $0 | $0 | – |
| Bonds | $0 | $0 | – |
| Annuities | $0 | $0 | – |
| Retirement | $2,404 | $25 | 1.05 % |
| Home | $0 | $0 | – |
| Other Real Estate | $0 | $0 | – |
| Cars | $0 | $0 | – |
| Personal Property | $0 | $0 | – |
| Other | $126 | $25 | 24.75 % |
| Total Assets | $2,995 | $270 | 9.91 % |

Debts
$ Diff
% Diff
Home Mortgage(s)
$0
$0
–
Other Mortgage(s)
$0
$0
–
Student Loans
$0
$0
–
Credit Card
$3,620
($94)
-2.53 %
Car Loans
$0
$0
–
Other
$14,465
($265)
-1.80 %
Total Debts
$18,085
($359)
-1.95 %
Net Worth
($15,090)
$629
4.00 %
I'd like to thank Tristan for his awesome abstract coloring =)