Last minute requests from my son and now we are facing a costume dilemma! Why couldn't have asked to be Spider-Man or something?!
Costume Dilemma: Maybe I should be Spider-man next time!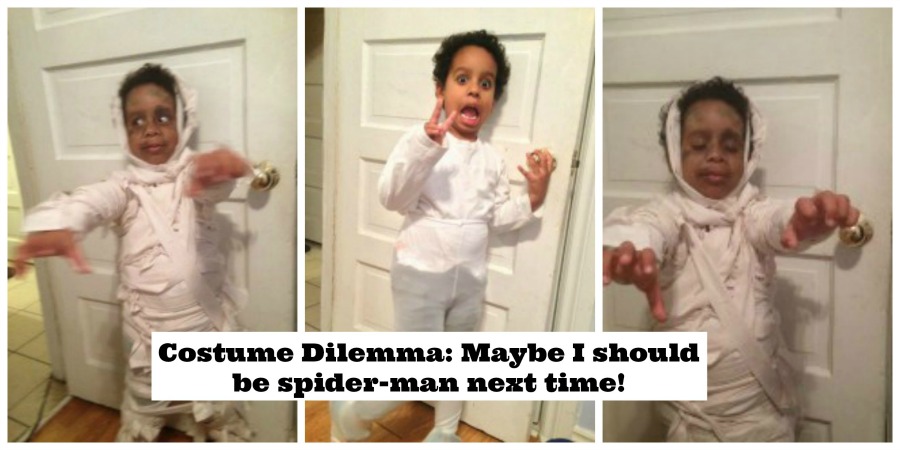 For the past 2 Halloweens, my son has insisted on being a Transformer. So imagine how excited I was when one day he randomly said "Know what I want to be for Halloween? I want to be a mommy!" My sister and I looked at each other and said "Huh?! A Mommy?!! Why do you want to be a mommy?!" He, of course, rolled his eyes (he gets that bad habit from me sadly) and proceed to explain to us what a "mommy" is.
Little Man: *sigh* "you know, it has like, white things all over it and it has its face all covered up, you know, all in white…"
My sister and I: "Oh, a mummy?!!!" *giggles*
Little Man: Yea, that's what I want to be for Halloween.
Getting creative!
Luckily, my sister volunteered to make the costume, but somehow I ended up having to dress him up.
In our house, if we don't know how to do something, we look it up on YouTube! She watched the video once, got all the stuff she needed then realized that she has to go to work on Halloween night. So she makes me watch the video and tells me I'm in charge of turning Tristan into a mummy. Let me just say that it wasn't as easy as the video made it look to be. For one, Tristan wouldn't stay still. And when I needed him to turn around he would turn into a human statue! So there I was with my braids hitting me in my face while I try my best to mummified my wiggling five-year-old son, and all I could think about was; I should have let him be Bumblebee again this year!!!
It's Mummy Time!
Turning Tristan into a mummy was LONG, but the result was totally worth it! The weather wasn't so great, so we only did two streets and the St-Raymond's haunted house.  I was pretty freaked out and was holding Tristan's hands just as tight as he was holding on to mine.  We had to run back home because it started pouring. We got in the house, and Tristan's costume was ruined, so we ended up using scissors to pry him out of it (there wasn't any video on how to, so I had to improvise). When we got done freeing him from his costume, he said in the tiniest little voice "Maybe I should be Spider-man next time." I seriously could not stop laughing but had to since I was holding giant scissors in my hands.
I was a bit sad about not being able to binge on baby butterfingers, but we got some candies and got to dress up. Best of all, we got to do what we love the most, spending time together. In the end, that's what really matter. Not how perfect or fancy a costume is, but getting to enjoy each other's company.
I hope this Halloween, you get creative and make your own costume. If you are not on the DIY side, you can always check on Amazon for some inspirations.
Have you ever had a costume dilemma? Do you get creative or buy your costume? I love to hear from you guys.
Subscribe for more family posts.
Let's connect!