Hi, my name is Marielle and I like to start 100 projects at once till I get so overwhelmed that I quit. There, I admit it. I have a problem. Which I'm working diligently on correcting…I tell myself is it "multitasking" but I'm only fooling myself.
For the past two weeks I've been doing so much running around; Sorting out the orders from my Scentsy business, Pinterest(ing), crafting, diy(ing), lots and lots of YouTube(ing) and getting prepared for my two day craft fair event. It was my first "non-church basement" event so I was a little bit nervous.
Today was the last day of the even and I was feeling a bit down. That was until one of my friend came by the craft fair to "show his support" which means, he gets to choose the restaurant we go to next time. After chatting a little bit, he decided to give me some feedback about my table presentation. A little bit of background on this friend of mine, he can be very blunt to the point of almost sounding hurtful. But he tells it to you like it is. No sugar coating it. If he does put sugar on top, he sprinkles just the right amount of salt to make you think "wait, was that a good thing?" We started walking around from table to table and he would ask me questions like "which table stands out the most in your opinion and why?" One of those tables was the soap/bath salt table. It was the first table that popped out to me when I got in the gym yesterday. It was the pastel colored soaps and body salts in silver containers. The next table that stood out to me was the one with the items made out of felt material. The main reason it stood out so much was because of the light that was being pointed direct at the hearings and rings sort of like "hey look at me, look at me".
After looking at the other tables, it was time to look over mine. I already knew what was coming, so I pointed it out right away. To be honest, my table looked a bit confusing, to the point of being "distracting". Too many things happening on my little 3X3 table. It's funny because my sister pointed out to me that people DON'T like too many choices. She told me that the more choices people have the less likely they are to buy from you. Which is a concept that I have to understand, if I want to succeed in my business.
Surprisingly enough, after going over what was wrong with my table, I didn't feel like kicking him (which is rare because I ALWAYS want to kick him). At the end of the craft fair, I ended up feeling a bit disappointed but NOT discourage. There is room for improvements and I'm not going let a bad sales day bring down my spirit. My friend and I are talking about a future project which I believe could turn out to be a huge success (fingers crossed). So I'm excited and very hopeful and most of all, I'm determined!
Below I will post a few pictures from the craft fair and some of the things I've been working on during the past two weeks.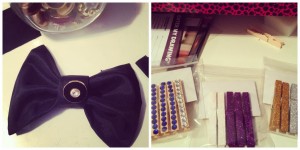 little bow and some clothes pins that I have "bling" up

1. My "pouch" party ready to go to my lovely hostess!
2. Just a few basket filled with Layers products
3. Cute buddies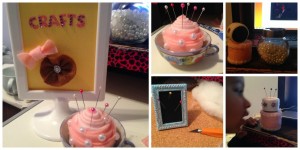 I might have a new "thing" for pincushions…Tristan wanted to know if he could eat the cake. Kids!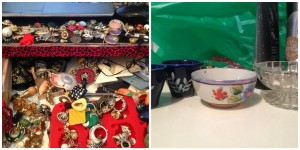 I don't know what drove me into getting that box filled with party/vintage jewelries but the little teacup are soo cute!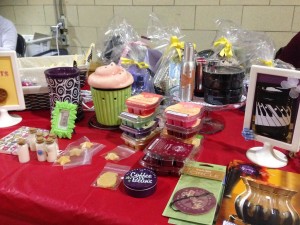 My 3×3 table set up
As always, I love hearing from you guys, so be sure so check out the pictures and let me know what you guys think, any suggestions on how to do better on my next event?
Questions you may have. Check the links to view where and how to get some of the items pictured above.
1. Where I picked up my vintage pieces of jewelry and teacups from.
3. If you would like to host a Scentsy party to earn free AND half price items.
4. To purchase Scentsy buddies and layer products.