Today my dear sister sent me on a mission! Ok it was a grocery run, but by the time I was done, I felt like I'd accomplished some sort of mission…
My morning started off with 5 texts messages from my sister (back to back) of a list of items we will need to make the famous soup joumou. After bribing Tristan on NOT coming with me (it's freaking -15°C outside and he walks like he has boots made of cement), I made my way to Centre de viandes LaSenza. OMG someone please remind me to NEVER, EVER go there two days before New Year's Eve (or any other big holidays for that matter). The place was PACKED! I mean I got there around 2 pm and number 33 was being called out and my ticket read 88. After I got my beef cube and stocked up of some other yummy goodies, I made my way next door to the vegetable store in search of "yam".  We are not big "yam" eaters at our house (once a year maybe), and when we do eat it, my sister is the one that buys and cooks it. So I was a bit surprised by how many different type of "yams" there was.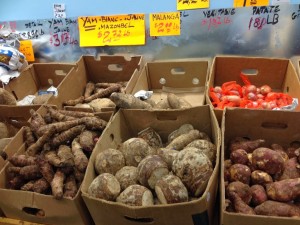 There's like 4 different kinds here!!!!! WHELP
But this post is NOT about yam, or how crazy busy the meat place was, it's about soup, soup joumou to be precise. Come January 1st, every single one of my Haitian friends likes to brag about having soup joumou. I won't lie, I'm always jealous of the thought of them downing that amazing goodness for 3 days straight. Back when we lived in Florida with my uncle's family, we would have soup joumou till we hated it and then crave it again come the next year. It's a love and hate relationship when it comes to soup joumou and only if you've been raised on it would you truly understand just how deep our love for this soup is. It's a special soup and it is solely reserved for the first of the year. No one in their right mind would make soup joumou any other days in the year. That would be…weird, totally unheard of!!!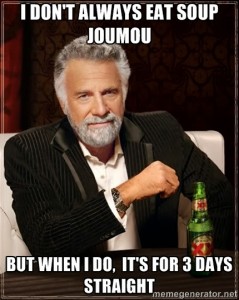 This year my sister is making us some for the first time. I'm excited! To be perfectly honest, the only thing I do know for sure (without looking it up on Google) is that the soup is consumed on the first of the year to celebrate Haitian independence and it is freaking delicious. For those of you not fortunate enough to have had some of the golden elixirs, I'm sorry! You might want to make some Haitian friends for the next year, or you can always YouTube the recipe (that's what my sister is going to do hehehehe).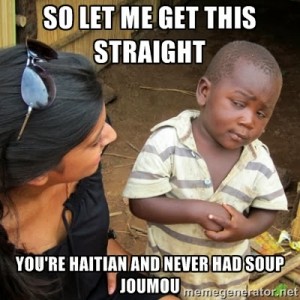 If you want to learn more on what soup joumou is all about, I invite you to come back on January 1st to read all about our homemade soup and it's history. It will be our first year making it our self so I hope you can all come back and share the experience with us!
What do you plan on doing for New Year? Love to hear from you!