Hello, my loves! I know, I know. I'm late to the party (again). All my blogger friends have already made their blogging goals for 2016 and are half way done accomplishing them, and here I am, just now making mine.  Why so late? I wanted to make sure I made goals that I will be able to complete (this time around lol). If you read my My 2015 Failed Goals post, then you know what I mean.
Blogging Goals For 2016
This year I want to focus my goals more towards my blog and growing my social media platforms. I've been blogging for three years, and I still feel like I haven't accomplished enough (blogging wise). So without further ado, here are my blogging goals for 2016.
1. Grow my social stats for Twitter, Facebook, and Instagram: I'm focusing on these three areas this year. Here are my current stats as of January 2016.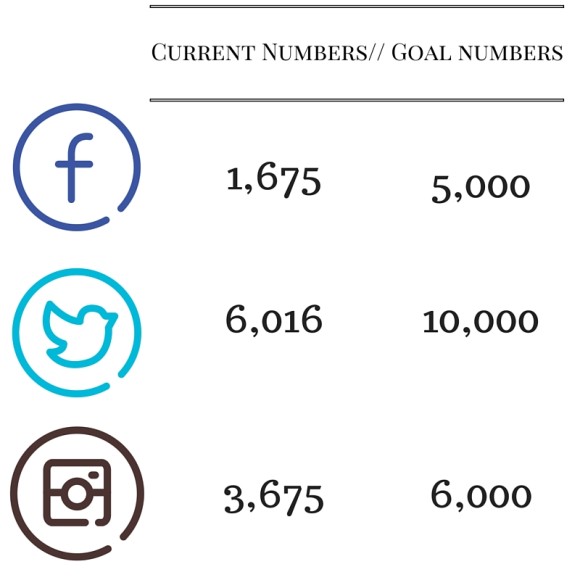 I know I can reach these numbers on Twitter and Instagram, but I have this nagging feeling that Facebook will be a challenge. I welcome tips and tricks for growing my Facebook likes.
2. Host 5 giveaways: I've heard bloggers using giveaways to grow their social following. Plus I want to spoil my readers for their awesomeness!
3. Post 100 times: Yikes! Crazy yes. It's also one of the goals I was not able to complete last year. But I feel confident that I can reach this goal! So far I have seven posts published since January 1st! Yay!! Just 93 (92 if we count this one) to go!
4. Network more: This goal can't be "tracked" I just want to be able to connect with more bloggers. Since I started blogging, I've been blessed to meet (not in person yet) a LOT of amazing bloggers. Stay tuned for my top 10 favorite blogs.
5. Share Scentsy: A lot of you know (either from reading my Scent of the Month posts or from following me on my personal Facebook page) that I'm an Independent Scentsy Consultant (shameless plug here 😉 ). I have not updated my Scent and Warmer of the month post in a LONG time. I loved writing these posts, and I want to start again.
6. Monster Chronicles Rematch: Alright, this one is a more personal goal for 2016 (still blog related though). I started writing my monster Chronicle posts almost two years ago. Last year I completely stopped when I got pregnant. I loved, LOVED these posts because they were more personal and my Little Man would help each month color the monster of the month. Can't wait to write start writing again about my monsters.
Alright, so these are my blogging goals for 2016. Can we do it? Yes, WE CAN! LOL, You can help me reach a few of these goals by sharing my blog with your friends and following me on my social medias (if you aren't already).
I love to hear from you guys. Do you have any goals for 2016 that you feel will need a lot of work to accomplish? Share them with me in the comments.
Follow me here: Facebook, Instagram, Twitter
Don't forget to subscribe to stay updated as I work on accomplishing all my blogging goals for 2016.