Breastfeeding can be a bit challenging. With my son it took 3 weeks for him to finally latch on properly. My daughter had it down on the first try. Today I wanted to share some of the must have essentials when it comes to breastfeeding. Although the title of this post is 6 breastfeeding essentials, I feel that even if you are not exclusively breastfeeding, these items can still be very useful.  I've rounded up a list of the 6 breastfeeding essentials. Keep reading to see which items made the list.
6 Breastfeeding Essentials For New Moms
Nursing cushion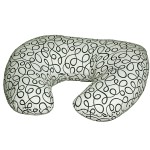 This item is by far my ultimate must have. A nursing cushion makes nursing/feeding so much more easier. I highly recommend getting one of these and if you are going to a baby shower and you bring one of these, mommy will love you forever! It's that ONE item that will be used the most. And even when baby is not feeding it makes for a great pillow for them to lay on during the day. I have one for my daughter and we use it all the time.
Nursing Bra
Want to know what's annoying? Sleeping with a bra. I mean a bra in general is annoying but I find sleeping with one is even more so. I don't like sleeping with a bra at all but when you have 10 lbs of boobs, the last thing you want to do is let them hang. Can you say OUCH?! Which is why I love using a nursing bra. They do not have that annoying wire but keeps the babes (boobs) nice and snugged. It also makes night feedings a breeze.
Disposable Breast Pads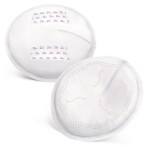 No one likes to wake up in the middle of the night soaked in breast milk. I've had that happen a few times and let me tell you, no fun!! So I always try to keep some disposable breast pads near. I have them on my nightstand and my purse. I even keep a few in my office desk (you just never know!).
Manual breast pump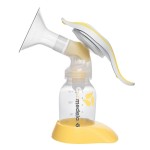 When my milk started to come in, it came IN! A lot. More than my daughter was drinking. Which means my breast would fill up and become painful from all the milk. I remember sending my SO out to get a  breast pump early in the morning because it was getting too painful. We got a manual one because it was inexpensive and I knew I wouldn't really be using it a lot. If you plan on pumping more, though, you might want to get an electric breast pump.
Breastmilk Bags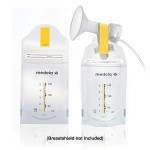 This one is optional but still good to have. The  Medela Pump & Save Breastmilk Bags are great because you can pump directly into the bag. Milk storage is not something I did with my son, but I've had to do it for my daughter. If you plan on pumping and storing, you will need some storage bags.
Comfortable Rocking Chair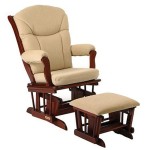 This is not a must but let me tell you, feeding on demand can make your bum numb! So you need somewhere comfortable to sit on while nursing/feeding your little one. I don't have a comfortable chair like the rocker in this photo but I have a rocking chair, and I put a cushion to make it more comfortable. If you have the funds, I highly recommend investing in a rocker with a foot stool. Especially for those days you have to be sitting for a long stretch of time.
There you have it! My list of 6 breastfeeding essentials. Like I said before, even if you are not breastfeeding, a few of these such as the rocker and cushion are really good to have. Next time you are going to a baby shower see if the mom to be could use some of these items. Trust me they will, and they will love you for getting them.
Did I miss anything on this list? Let me know what other items would be perfect for nursing. Don't forget to subscribe to more awesome posts. Thank you for reading and sharing!
**Disclaimer: This is not a sponsored post. I have added links to where you can purchase the items mentioned above. Those links are affiliate links, which means if you place an order using my link I can earn a small commission at no extra cost to you.