When I was a kid, I hated brushing my teeth. I knew how important it was, but I didn't like it. I remember finding sneaky ways to get away with not brushing. I'd run the toothbrush under water. I'd use toothpaste on my finger and just rub the two front teeth. I got caught each time. My dad was onto me. So it's no surprise that my son hates brushing his teeth too. I think it's karma for what I put my father through. Today I'm sharing five crazy ways to get your kids to brush their teeth.
5 Crazy Ways To Get Your Kids To Brush Their Teeth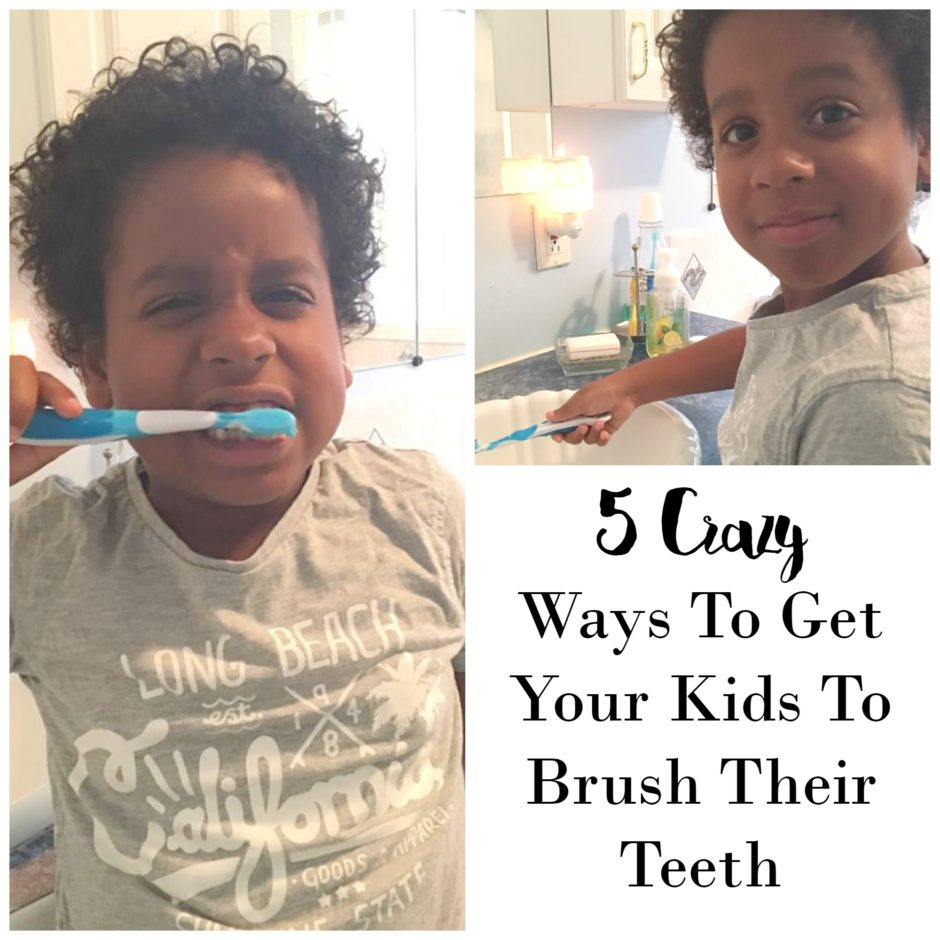 My son has a reasoning as to why he doesn't "need" to brush his teeth. Here're 2 of his most used reasons:
I cleaned my teeth yesterday!
I'm going to eat, and it's going to get dirty again.
Here're how I get him to brush:
Lie
Yes, lying is wrong! All the time. Except in this case. I tell my son that if he doesn't brush is teeth; then he will get worms. Not a complete lie, but not an absolute truth either.  Thanks to YouTube I was able to back my lies up. Don't watch the videos if you have a weak stomach. If you are curious though type "worm in teeth" in the search bar of YouTube.
Threats
My son's favorite thing to do in the WHOLE wide world is play Halo. So, when he's refusing to brush, I threaten to take away is Halo. It works. Every. Time.
Bargain
The Little Man LOVES to negotiate. But when it comes to brushing his teeth, I don't play that. What I use is a bit similar to a threat "You brush your teeth, and I won't take away Halo".  Also, works every time.
Do it for them
When all fails, I brush his teeth for him. He hates that. He complains the whole time that I 'm "hurting him." I don't, but he likes to be extra dramatic about it.
Be an example
Kids like to mimic what you do. It's the truth! My child had the nerve to say to me "I don't see you brushing!" It is true. He's usually at school when I clean my teeth in the morning or sleeping when I brush at night. So I try to make a big show out of it when I'm brushing. I announce it to him and reminds him to do it too.
**Bonus: Get them a fun electric toothbrush*. I've looked pretty much everywhere for a Halo electrical toothbrush but no luck.
Do you struggle to get your kids to brush their teeth? What other tips has worked for you? Please share in the comments.
Subscribe for more updates and family fun post.
*Disclosure: Threating to take away his favorite game to get him to brush is not child abuse. Just wanted to throw that out there. Do what works for you.
Let's connect!
Twitter | Facebook | Instagram | Bloglovin