I have spent the last two weeks getting mentally prepared for Christmas and the last three days doing the actual prepping.  Let's just say getting "mentally prepared" for something doesn't mean a damn thing. I should know, I have about 3 basket of clean laundry waiting to be folded (as if mentally thinking that they are folded will make it so…), over 10 clear plastic bins filled with "stuff" that need sorting out and  my boyfriend keeps nagging me to take all my Scentsy "stuff" out of his man cave. Which gave me the prompt for today's blog post called "That Thankful Feeling."
That Thankful Feeling
So on Friday, I attempted to clear up some space in his cave and at the same time I did my end of the year inventory (scores for me). Thanks for my iPhone I was able to type down the names of all my warmers in the "notes" app, and later on I emailed it to my inbox and then copied and pasted it on an excel sheet (there must be an easier way, but I like doing extra work…not).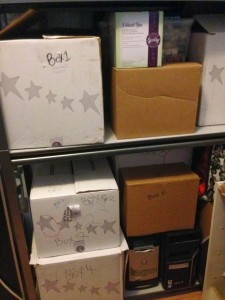 Well at least now it is not all over the place…they are in boxes =)
So in the midst of all the chaos, I want to take a few minutes and said a big thank you to all the wonderful people that have come into my life this year.  So many things have happened in the last 12 months, it's hard not to be grateful. Thank you to all the new readers taking the time out of your busy day to comment and share my posts, it means so much to me!
Don't forget to take a moment and count your blessings, once you start getting that thankful feeling, you will see just how lucky you are =)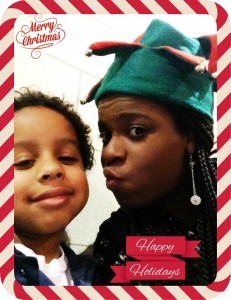 My Little Man and I wishing you all a Happy Holiday