The leaves are changing colors, and it is getting colder outside, which means Fall is here! And with Fall comes Thanksgiving and with Thanksgiving comes FOOD!!! Oh, and spending time with loved ones of course.
Thanksgiving has always been one of my favorite holidays. Heck, everything that involves good food has always been my favorite kind of holidays. Since moving back from Florida in 2005, I have not had the chance to experience a good traditional home cooked Thanksgiving meal. Having been raised in a Haitian home, we take cooking to the max! I mean, yes we get the traditional turkey and stuffing, but think rice, fried pork, macaroni au gratin, just to name a few. Yea, it is that serious. My favorite Thanksgiving would have to be the one in 2004. Which just happen to be the last one I get to spend with my family in Florida. I was young, and I thought I was in love. I had all my family with me and my bestfriend at the time came to spend that special Thanksgiving with us. It was magical. It was delicious. So much good food. Overall an amazing Thanksgiving.I feel awful that my son hasn't had the chance to experience that wonderful feeling you get when surrounded by 10-15 different aluminum plates filled with amazing food.
My cooking skills is not there yet, but I can still make a mean macaroni au gratin! So this year, I'm giving him his first Thanksgiving meal! That is, minus a few items that I'm willing to pay someone to make for me such as, a pumpkin pie. I may or may not claimed to have slaved over it later when I'm asked about it. I may or may not warm up some scented wax to give off that smells of oven baked pumpkin pie. It just so happened that Scentsy has two great scented wax that will get the job done! One is pumpkin marshmallow and the other is pumpkin roll. The Autumn Glow Shade warmer will go very well with my the Thanksgiving/Fall theme.
So I have one week to come with the perfect Thanksgiving meal, which means hours of hours on cooking sites. Good thing I love foodporn! I also know the perfect place to get my pumpkin pie near my place. Now to order that Autumn Glow warmer in time for Thanksgiving!
If you would like to place your own order of some of the fall/winter scents, Feel free to contact me: Marielle Altenor Independent Scentsy Consultant
514-804-4983
[email protected]
https://mariellealtenor.scentsy.ca/Scentsy/Buy **Updated As of October 17 2013 : Here's a picture of the pie we got to enjoy on Monday! Hope all my Canadian readers got to enjoy their Thanksgiving with the ones they love! =)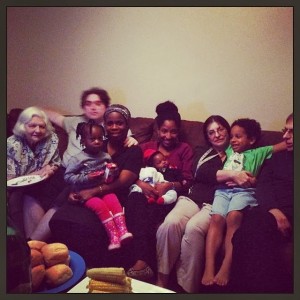 Good times with family and friends!