While your grandma's tried and true casserole recipe is delicious, it can get a bit stale year after year. Mix up your holiday recipes this year by looking for inspirations from our neighbor to the south. In the United States, one out of 10 restaurants sells Mexican food, making it the most popular kind of international cuisine in the country.
Two Tamale Tradition: Tamale Recipes For Dinner And Dessert This Holiday Season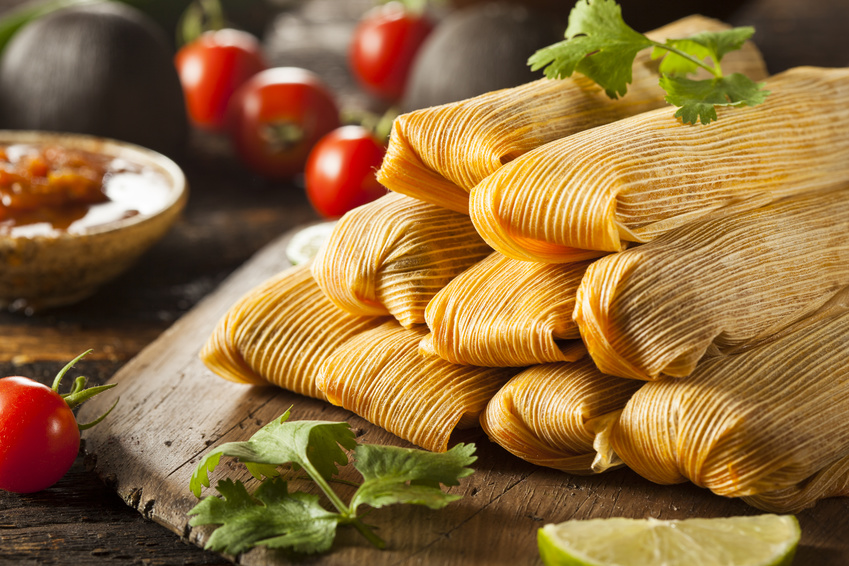 Traditionally, something like a Mexican Christmas dinner would consist of a few key dishes. These include pozole, a soup made with pork or chicken, bacalao a la vizcaina, a stew-like recipe made with fish, and pavo, the turkey centerpiece. Tamales are another traditional component of a Mexican Christmas dinner. To satisfy both your savory and sweet needs, use one recipe to compliment your main course and the other to round out your dessert.
Sweet Potato Tamales
As the perfect mix of a traditional Mexican dish and a flavor that is a holiday classic, sweet potato tamales are sure to please everyone at the table. They would also fit smoothly in with the special food industry, which grew by 11% between 2015 and 2017. Follow these steps for delicious sweet potato tamales.
Carefully remove the husks from two large ears of corn and set the whole husks aside. Cut the kernels from the cob, cook them in four cups of boiling salted water for about four minutes. Drain in a colander over a bowl and let the corn and liquid cool completely.
Toast two cups of pre-cooked cornmeal over moderate heat, stirring occasionally, for about three minutes. Move to a plate to cool.
Combine cornmeal with one teaspoon of salt in a large bowl. Blend in five tablespoons of unsalted, softened butter and stir in the corn kernels, one cup of cooked and diced sweet potatoes, and one teaspoon of hot pepper sauce. Use a wooden spoon to beat in about two cups of the drained corn liquid, half a cup at a time until the dough is moist and light.
Separate and overlap the corn husks to make a tamale wrapper about six inches wide. Mound a one-third cup of the dough in the center of the husk and wrap the husks around the dough, leaving enough room for the dough to expand during cooking. Pinching the ends tightly, tie with a string with about one inch of husk sticking out at each end.
To cook the tamales, either grill them for about eight minutes or roast them in the oven at 500 degrees Fahrenheit for about 10 minutes. You'll know they're cooked when they feel firm and the husks puff. Serve freshly cooked with tomatillo sauce or fresh tomato sauce.
Sweet Pineapple And Coconut Tamales
For dessert, you'll use the same basic principles to make a tamale as you did for the main dish. This tamale does not call for corn in the filling so that you can buy a package of dry corn husks. Before you fill them, be sure to submerge them in warm water for about 30 minutes to separate them. Remove silk threads, rinse them of lingering dust particles, and submerge them for another 30 minutes. As every year one in six Americans gets sick by consuming contaminated foods or beverages, you'll want to be sure that all of your ingredients are clean before you follow these steps.
Dry toast one cup of sweetened coconut flakes in a skillet for two to three minutes and set aside, chop one 20-ounce can of pineapple chunks and set aside.
Warm one and a half cups coconut cream and one-fourth cup of condensed milk in a saucepan over low heat and set aside.
Mix a half cup of unsalted butter in a mixer until creamy, then add one teaspoon of vanilla extract, two cups of masa harina, two teaspoons of baking powder, and half of a teaspoon of salt. Mix in the warmed coconut cream and condensed milk and stir all together until well combined.
Spread about two tablespoons of this mixture on the center of each husk. Spoon about one tablespoon of chopped pineapple down the center of the spread and then sprinkle it with coconut. Wrap the husks around the center and then tie the ends.
Steam the tamales in a deep pot of tamale steamer. After bringing the water to a boil, you'll let the tamales simmer in there for 45 minutes to an hour. You'll know they're done if you can take the cornhusk off of one with sticking to the filling. As an optional glaze, you can mix in rum extract with one-fourth of a cup of condensed milk and drizzle on the tamale after it is cooked.
For a holiday dinner that stands out, these two tamales do the trick. Impress your guests this year with these delicious treats, and they'll be sure to ask for them again next year!
Be sure you are subscribed for more recipes.
Let's connect!