Today I'm doing an another awesome review and a giveaway! I recently receive a package of Vigilant Tea 100% organic green tea powder.  Green tea power is the rave now! I went to the Tim Hortons near my job a few weeks back, and they had an iced green tea drink. Oh so refreshing!
I'm no stranger to green tea power, but some of you may not have heard of it before. Which is why I wanted to write a quick review on this pretty awesome green tea powder.
My Kingdom for a cup of Joe!
I've always been a big coffee drinker. So when I saw that you could replace your cup of coffee for a cup of tea and get all the same boost of energy (that I have talked myself into believing I get whenever I drink coffee),  well… I was skeptical!  But figured I'd give it a try!
I used it a few times before going to on my trip but hadn't replaced my coffee for a cup of tea (yet!).
I use my green tea powder in smoothies and can you say, Yumfest!!! So this week I came back from my pretty awesome trip (blog post to come) and figured I'd try having a cup of tea instead of coffee. On Monday, I tried it and was pleasantly surprised that I didn't get one of those annoying migraines from lack of caffeine!
I was  worried at first that it would get all clumped up when added to hot water (like flour tends to do…), but it didn't (YAY!)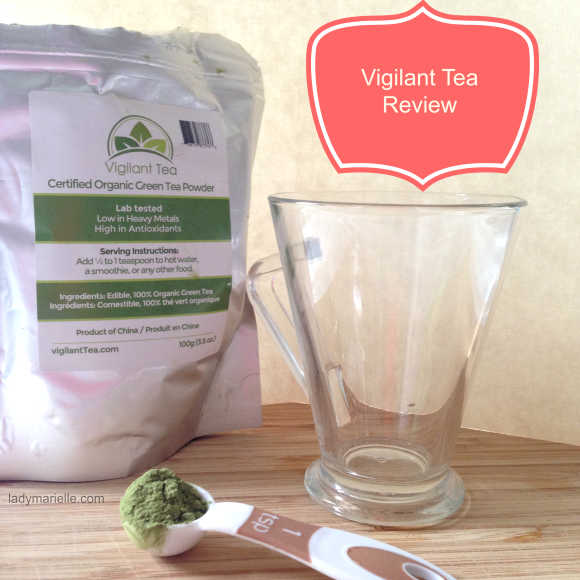 The Vigilant Tea is 100% organic which is packed with way more antioxidant than regular green tea. You can check out their site for a super delicious smoothie recipe.
For those of you that are curious about this famous green tea powder, you have a chance to win a some of the Vigilant Tea 100% organic green tea powder.
a Rafflecopter giveaway

I received one or more of the products mentioned above for free using Tomoson.com. Regardless, I only recommend products or services I use personally and believe will be good for my readers.