My Tata is the best!!!
I signed up for Scentsy's "Scent of the month, warmer of the month" program end of February so missed out of March's scent of the month *insert sad face* Had no clue which warmer or scent I was going to be getting. The wait was killing ME!!!!.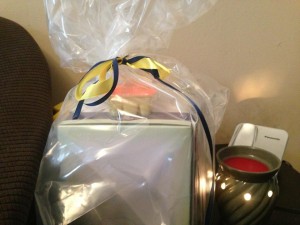 March 14 I received a box filled with goodies. The Scent I received is called "Sunny and Share" and the warmer is "Big Apple"! From the moment I saw it I knew that I wanted to give it to my Tata (if the other moms knew I called her MINE they would probably try to pull my hair out, she is JUST that awesome). I have to be honest here, I was sort of worried she wouldn't like the scent because not everyone has the same taste but she loved it!! Soon as I get around making samples I'm going to leave some with her to share with some of the other parents and her friends!
Check out my "scent of the month" tab to see what other warmers and scents I get each month. Can't wait to see what scent and warmer I will get next!!