Hello, everyone! Today's post is going to be a book review. I received Martriach-An Australian Novel of Love and War free in exchange of my honest opinion.
I grew up reading books. That's how I used to escape my boring and sheltered life when I was a teenager. The type of books I read were mostly fiction and romance novels. When I signed up to review the book I figured that I would have plenty of time to read it. I used to be able to read a whole book in one day. I had NO kind of life as a teen and I was a total bookworm. So yea, I figured I would be able to read this in one sitting, maybe two.
Boy was I wrong. Ever tried reading or doing ANYTHING for that matter with a newborn? It is impossible! So I have been sneaking the book into the loo (yes…I just called the crapper the "loo". Its even funnier with a British accent, try it!) since that is the ONLY place I get a few minutes to myself. Finally finished it a couple days ago so I wanted to share my review with you guys.
Matriarch An Australian Novel of Love and War was written by Geoffrey Hope Gibson. The story is about an Aboriginal woman marrying an English man in 1906. Which back in the early 20th century was totally unheard of. The story is being told by Nam, Alkina's great-grandmother.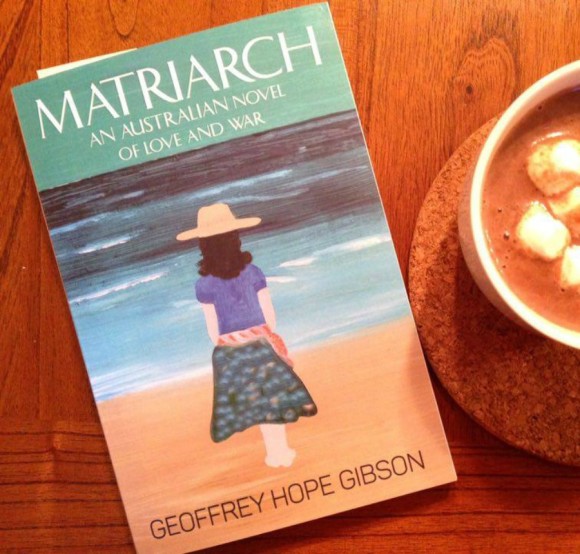 This is where it gets a bit confusing to me. When the grandmother was telling the story she was basically re-telling it the way her husband told it. But it felt odd reading it that way because of all the details she was giving…as if it was her own story. Not sure if that makes sense. The Great-grandmother's story on how she met her English husband and fell in love is my favorite part of the whole book).
The final verdict
If you are into historical kind of books then this one is a must. If you are (like me) into fiction and fairy tales, then this might not be your cup of tea. That being said, you can grab a copy of this novel here on Amazon.
What kind of books do you enjoy reading?
Don't forget to subscribe to my blog for more awesome reviews.