A happy long weekend to my Canadian readers! July 1st we celebrate Canada Day and what better way to celebrate than cupcakes? More specifically, tasty Maple Eh cupcakes! Today I'm sharing this super simple recipe that would make an excellent dessert for Canada Day!
Super Tasty Maple Eh Cupcakes Recipe |  Canada Day!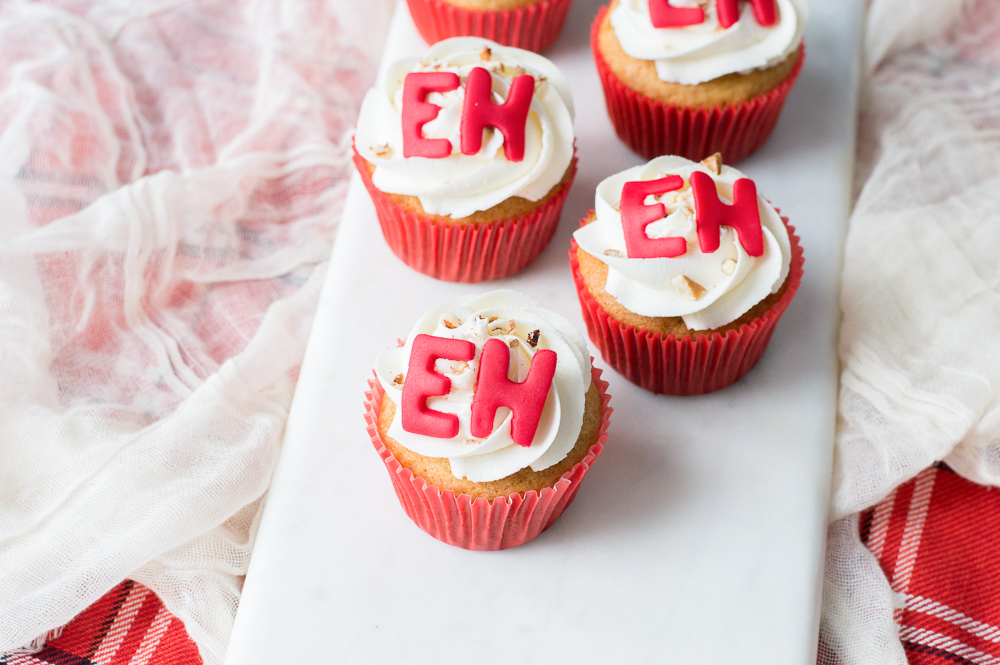 Here's a fun fact, I moved to Canada when I was just six years old, but I didn't celebrate Canada Day until 2005. Why? Well, I spent most of my teen years in Florida, and it wasn't until I moved back in 2005 that I started celebrating. Before that, I was celebrating July 4th (mainly for the cookouts as a family lol). When I lived in Montreal we would spend Canada Day eating too much, drinking too much and end the day by going to see the fireworks. Now that we have a family, we spend the day eating too much and then going to bed with full bellies! lol
The fun thing about this recipe is definitely the maple syrup! If Maple syrup doesn't scream 'Canadian', I don't know what does! Another fun fact that I shared in a recent Instagram post, Quebec is responsible for 75% of the world's maple syrup production.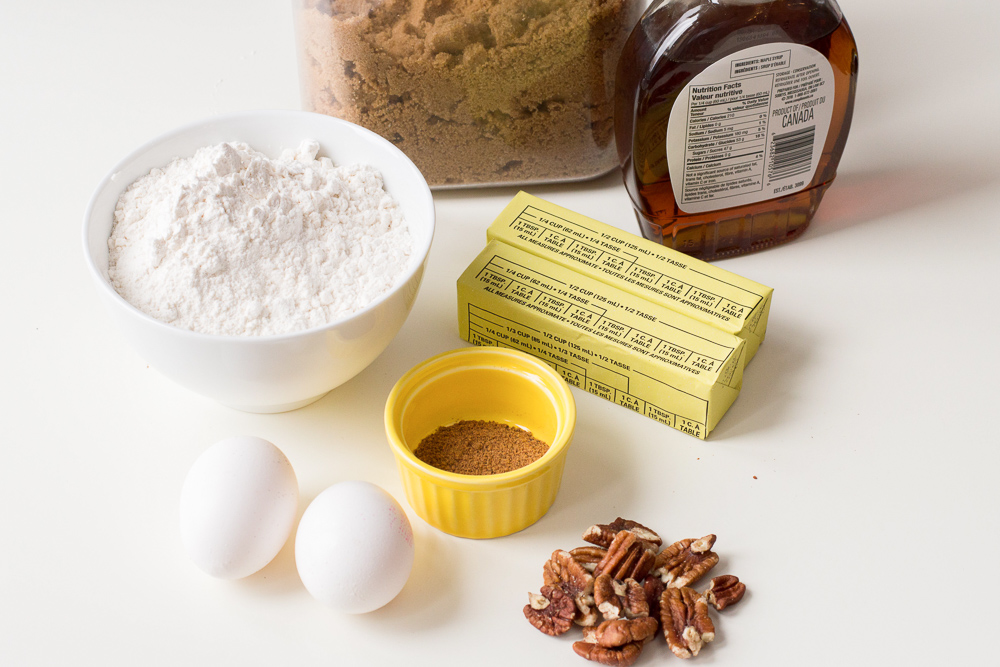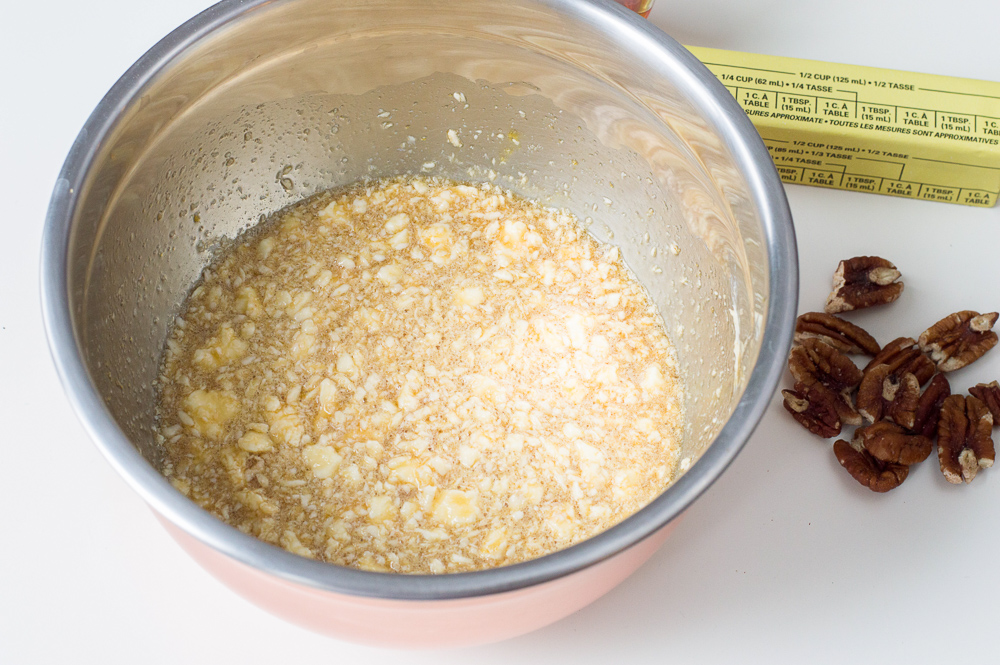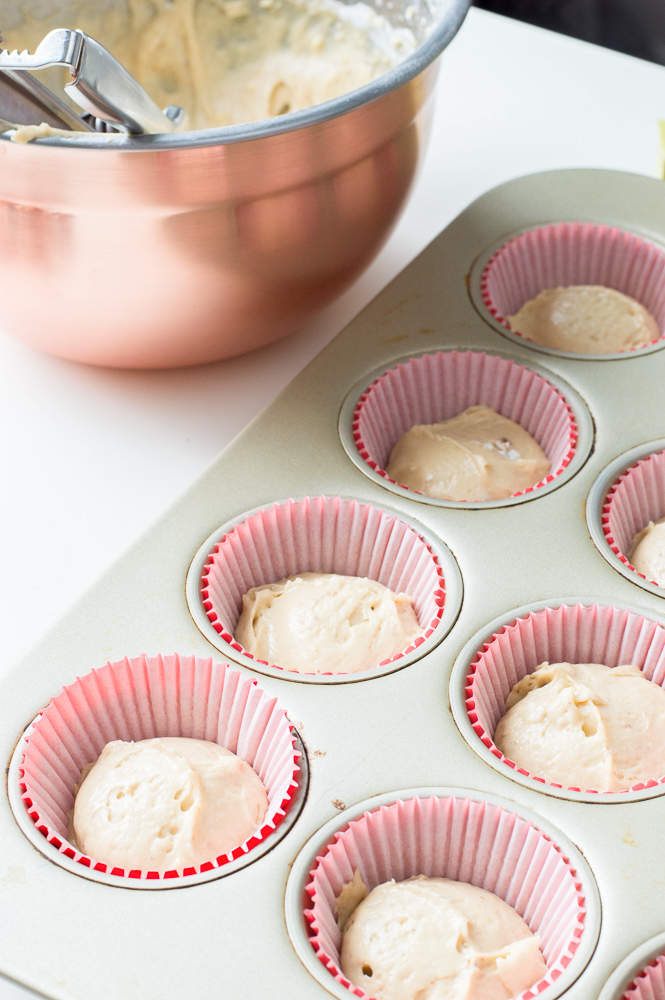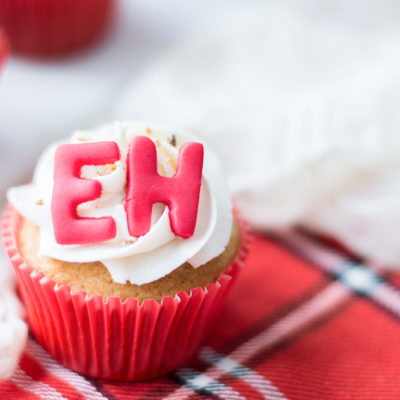 For the decorations:
Ingredients
1

stick butter

softened

2

cups

confectioners' sugar

1-2

tbsp

milk

¼

cup

pecans

crushed

3-4

oz.

red fondant

Small "E" and "H" cookie cutters
Instructions
Line a muffin pan with paper liners and set aside.

Preheat oven to 350 degrees F.

In a small bowl, sift together flour, baking powder, baking soda, salt and ground nutmeg. Set aside.

In a large bowl, use an electric mixer to beat butter, brown sugar and eggs.

Once the butter mixture is creamy, add maple syrup and beat some more.

Slowly add dry ingredients to the wet ingredients, alternating with the buttermilk. Continue beating until batter is formed.

Scoop ¼ cup of cupcake batter into each section of your muffin pan.

Bake for approximately 20 minutes or until a toothpick comes out clean when inserted in the center.

Allow to cool completely before decorating.

To decorate:

Use an electric mixer to beat together butter, confectioners' sugar and milk.

Once the ingredients are well-combined and form semi-stiff peaks, scoop into a piping bag with Wilton's 1M icing tip attached.

Frost each cupcake.

Sprinkle crushed pecans over on top of each frosted cupcake.

Using a rolling pin, roll red fondant so that it's about ¼ of an inch thick.

Using your letter cookie cutters, cut out 18 "Es" and 12 "Hs." Place one "E" and one "H" on each cupcake.

Serve and enjoy!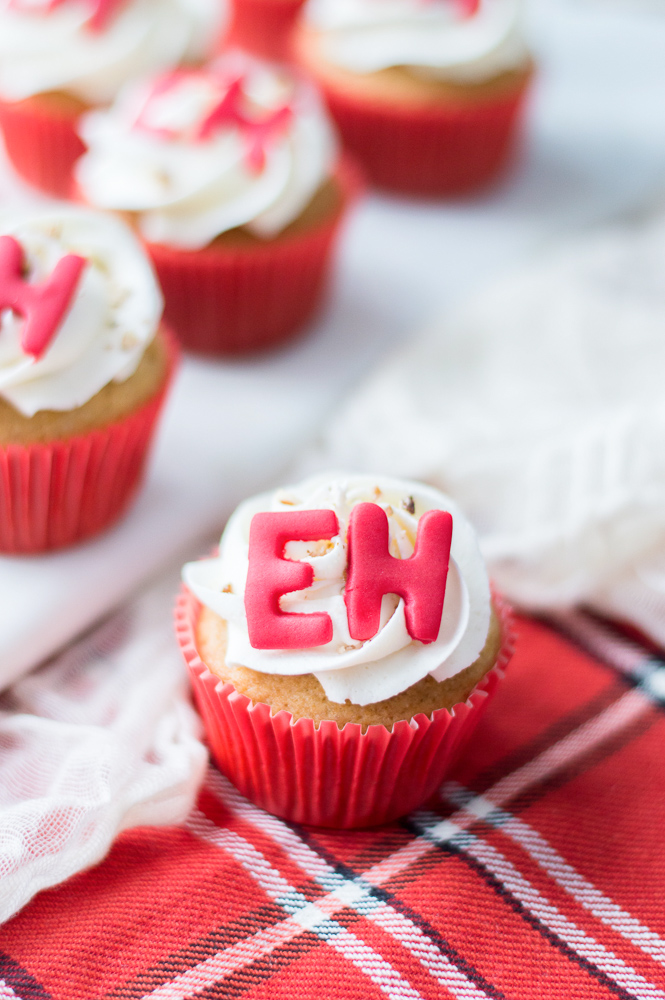 PIN IT!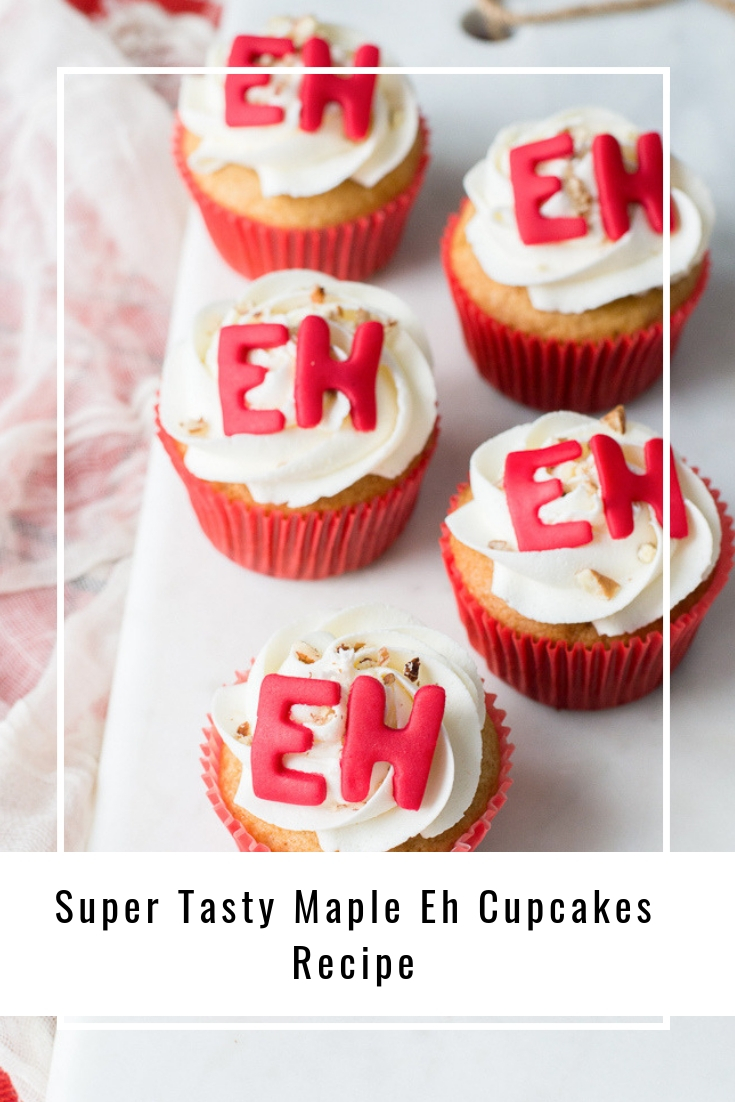 I mean seriously? How cute and delicious are these tasty Maple Eh Cupcakes? I bet you can't eat just one! I know not everyone reading my blog is from Canada. Leave me a comment telling me where you are from!
Be sure you are subscribed so that you don't miss a thing!
Let's connect!