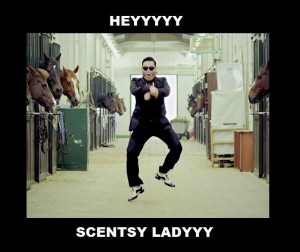 I've recently joined the Scentsy family and wanted to share my story so far.
A few months ago and Facebook friend of mine sent me an email asking if I knew anyone in Quebec that would be interested in knowing more about Scentsy.
At first, I simply ignore the email since I didn't know anyone that would be interested (including myself).  But I recalled having my emails ignored before, and I felt compelled to reply back to the email! The request was simple. Just had to share the information with my friends and family.
After saying sure, I didn't expect her to mail anything to me (hehe its the cynic in me). But sure enough, she did! Who doesn't like getting cool stuff in the mail (bills are NOT cool)!?
I opened my box and was surprised by the beautiful scents. She had sent me her business cards and some brochure and a few other items to help me spread the word for her. One of the items was a  hand lotion that I just fell in love with.
The smell is just out of this world yummy! One of my friend's birthday was in December, so I thought it would make a great gift to get her a warmer. So I placed my first order, got my box and have been a fan ever since.
I ended up keeping the warmer for myself (shhhhuuu hehe).  Around the end of January, I started to think about joining up but wasn't too sure! But after talking it over with The Babe, I've decided to make the big jump. And here I am! Ready to take over Montreal and make ever single home smell like Sunkissed Citrus!!! (or whichever scents they fall in love with).
If you are curious and would like to try some of the amazing products that Scentsy has to offer, feel free to contact me or check out my website.