A fun little fact about my family, we buy pasta in bulk! There are so many quick and delicious ways to cook pasta, so it's a staple in our pantry. The pasta recipe that I'm sharing today came out so delicious! Check out the recipe for this super creamy chicken pasta with bacon.
Creamy Chicken Pasta with Bacon Recipe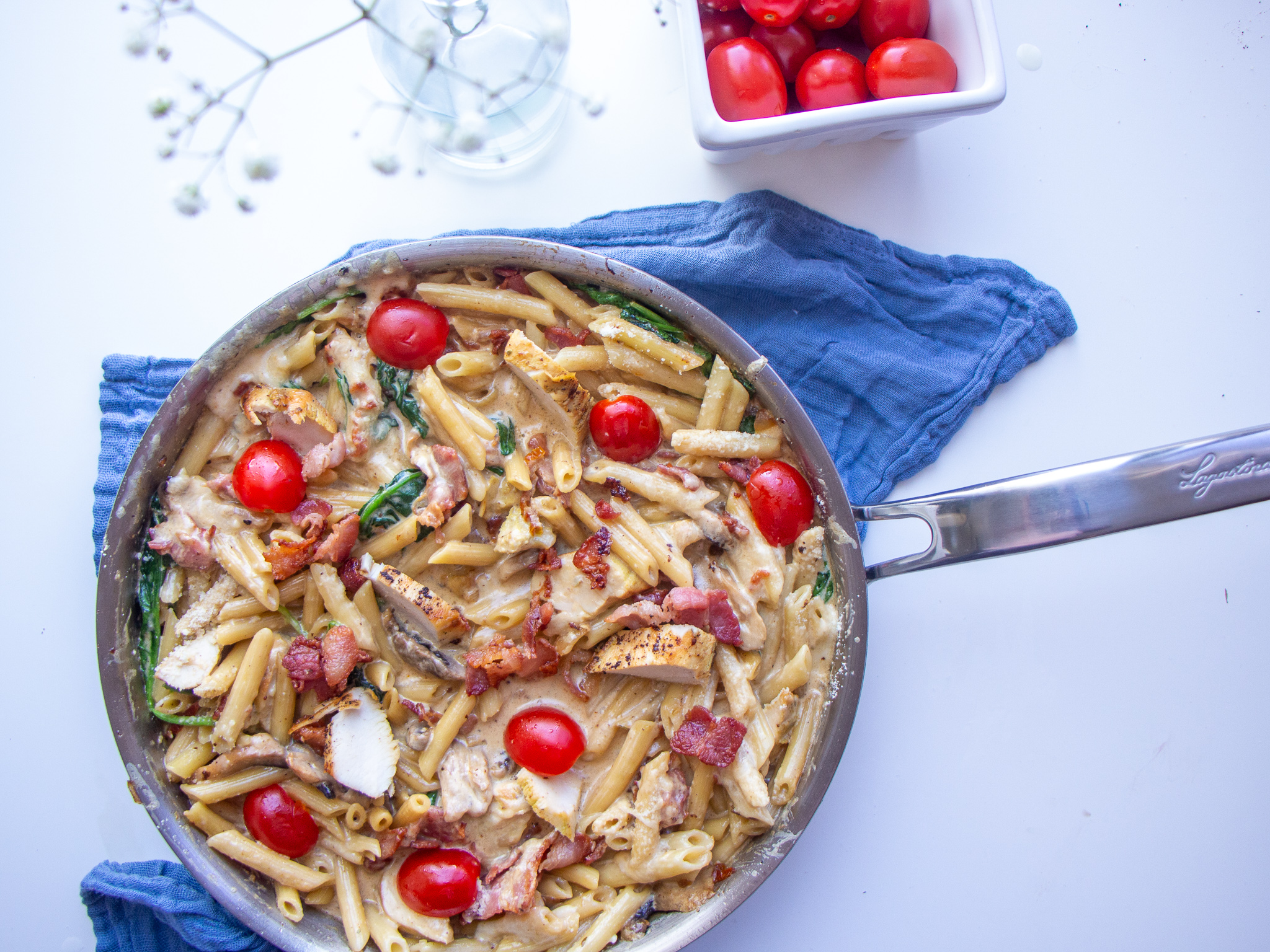 For Mother's Day this year, I was gifted a Copper Core Set cookware from Lagostina and was so excited to test them out! I ended up recreating a pasta recipe that Demo made for me before but ended up adding a few extra ingredients! The result was perfection (in my opinion, and according to the boys – my daughter did not try it #pickyeaterproblems).
Ingredients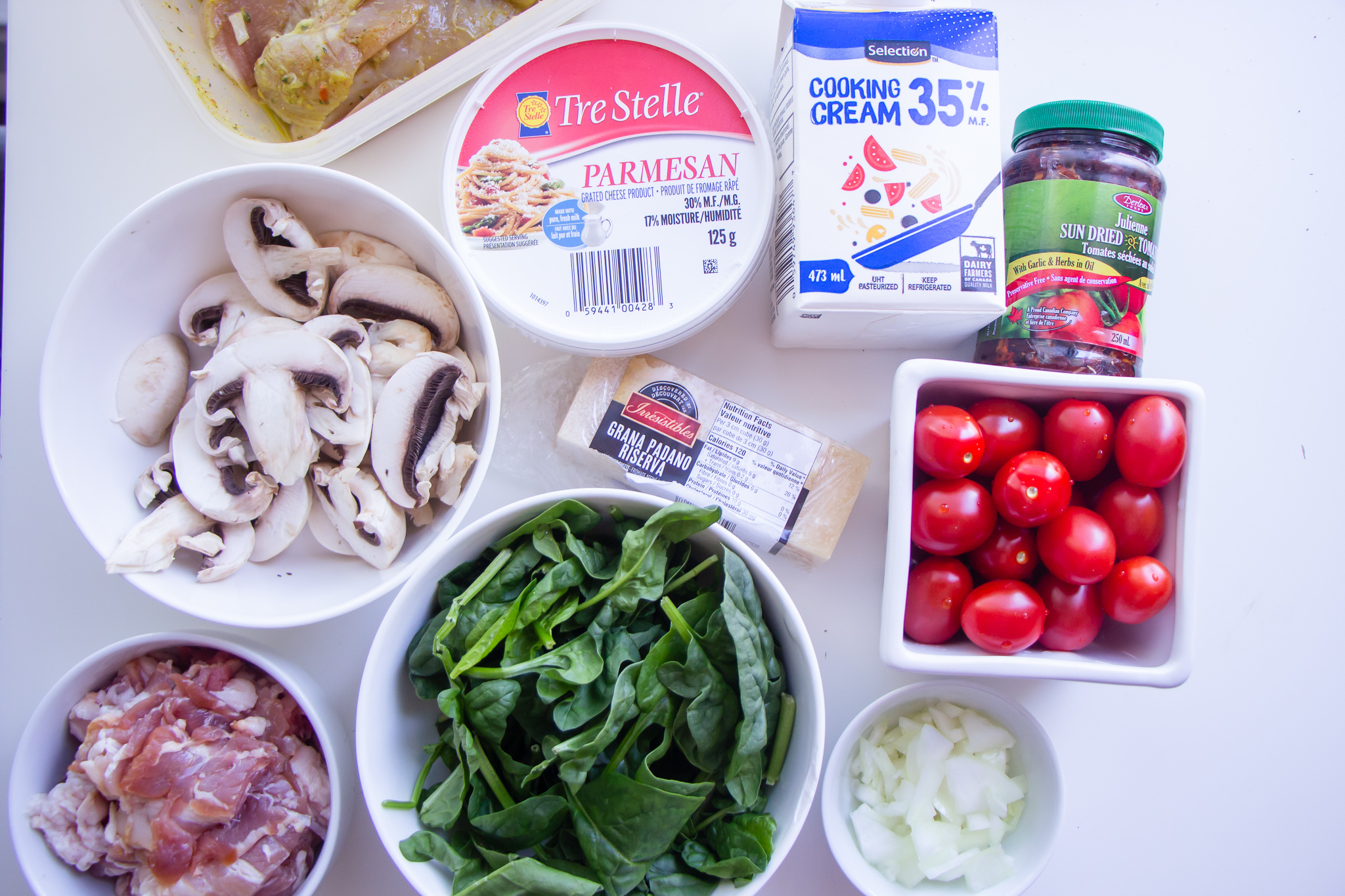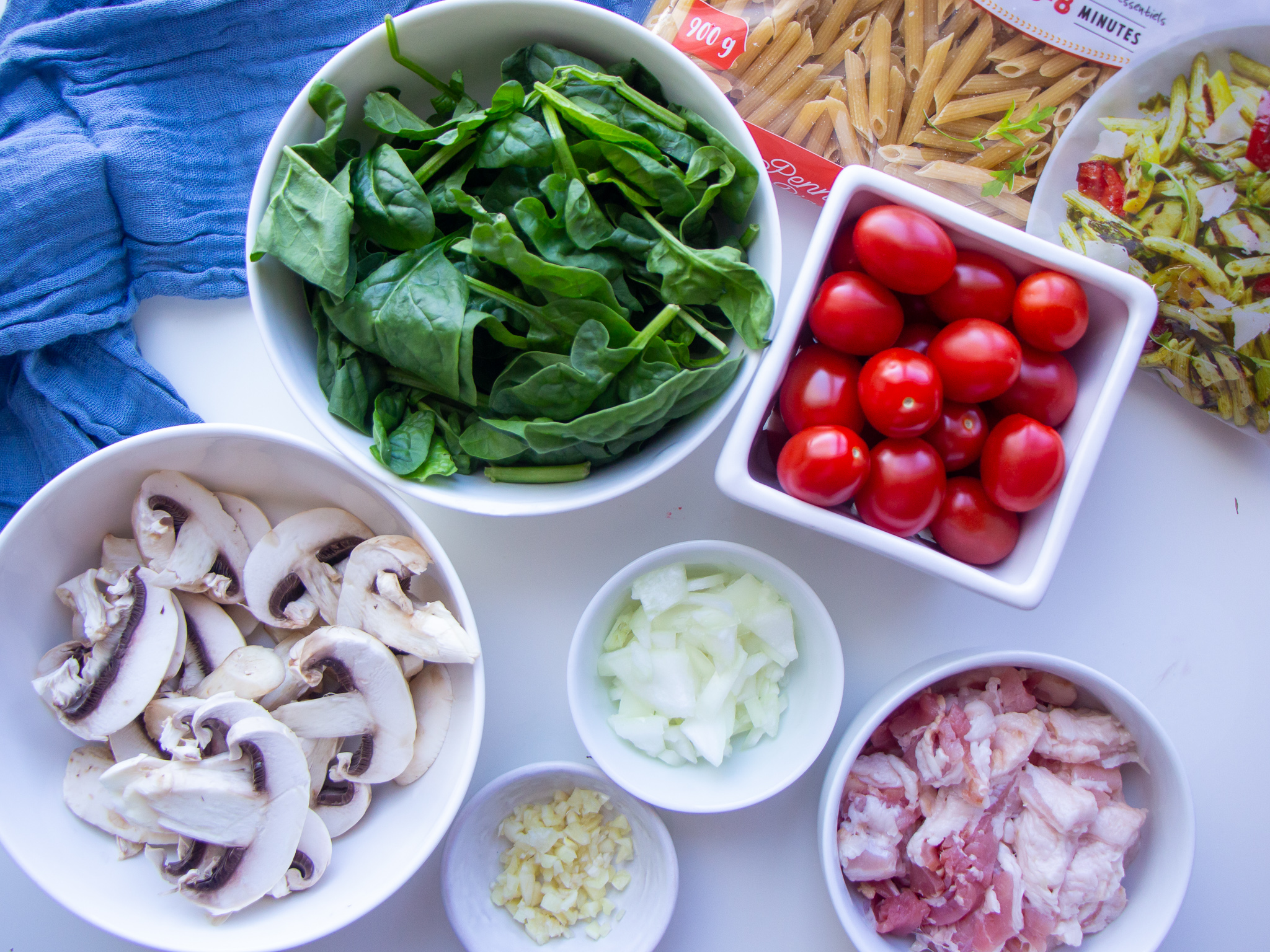 Spices that I use
3 cups of penne
Seasoning
Paprika
Garlic powder
Italian seasoning
Haitian epis (optional)
Meat
One tablespoon of olive oil
1 pound boneless chicken marinaded with salt, pepper, paprika, garlic powder, and one tablespoon of Haitian epis (optional, but it gave it a bit of a kick, so highly recommended)
5 strips of bacon chopped
For Sauce
1 tablespoon of butter
1/2 cup heavy cream
1 cup Parmesan cheese shredded
Vegetables
1/2 of chopped onions
1 tablespoon of minced garlic
2 cups of spinach (chopped)
1 cup of white mushrooms (chopped)
1 cup of cherry tomatoes (cut in half)
1 tablespoon of sun-dried tomatoes
Instructions
Marinate the chicken and set it aside.

Prep all the veggies (wash, chopped) and set aside.

In a skillet, cook the bacon until crispy – set aside on top of a paper towel to remove the excess oil.

Using that same skillet and bacon oil, add the chicken and cook for about 5 minutes on each side or until the chicken is no longer pink on the inside. Remove from skillet. Cut into small sizes and set aside.

Cook your pasta in salted water (to taste).

Add 1 tablespoon of butter to the hot pan, followed by the minced garlic and onion—Cook for a few minutes.

Add sundried tomatoes and a few of the cut cherry tomatoes.

Add fresh spinach and cook until it wilts.

Add mushrooms and cook until brown on both sides.

Reduce the heat and season with paprika, Italian seasoning, crushed red pepper flakes, and salt. Mix it all well.

Add heavy cream—Cook to a simmer.

Add parmesan cheese. Stir on low.

Add the cooked chicken, bacon, and pasta to the sauce mixture. Topped with some red pepper flakes. Taste test and add salt and pepper to taste.

Serve with more parmesan, and enjoy!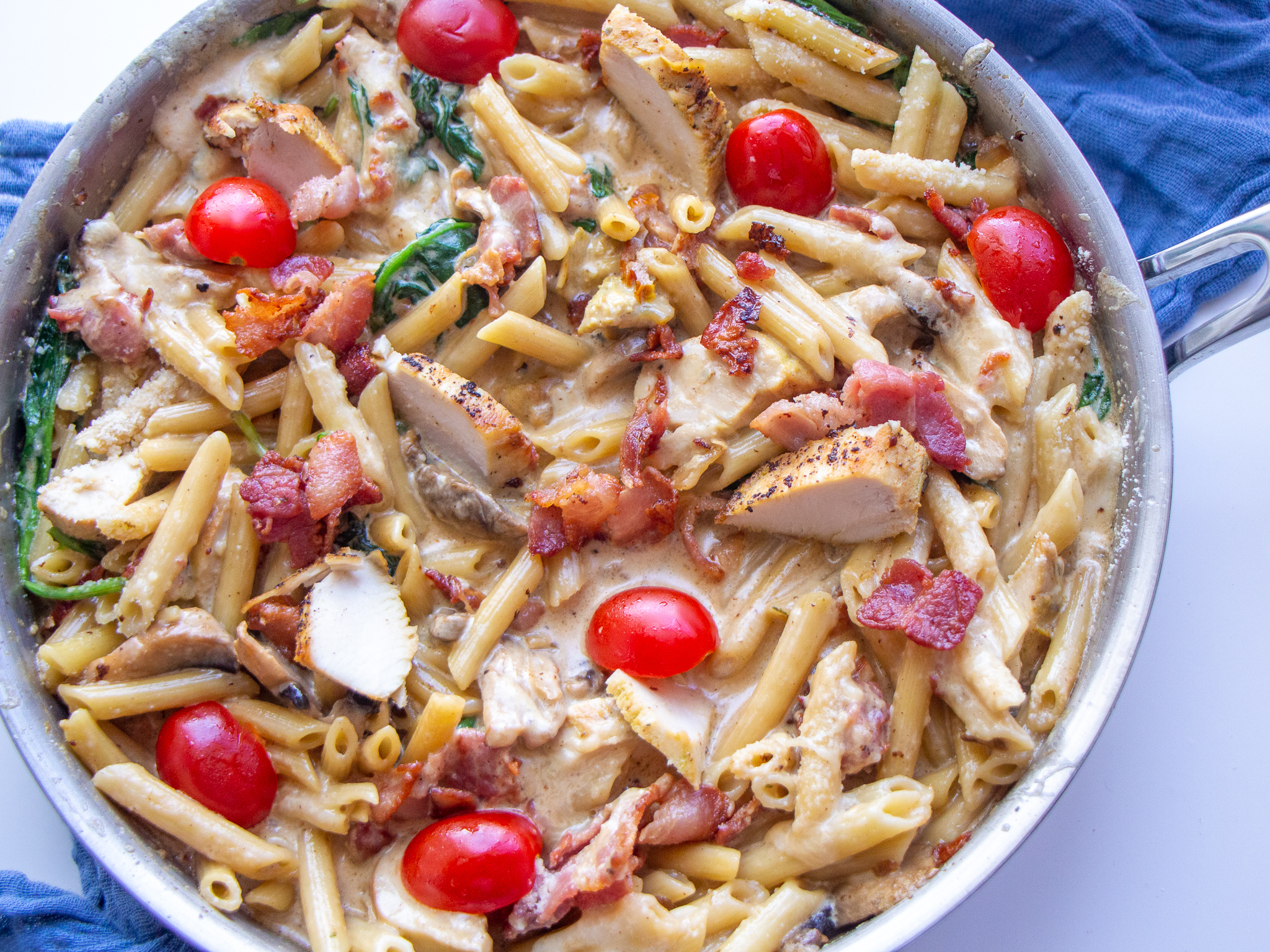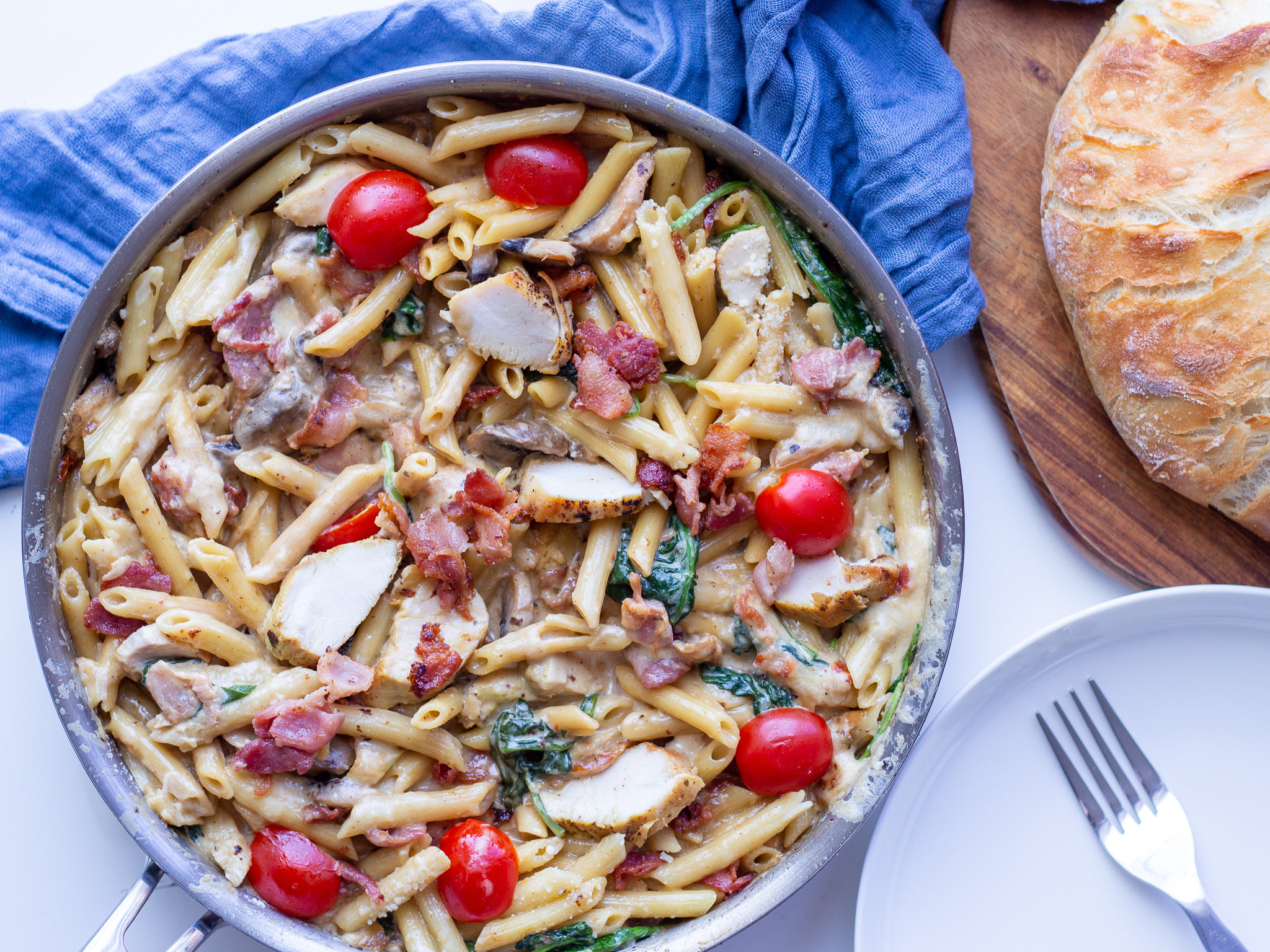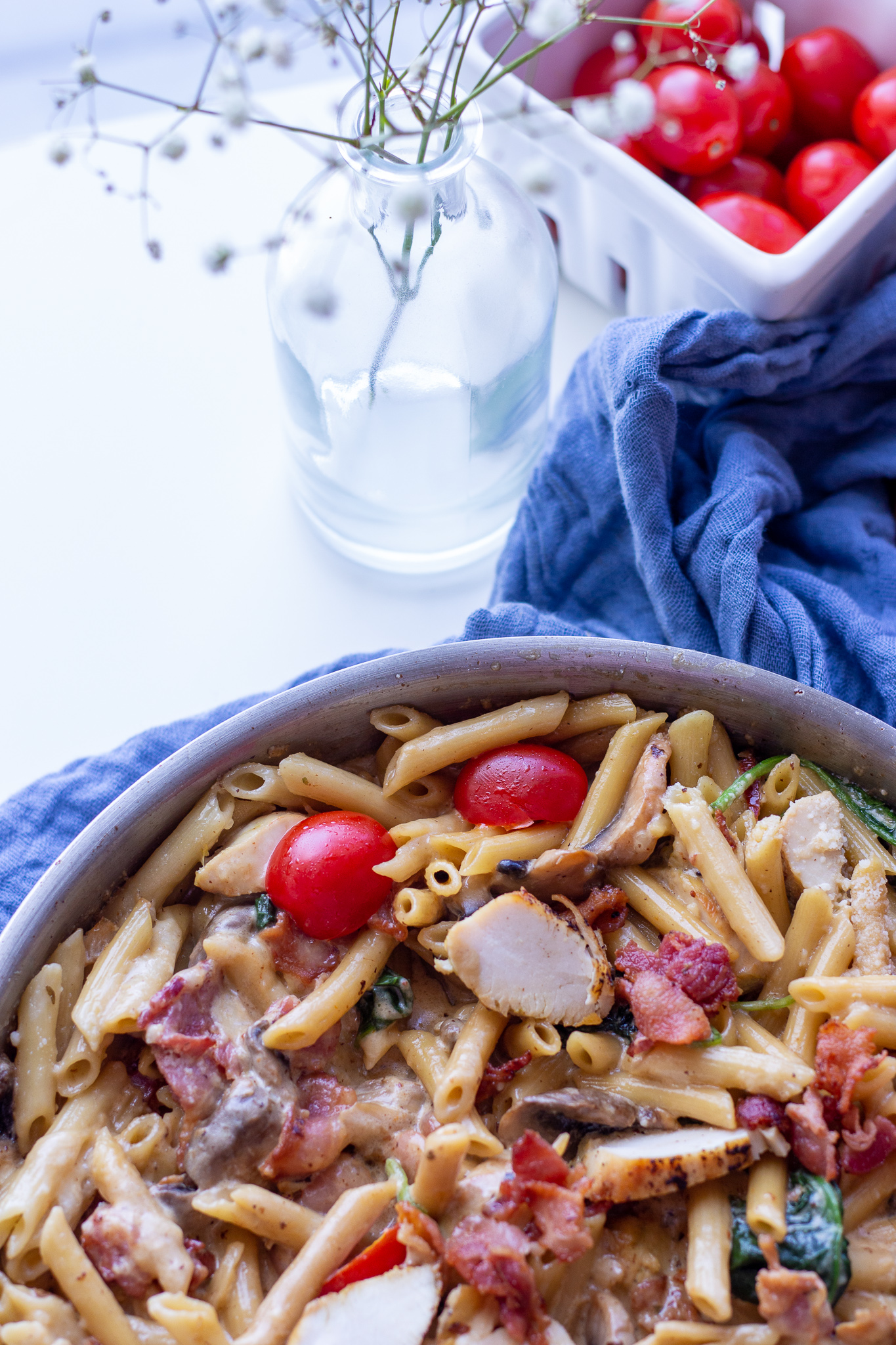 PIN IT!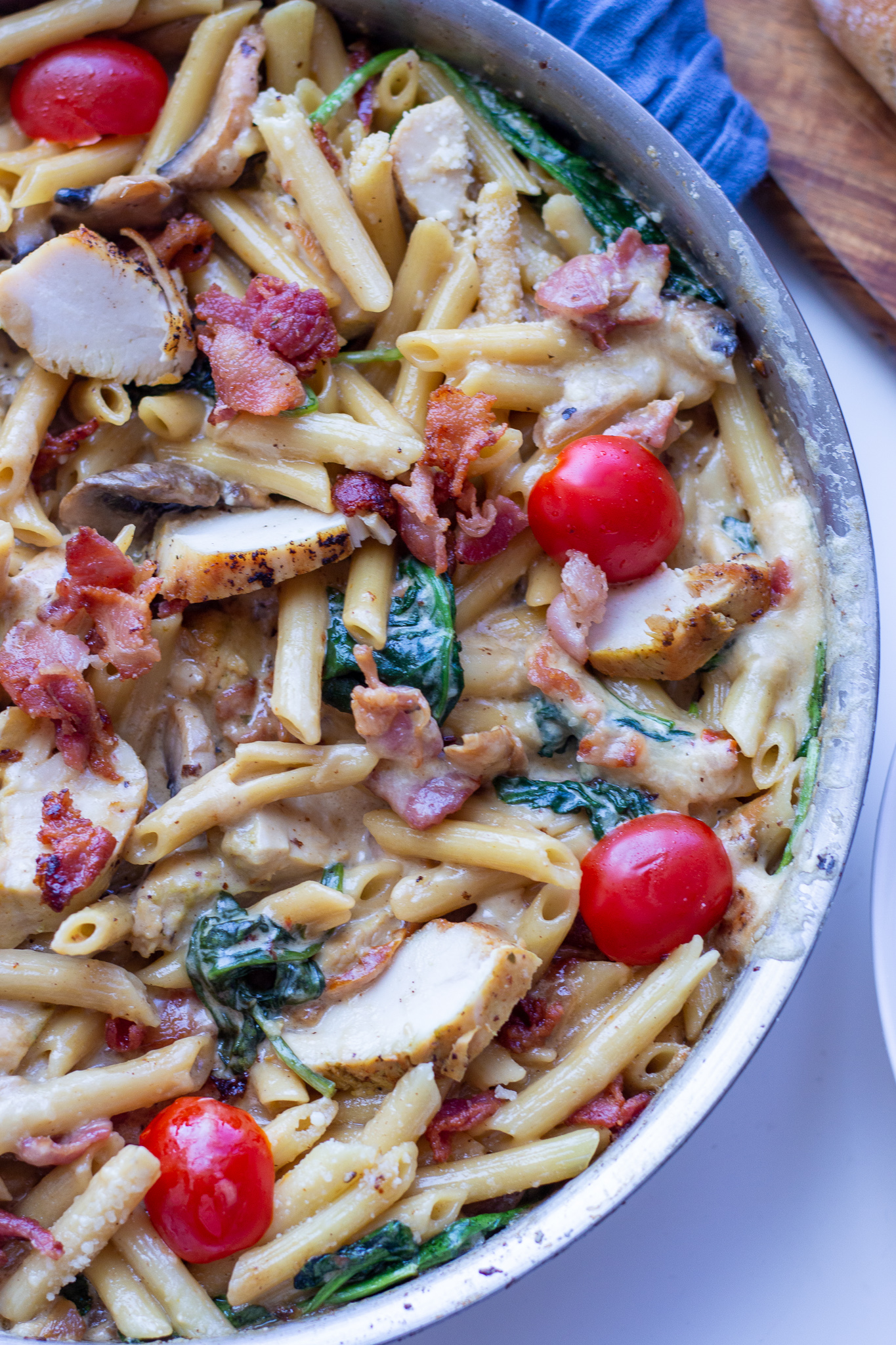 I hope you will give it a try! This recipe was super delicious and filling. I love pasta because it is so versatile. Pasta has gotten ridiculously expensive, so if you come across a good sale, you should stock up!
What's your favorite pasta recipe?
Be sure you are subscribed so that you don't miss a thing!
Let's connect!