Not too long ago I shared some tips for choosing the right affiliate programs. It turns, out a lot of you have thought of joining some but haven't yet. Today I'm sharing a few of the big money affiliate programs that have worked for me.
Big Money: Affiliate Programs That Pay Bloggers!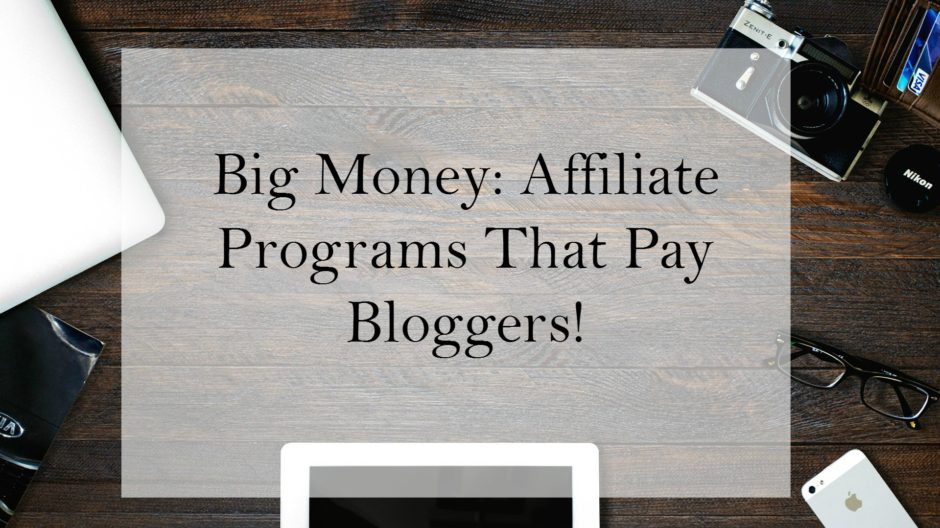 *This post contains affiliate links
Grammarly
Alright, so the first merchant that I want to share with you is pretty much my favorite. Some of you might already know that English isn't my first language. I first heard about Grammarly from another blogger. I ended up adding the application to my browser and started using it right away. The basics features are free to use, and you can upgrade to a premium account for even more features. After using it for a couple of days, I was hooked. Not only is Grammarly a big money program for bloggers, but it's also a very useful tool. You can test out Grammarly for free. Trust me; you will be hooked!
Sale Commission: $20.00
Lead Commission $0.20
PicMonkey
If you are a blogger, then you already know all about PicMonkey! I use this tool for a good majority of my photos. It's also the tool I refer to new bloggers. PicMonkey is free to use and has a lot of amazing features. I love using it so much that I signed up for membership two years ago. Sure, if you have the funds you can get Photoshop, but PicMonkey is very easy to use for someone like me, that doesn't know how to use Photoshop.
Sale Commission: 50.00%
Aloha
Aloha is brand new to me. I recently joined this program, but I have not tried any of their products yet! Their referral bonus is very attractive, which is what led me to join their affiliate programs.  If you love tea, you will love Aloha. They offer a broad range of delicious teas.
Bonus: They are currently offering Free Trial of Superfood Smoothie Kit! GO! (ended)
Sale Commission: 10.00%
Lead Commission $10.00
That's just a few of the affiliate programs that pays bloggers.
Other Affiliate programs that I'm using (via Share A Sale)
Stella & Dot
Cents of Style
GlobeIn
BONJOUR JOLIE
StudioPress by Copyblogger Media
Zazzle
Mixbook  
Gymboree, Crazy 8 & Janie and Jack: Not sure I wanted to share this one because I seriously spend WAY more money buying clothes for my kids than I make with them.
There you have it, top affiliate programs that pay bloggers. As I mentioned before, there is more, but these are the ones that I'm currently using.
Are you using affiliate programs on your blog/site? What are some of your favorite programs? If you are new to the affiliate program, check out my post on tips for picking the right one for you.
Subscribe to my blog for updates when a post is live.