Body positivity is becoming a very popular topic in the media right now, and a lot of people are trying to promote it. In fact, Aerie has started their "real" campaign where they are using models of a variety of body types and no longer touching up their photos before using them. Dove has been doing something similar for the past few years.
Beach Body Positive: Tricks to Help You Get There For Your Vacation in the Sand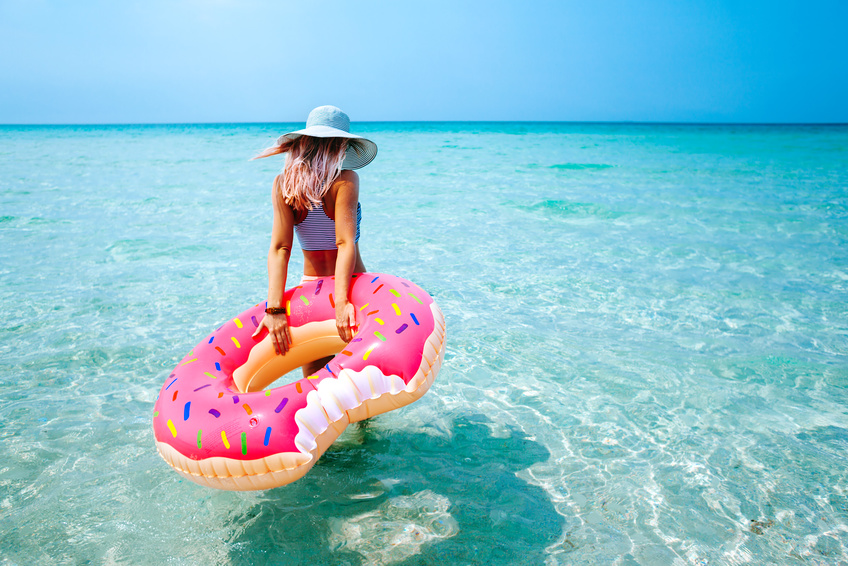 While this is true, roughly 95% of media images are still altered. They are photoshopped or otherwise touched up in order to fit the "ideal" standard of today. Thanks to this, nearly 91% of women are unhappy with their bodies and turn to diets and extreme measures to chase their ideal body image.
The good news is that you don't have to do that. You can love your body just the way it is. Easier said than done, right? The beach is one of the hardest places to practice body positivity, but it's about to become much easier. Try some of these tricks to start loving yourself in the sand this summer.
Find the right clothes
While the right bathing suit is essential for a beach vacation (we'll get to that), the right clothes are just as important! You aren't going to wear your bathing suit the entire time you're on vacation, and you should feel confident while you're shopping or at dinner. Get a cute coverup for walking around the casual areas and a sundress or adorable high-waisted shorts for the shops. Find what works for your body and go for it. As of August 2017, women's apparel was the number one top-selling item on the internet, so there's no doubt that you will be able to find something you love.
Pick out the perfect bathing suit
Now, onto the perfect bathing suit. You're probably going to be spending a lot of time in swimwear on your beach vacation, so you want to find something that makes you feel good. Pick out a suit that hugs your curves in all the right places. This can drastically boost your confidence.
Get a tan
Now, don't go crazy laying out in the sun for hours on end without sunscreen on; that's seriously dangerous for your skin and your health. You can, though, considering getting a spray tan before you go to the beach. Many women report feeling more confident when they tan, and it only takes about 10 minutes to go to a tanning salon to get a spray tan. You can even do it yourself at home in about 30 minutes.
Take care of your skin
Scrubbing your skin will make you look and feel like a million bucks. Exfoliating gets rid of dead skin, unclogs pores, increases cell turnover, and gets your blood flowing around your body. It also speeds up your skin's natural renewal process, meaning your moisturizer can penetrate deeper. Your skin will be glowing and so will your confidence.
Eat the right foods
Some foods might make you bloat, possibly adding to the negative feelings you already have about your body. Try to avoid a lot of dairy products if you're planning on hitting the beach. What you should eat are foods like fruits, whole grains, nuts, seeds, and legumes. Don't deny yourself the sweet cravings you might have, though, because they can boost your mood. Plus, things like chocolate are actually good for you. In fact, compared to people who only ate a one-ounce serving of chocolate less than once a month, the risk of atrial fibrillation was 10% lower among those who ate one to three servings a month, 17% lower for those who ate one serving per week, and 20% lower for those who ate two to six servings of chocolate a week.
The beach is the best place for most travelers, with 74% of respondents preferring to spend their vacations on the coast. No longer will you have to avoid going to the beach because of negative body image. Try these tricks, and love yourself. No matter what you look like, you can rock a bathing suit and live your best life on the beach.
Be sure to subscribe to my blog for an update when a new post is live!
Let's connect!