Today I wanted to do another interview about Art Life. This interview is dear to my heart because I'm interviewing my dear friend Jason.
I met Jason in high school, many many…many years ago. We had Mr. Holt English class together. We lost touch after high school but thanks to Myspace, and later on Facebook, we were able to reconnect.
I'm a huge fan/supporter of his work, not because he is a dear friend, but because his painting has a way to move me.
I don't get to see Jason because I moved back to Montreal in 2005 and he lives in Florida, so I sent him an email with a few questions. I've also included some of the pieces I was able to get over the last couple of years. Hope you fall in love with his work, as I and many others have.
How did you start making art?
I started painting after the earthquake in Haiti in 2010. Prior to that, I drew a lot as a child but nothing serious ever came of it. I auditioned for the school of art at one point but got denied which basically made me quit art. I only would draw if I felt an emotional push to privately. Funny, because I always hold things in so after the Earthquakes happen and I was seeing the images it push me to drawing again. I kept posting the sketches (which sucked looking back) on Facebook. My friend Yanatha suggested after I had gotten to the point of messing with Walgreen paint that I get canvases and try to sell my work. I didn't have much hope in my art that I believe people would buy it, but I took his advice bout painting on canvas and the rest you could say is history.
What inspires you most as an artist?
The greatest form of inspiration is life. I think all artist worth their salt derives inspiration from it. You have to live. I pay attention to people, to lyrics, to the news and that's where my inspiration comes from.
What is your most important artist tool? Is there something you can't live without in your studio?
Sound, some sort of sound. It kind of doesn't make sense because I'm not even listening or
watching it but I need music playing and a TV on. I guess in a sense it drowns out the world when I go into my zone but doesn't make me feel completely alone because ironically I really don't like people around me when I'm painting. Like I don't like "live painting" at events for that every same reason because I don't feel like I'm in my private zone.
Who's your favorite artist of all time?
It's ever evolving the more I learn. I know some probably think because of my usage of the crown that
Basquiat
is or that maybe
Picasso
because of my usage of the color blue but nah it's ever evolving. Though as a painter, I feel I most identify with
Herni Matisse
.
But as far as artist period,
Stevie Wonder
. Because for someone who couldn't see, he painted the world with the color of his soul with music. I always say I want to paint like how Stevie sees the world, because he doesn't see color, he feels them.
If you had one wish?
I'd ask for my father back. (Jason's father recently passed away. My thoughts and prayers goes to him and his family).
Here's how you can reach him.
Email: jafleu54@gmail.com
Just a few of my favorite "JaFleu"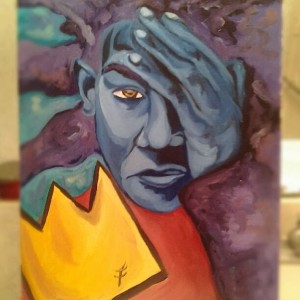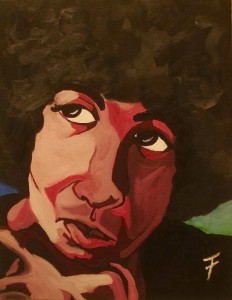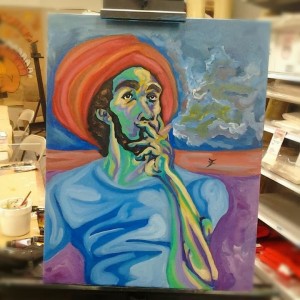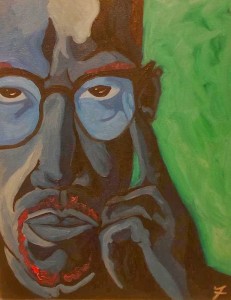 Yes, that's me holding my very own "Jafleu" =)
One of the really cool thing that Jason does is "pay it forward". He sometimes leaves a painting someone for a stranger to find. I wish I still lived in Florida so that each time he post a painting I could go hunt for them.
Do you have a favorite artist? Do you collect art work?