A few weeks from today will mark our 3rd year in our first home. To say that I'm grateful for this blessing would be an understatement. Our old apartment was minuscule compared to our home now which means we have a lot of empty rooms. We've slowly started to add more pieces to our home, and I always look forward to decorating for different seasons. With over a month into Spring and just under 5% of my spring-cleaning completed, I wanted to come here and share some ways that you can spruce up your living room for spring.
Spruce Up Your Living Room For Spring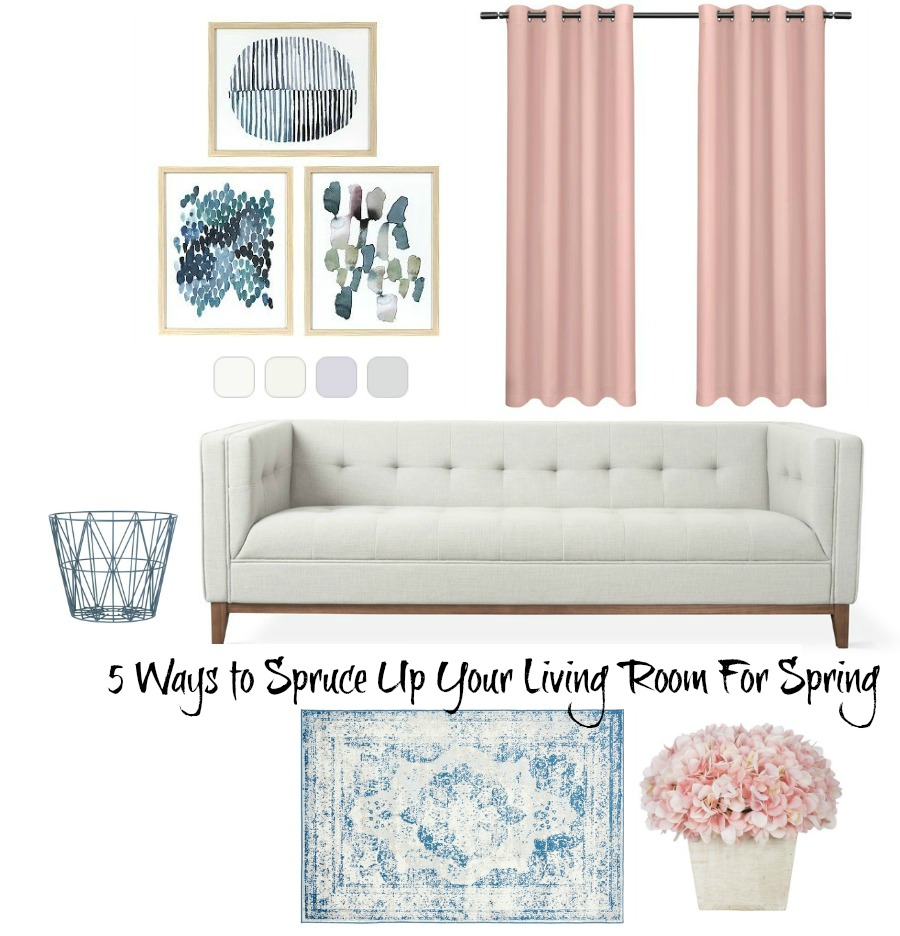 This post in collaboration with Wazo Furniture but all opinions are my own.
Our living room is the first thing you notice when you walk into our home, and for the first two years, we haven't done anything with it. It's been an empty room where we put the Christmas tree and where we open birthday presents. I wanted to focus on the living room this year, and I've been given total design freedom because Demo has laid claim to the yard.  Below are my five spruce up ideas for spring.
Add a new color to your walls.
A fresh coat of paint is a quick way to change up the look of any space. Demo doesn't like to paint. But after living here for three years, I think the living room could use a new coat of paint. He's giving me the ok to paint, and now I'm facing this HUGE dilemma of choosing the paint color. We get a lot of light in the living room so I think white or light gray would work great with the look that I have in mind. 
New window treatments.
I'm thinking pink or a beautiful yellow curtain to keep up with the spring theme. We still have the same old curtains that the previous homeowners left behind three years ago. To be fair, when we moved into our home I was five months pregnant, and the LAST thing on my mind was window treatments. After the baby had come, I still didn't give it much thought but now (3 years later!!) we need to update! I see a visit to IKEA in the near future.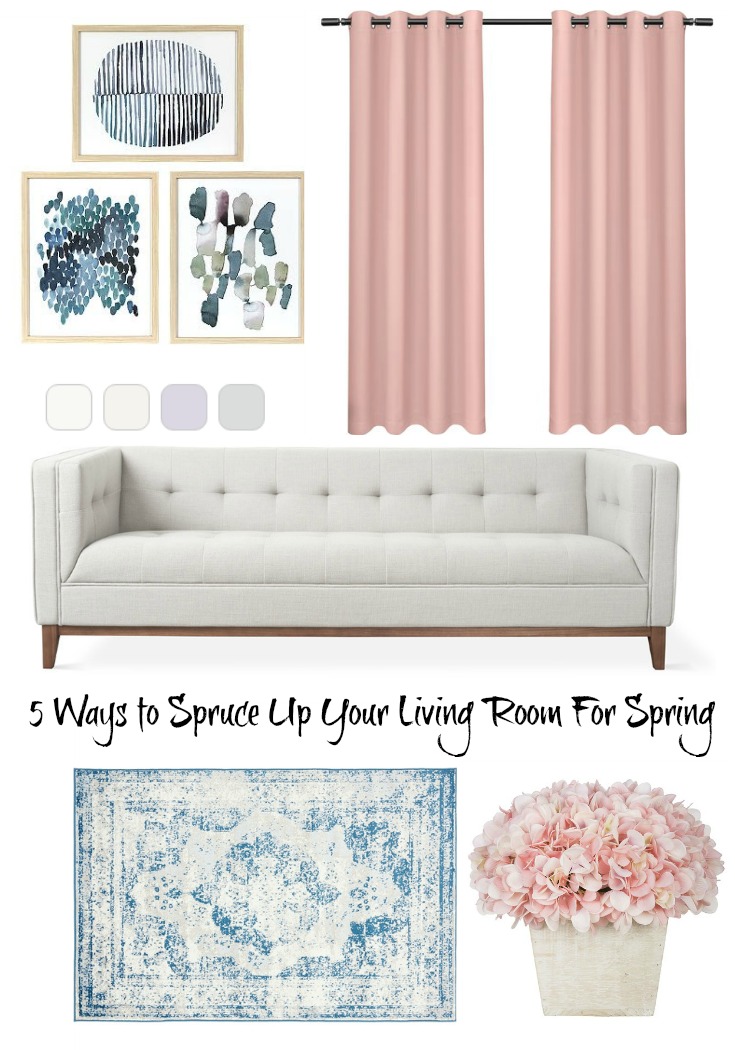 Wall decor.
If you can't paint your walls, the next best thing is to add some lovely spring wall decor. One of my goals this year is to add family portraits around the house. We currently have ZERO!! I've been taking lots of pictures, so I'm sure I will have more than enough to create a beautiful wall dedicated to family pictures in our living room. There are so many fun ways to jazz up your wall, and you can change the wall decor around to match different seasons.
Area rug
For a fun and an inexpensive way to decorate your living room for spring, try adding or replacing your area rug.  I'm not a big fan of our current floors but replacing them right now is out of our budget. The fun part is searching for the perfect area rug; the not so fun part is narrowing it down to just ONE after falling in love with 20 different rugs. Le Struggle is real!
Get New Furniture (Wazo Furniture)
A fun way to spruce up your living room for spring is by getting new furniture. 
About the Landon Cream Sofa:
I recently got the pleasure of reviewing a gorgeous sofa from the company Wazo Furniture that is based here in Montreal. We've been talking about getting a new sofa for the first floor so imagine how excited I was when I was offered the Landon Cream Sofa for reviewing. The Landon Cream Sofa (sold out) has a classic yet, elegant look about it. I feel so fancy just lounging on the couch. It's a three seater, but all four of us can sit on it comfortably. Because the store is local-ish (I'm about 45 minutes outside of Montreal), the delivery was extremely fast. I still can't get over how beautiful that sofa is.  As soon as you walk into my house, its the first thing you see. 
The specific sofa that I received is currently on sale for 895.00 CAD while supplies last. Keep in mind that prices are subject to changes. It's a fabric sofa that is sturdy but stylish. Its cream color makes it versatile with any decor. I'm using the couch as my primary focus for decorating the living room.
About Wazo: WAZO is a rapidly expanding Canadian home furnishing company, with headquarters and warehouses located in the heart of Nun's Island, minutes away from downtown Montreal. At Wazo we believe in creating a domestic getaway for our customers by removing the middlemen and streamlining our delivery process in order to provide quality products at an affordable rate. We scour the world to find first class products from manufacturers that take craftsmanship and quality seriously. We pride ourselves on discovering furnishings that inspire and delight our customers, adding living art to your home one item at a time.
[Tweet "Upgrade your furniture w/ #WazoFurniture Use code LADYMARIELLE5 Get 5% off all orders*"]
Wazo Furniture has a final sale section with some lovely high-end items at affordable prices.  Check out this chair that would be perfect for my office!
Thank you Wazo Furniture for providing us with this fantastic opportunity. For my readers, you can get 5% off all orders using code LADYMARIELLE5  from April 23-May 31, 2017
Connect with Wazo Furniture: Facebook – Twitter – Instagram – Pinterest – Google +
Address: 1000 Chemin du Golf, Verdun, Quebec H3E 1H4
Use code: LADYMARIELLE5 to get 5% off all orders between Apr 23, 2017 – May 31, 2017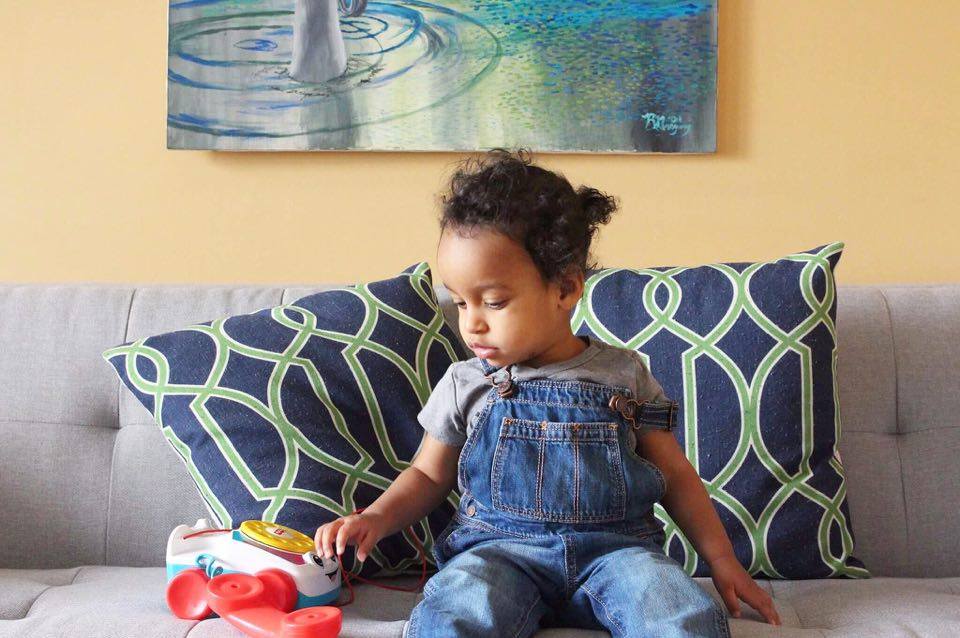 Want a room tour once I have everything completed? Let me know in the comments, and I will make it happen!
Be sure to subscribe to my blog for an update when a new post is live!
Let's connect!