I have no idea when or how my obsession for succulents started. I just remember talking about it with my sister and her getting me a few for my birthday. Being known for my black thumb when it comes to plants, I was pleasantly surprised that my succulents made it through the summer. Sadly, only one plant made it through the winter. A few months ago I learned of this thing called "propagating" and became OBSESSED even more.  After weeks and weeks of trying and being unsuccessful with propagating succulents, I wanted to share the three things that I learned from my failed attempt.
My Failed Attempt At Propagating Succulents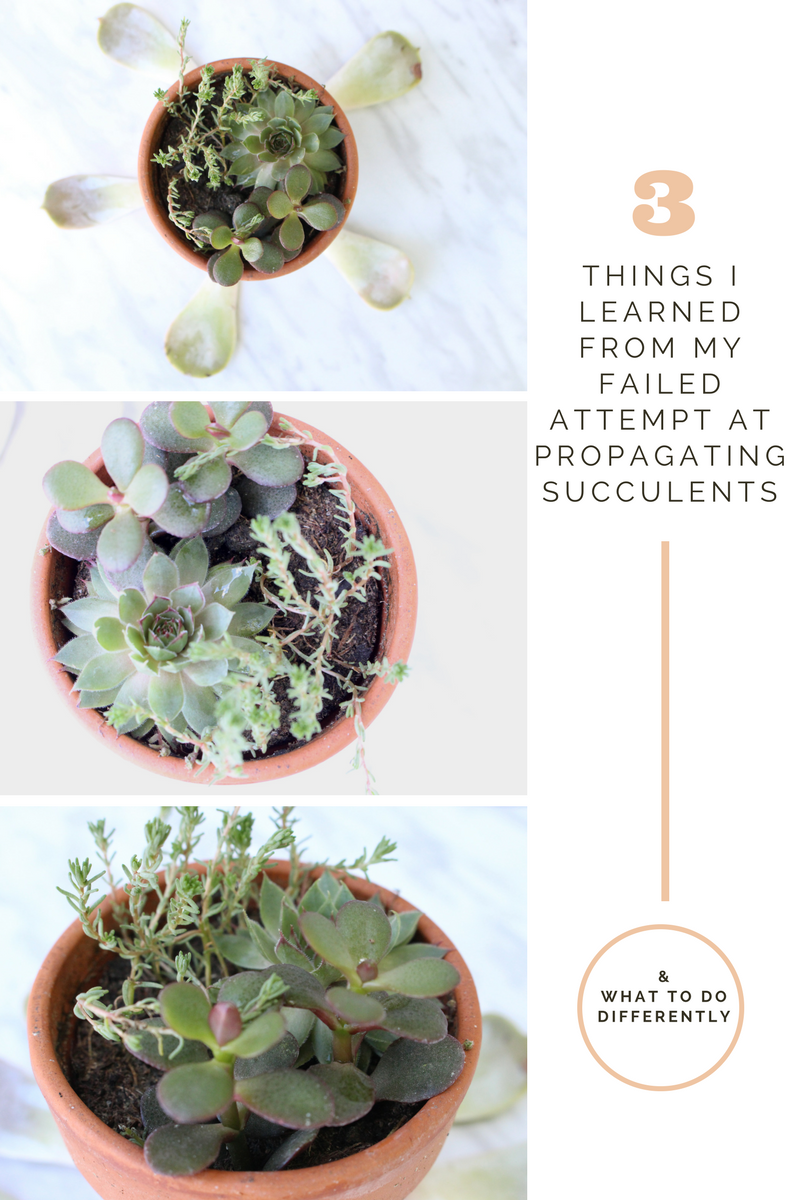 What the heck is propagating anyway?
The simple way to put it is "multiplying" or as I like to say "making babies."  When done correctly, you can get multiple plants out of just one succulent. Kind of cool right!? But today I'm sharing what went wrong, what I learned and what I would differently.
Today's post isn't a "how to" kind of post. It's more of a "don't do what I did" along with some tips on what to do differently.
Patience is a virtue
Propagating takes time. A LOT of time. In fact, I started back in early April, and I have yet to see ONE baby succulent. I'm not good at waiting. If that sounds like you, then propagating isn't for you. The only reason why I haven't given up yet is that I can be hard headed (sometimes) and I MY BABY SUCCULENTS!!!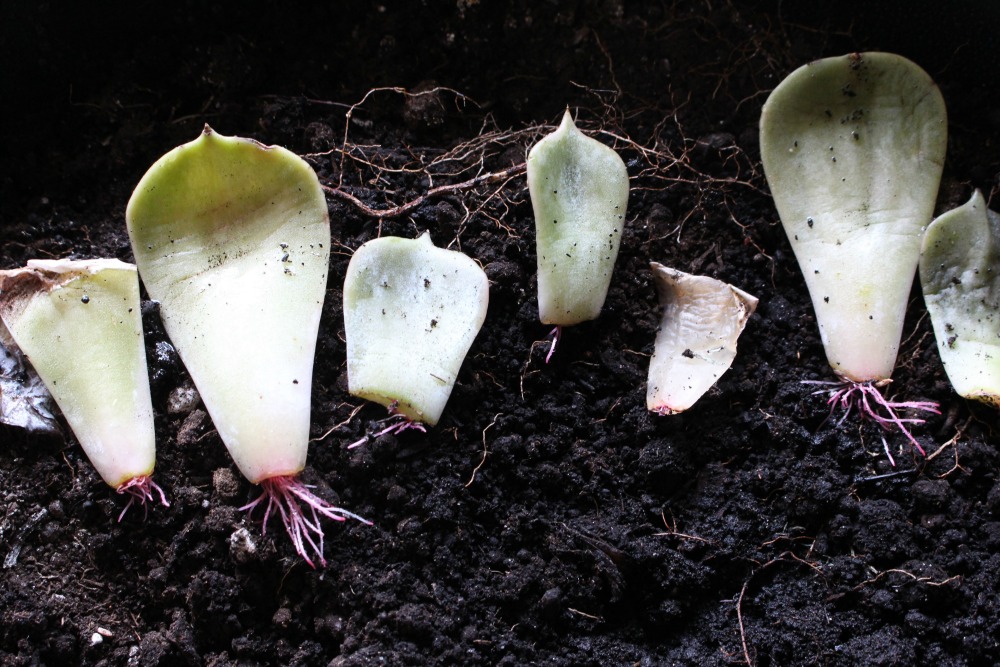 Just because you saw it on YouTube…
When I first heard about propagating I took to YouTube to learn how to do it. The downside is that a lot of times, the whole process took months but then edited into a  5-10 minute video. Giving me the false illusion that propagating only takes 5-10 minutes (or maybe that's just me?).
Do your research before starting.
I didn't do any research before embarking on this propagation journey. I watched ONE YouTube video and declared myself a pro. Also, I skipped parts of the video and had NO idea what I was doing.
[Tweet "Curious about propagating succulents? Learn the Do's and Don'ts to get it right #blackthumbchronicles #tips"]
What To Do Differently?
This is my first time propagating succulents, and I feel out of my element. But life is about learning new things. Although my attempt at propagating was a total fail (so far), I learned a lot in the process. I'm confident that the second time around will be successful. Here are a few things I plan on doing differently.
Use cactus potting soil. I was using regular soil for my succulents which caused them to mold and died. When you are propagating, it's important to use the right soil.
Avoid direct sunlight. I had my clippings under the window which was getting direct sunlight pretty much all day. After a few weeks, they started to dry up and didn't propagate at all.
Do not propagate near the electric baseboard as I did. I started propagating around early spring, and if you guys remember, we had snow in April! The electric baseboards are set to turn on automatically when the temperature reached 17-18 Degrees. In just a few days the succulents dried up.
Water daily. Yup! Another thing I learned from my recent research, is that you need to water your succulents clippings daily.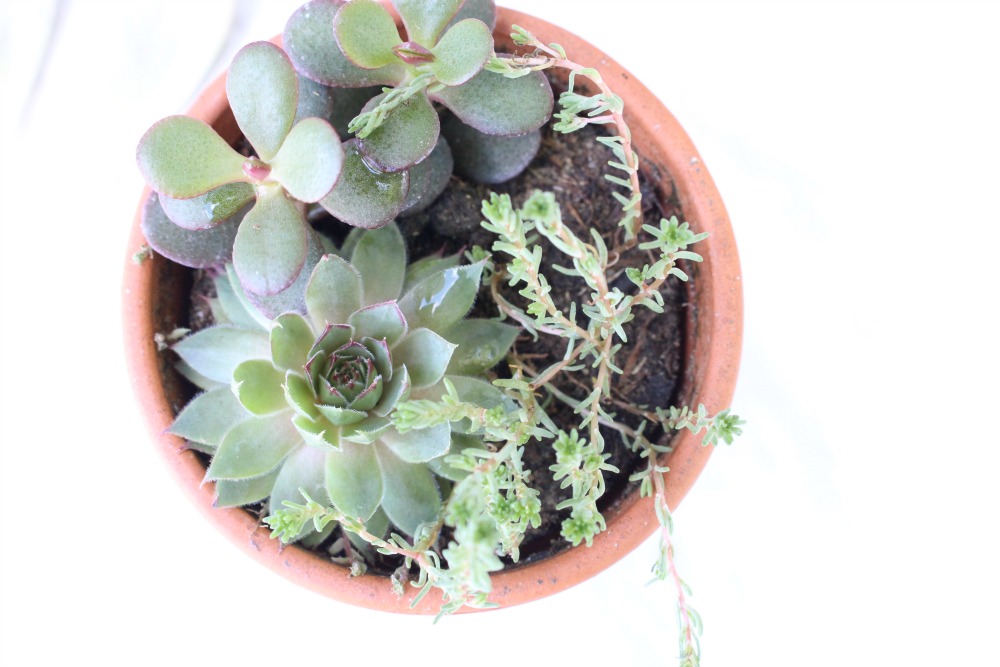 I started propagating a new batch, and I will do an updated post for you guys soon. Feel free to ask me questions, and I will do my best to answer them all.
Are you obsessed with succulents like I am?
Be sure to subscribe to my blog for an update when a new post is live!
Let's connect!
Twitter | Facebook | Instagram | Bloglovin