It's incredibly common for a lot of people to find themselves in a position where they feel like they need to make a change in their lives. Whether that's a change in career, a change of location or a combination of things, it's something we all have to wrestle with at some point. That being said, it's a whole lot harder to deal with those kinds of feelings when you also have a family to think about. When you've got a partner and children, your choices no longer just impact your own life but there's as well. So if you decide that you want to move home or start again somewhere new, you have to think about how that decision is going to affect them. This can often make it feel like an incredibly difficult and complex decision which, in truth, it is. However, one of the best ways to approach a decision like this is simply to break it up into a list of pros and cons. With that in mind, here are some reasons why moving may or may not be the right choice for your family.
Is Moving The Right Choice For Your Family?

The Pros
A fresh start
One of the best things about moving to somewhere new is that is kind of feels like a clean slate. After all, we all tend to walk around weighed down by the baggage of various aspects of our lives and that baggage can often feel too heavy to bear. By moving somewhere totally new and making a fresh start, you're going to be able to redefine your life on your own terms without having to be constantly reminded of any bad past experiences or mistakes that you may have gone through. Sure, this isn't to say that you should run away from your problems, but rather that you have the chance to let those problems remain in the past where they belong.
The chance to save money
One of the most common causes of fear and frustration in many of our lives is the reality that the cost of living can be incredibly high. This can lead not only to concrete problems with trying to live your life but it can also lead to a great deal of anxiety which then has a knock on effect on your entire family's well being. Sometimes the best thing about moving is that you're able to find yourself somewhere new that allows you to avoid having to pay huge amounts of money all of the time. One of the best ways to do this is to think about moving to somewhere overseas. In places like Singapore, you can see properties on the HDB portal propertyguru. These kinds of properties are far cheaper than ones that you might be used to. So not only would you and your family be able to make a totally fresh start, but you could do so in a much more financially comfortable situation.    
New opportunities
Another common frustration that a lot of people run into is being stuck in a job that you hate with seemingly no way out of it. One of the most common reasons that a lot of people end up feeling like they have no way out of their job is that there isn't anything else near them available. However, if you're open to the idea of relocating to somewhere new, the job pool that you're searching in becomes so much bigger. You have the chance to pursue your life on your own terms without being limited by where you live.
The Cons
What you leave behind
Of course, as much as there is a lot to be said in favour of a fresh start, that's not something that can be achieved without giving something up first. The truth is that you're almost always going to have to leave parts of your life behind when you move to somewhere new. Whether that's friends, a place you've come to know, or the safety of a familiar school for your kids. It's a tough thing to do and you need to weigh up whether or not it's the right choice for you.
The stress of the move itself
Moving house is a stressful thing to do. There's no way around that fact. It's the kind of thing that can be so stressful that a lot of people will actively try and avoid having to do it. If you really want to move to a new place then you've got to be ready to deal with the stress of buying and selling your property, packing up your life, transporting it somewhere new, and emptying it all out again in a new place. It's never fun but at least you can hold onto the fact that it's pretty short lived.
Fear of the unknown
The biggest issue for a lot of people when they're deciding whether or not to move to somewhere new is that niggling fear that something might go wrong. That you might be making the wrong choice. The unknown can be incredibly scary but you're never going to get anywhere in your life being paralyzed by fear. The key is to make sure that you do your research and don't rush into a decision this serious lightly.
Of course, one of the most important things that you need to remember is that you're not going to be making this decision alone. Moving is such a significant change to all of your lives that trying to make that choice without also discussing things is completely unfair and will always just lead to problems down the line. You need to make sure to sit down with your partner and your children and talk things out. Everyone needs to feel totally able to express any fears, desires, or reservations that they might be having about the whole situation. If it's not a unanimous choice then there's a good chance that it could grow into a source of resentment with is never something you want within your family.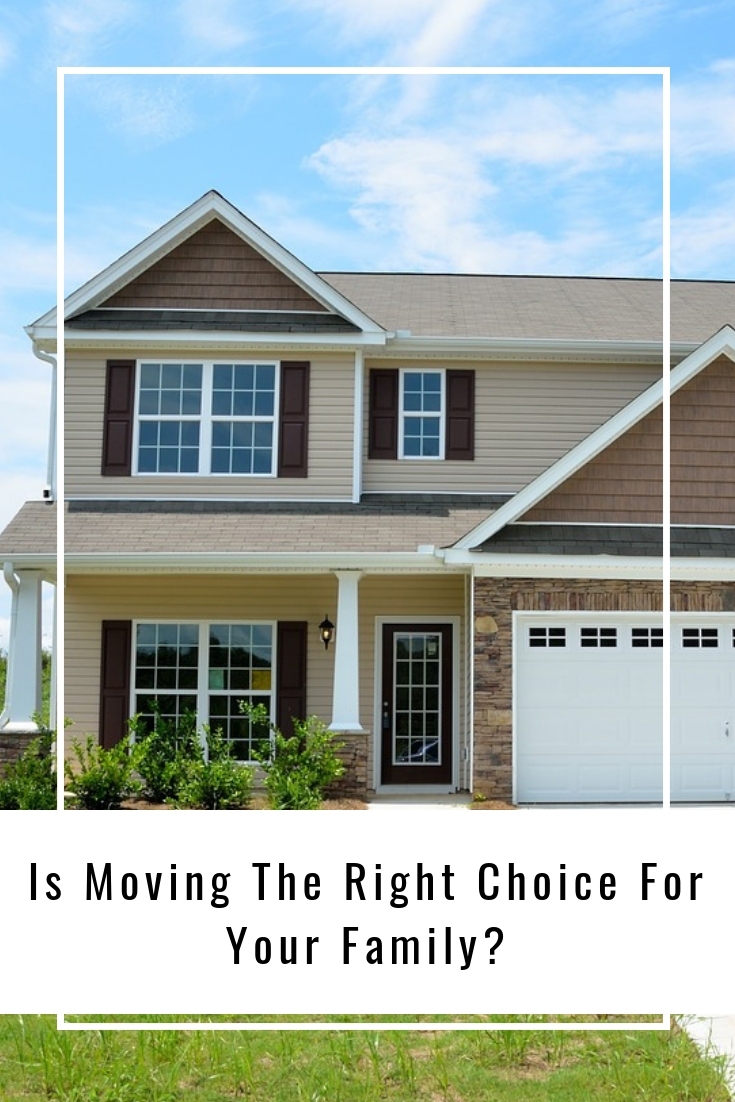 Be sure you are subscribed so that you don't miss a thing!
Let's connect!