I've been meaning to write a post about our family's new "favorite meal" for weeks now. 
Finally today I have the time to share our new found love with potato soup.
The story behind my love for potato soup.
The first time I had potato soup was back in 2005. My sister and I used to celebrate our "freedom" by going to Baton Rouge each here on January 17.  Each time we would go there, I would order a bowl of their famous potato soup as an entrée. I guess we could call it love at first taste? The last time we went to Baton Rouge was for my birthday in 2011. A couple weeks ago I was on Pinterest and came across a picture of potato soup. I just HAD to have some. Initially I just figured we would all go as a family to Baton Rouge, but I felt confident enough to attempt making it myself. After searching Google, I came across a site that had a step by step on how to make potato soup. After reading this blog post, I decided to go with her recipe, plus she was really funny.
The Soup
One of the reasons I don't "bake", is because I SUCK at following instructions. Which is why after reading "Perfect Potato Soup" I went with my gut feeling and started on my soup. I have to say that I was really impressed with how it turned out. How do I know it was great? My picky 5 years old son asked for more. I won't go into the details on how I made the soup (you can check out the link here for the recipes) but will add a few pics so that you can all see how my soup turned out.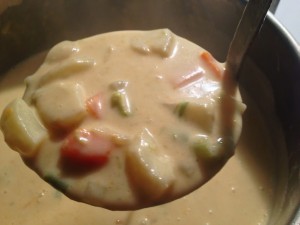 Look how lovely!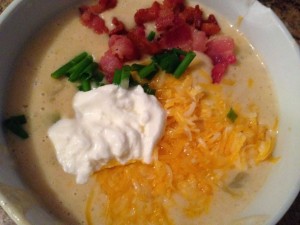 WIN!
I posted a picture on fb of my final work and ended up being asked to come volunteer at the community cooking event. I was a bit nervous because I'm not used to cooking for strangers. But was nervous for nothing because they ended up liking the soup and it was great fun.
What's your family's favorite meal? Love to hear from you guys!