First, I want to take a moment and wish my Canadian readers a Happy Thanksgiving! We wanted to be different from our American neighbors so we celebrate Thanksgiving on the second Monday of October!
This Scent and warmer post is both a review and a diy. I hope you enjoy and let me know what you think.
The scent and warmer of the month is perfect for the Fall season. The warmer is called "Grateful Harvest" which symbolize a "rich and plentiful season". The scent is "Very Peary Pumpkin" (which I have warming up in my bedroom as we speak).
Scensty describes this scent as a "Sweet nashi pear, freshly picked pumpkin, tart green apple and toasted spices are carried on a breeze of crisp autumn air."
For those of you that are not into Halloween decoration, this warmer is the perfect piece to decorate any room for the Fall season. Check out the video for October's Scent and warmer of the month.
I just love all the decorations I've been seeing all over the place for Fall. I took a picture of my Grateful Harvest warmer and I was really impressed with how it turned out so I wanted to share how I created this Fall centerpiece.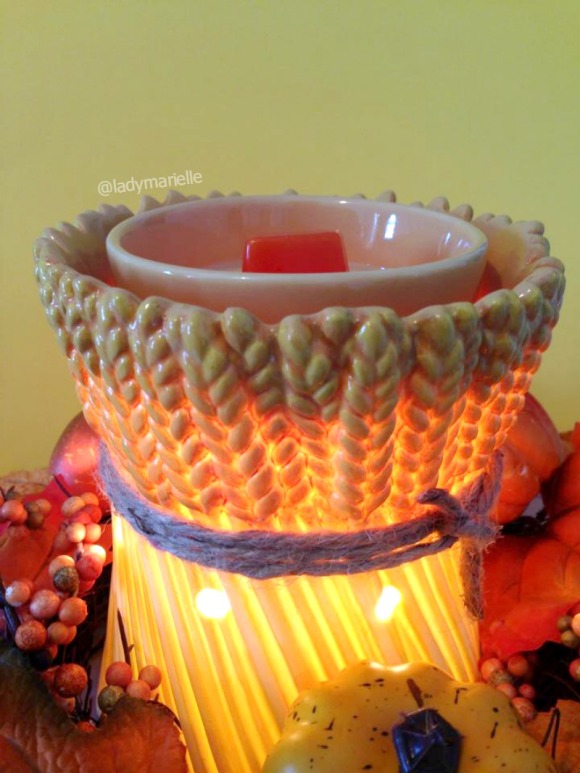 To create this look, you will need a Grateful Harvest Scentsy warmer. Lucky for you, they are on sale at 10% off all through the month of October. You will also need a Fall wreath. The Grateful Harvest warmer is about 14 cm wide so be sure the center of your wreath is wide enough to go around your warmer.
This diy Fall centerpiece is simple to make. I bought my wreath at the Dollar store for 3$. I sure you can find something similar or better for your centerpiece.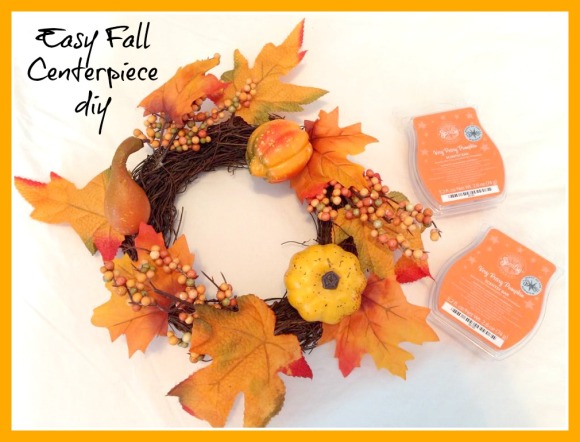 Simply place your wreath around your warmer and VOILA! *giggles* simple no? While you are at it, pop a couple cubes of "Very Peary Pumpkin" into your warmer and light it up! Here's another picture of my warmer when it is not lit up. I really love it!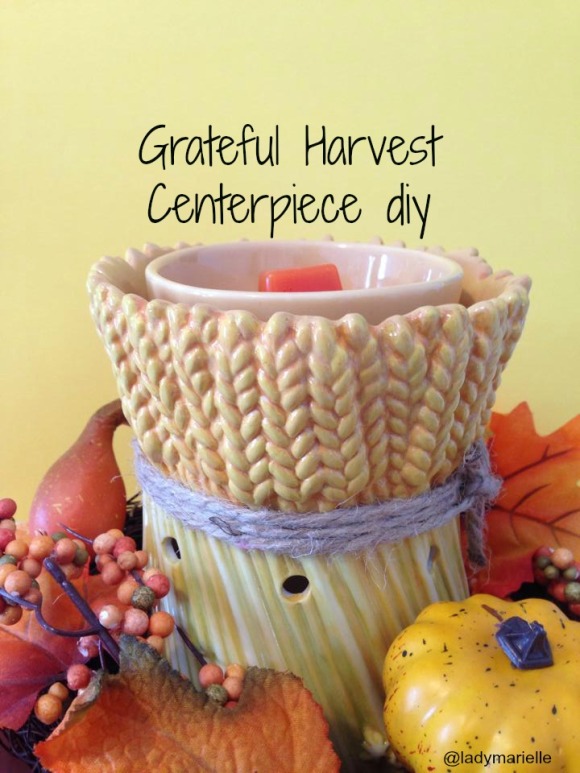 I hope you enjoyed this diy and review of October's scent and warmer of the month. If you missed last month's review check it out here. Sadly, the Chasing Fireflies warmer is completely SOLD out!
Don't forget that the warmer and scent of the month is at 10% off for this month only. So better get it in time for Thanksgiving decorating. If you have questions about placing an order on my website, message me on Facebook or use my "Contact Me" form.
Don't forget to subscribe so that you don't miss November's scent and warmer of the month! I'm already looking forward to it. Go check out my past "scent and warmer of the month" posts.
*Disclaimer: I am a Scentsy Independent Consultant. When you place an order on my personal website, I earn a commission. Feel free to contact me If you would like to learn more on how you can earn commissions from buying and selling Scentsy products. All the items I mentioned were purchased by me.