In today's digitally connected world, teaching kids about money management is crucial for their future financial well-being. While traditional methods of education play a significant role, integrating fun and interactive learning tools can make a lasting impact. That's where free online financial video games for kids come into play, offering a unique and engaging way to teach important financial skills while having fun. Today I'm sharing a few benefits as well as where I find tons of free online financial video games for kids.
Exploring the Benefits of Online Financial Video Games for Kids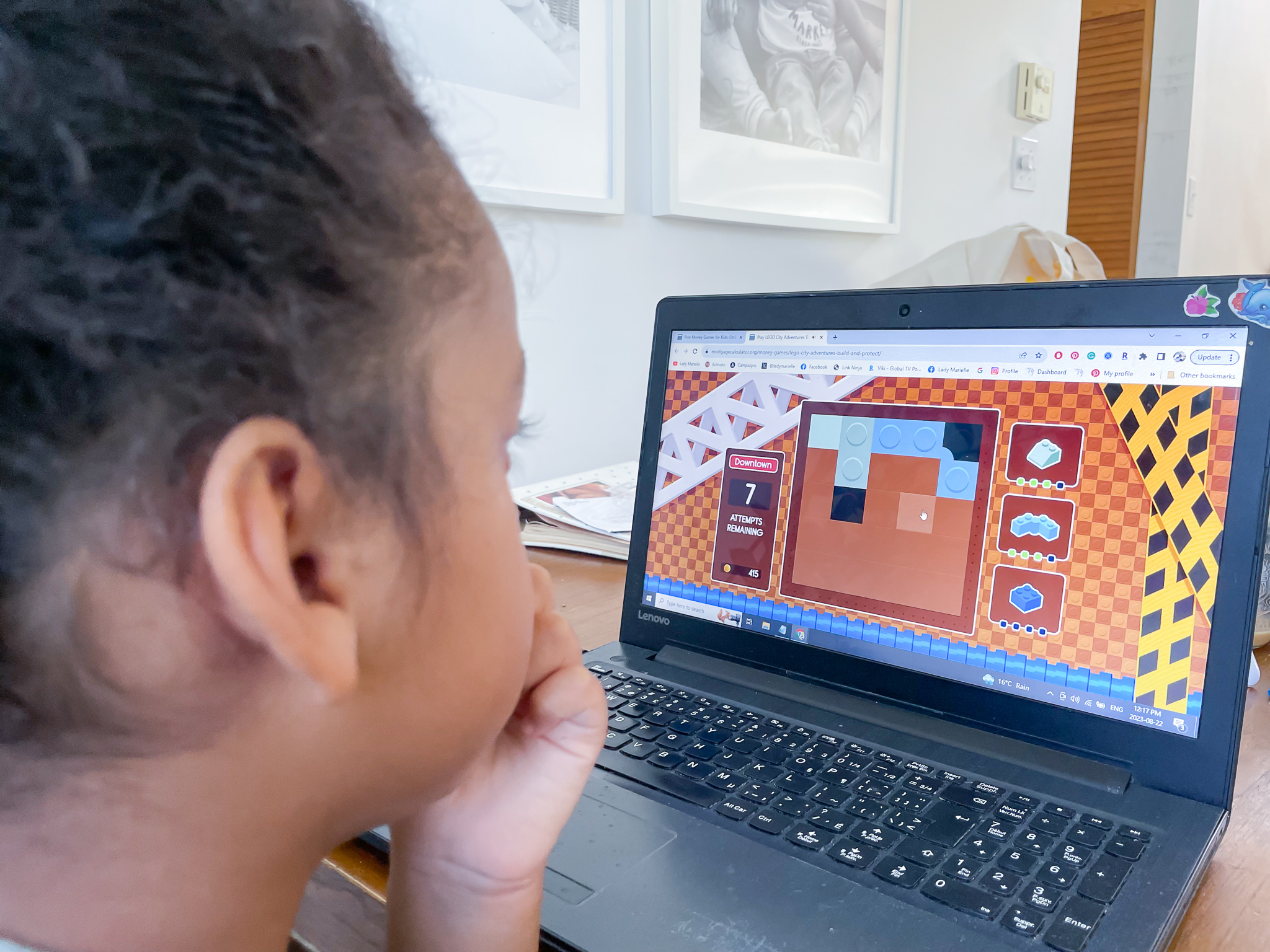 Learning Through Play
Free online financial video games bridge the gap between entertainment and education. They enable kids to learn valuable money management concepts in a playful environment. These games present financial scenarios and challenges that encourage critical thinking, decision-making, and strategic planning.
Real-Life Simulations
Many financial video games simulate real-life financial situations, providing kids with a safe space to practice money management skills. From budgeting to saving and investing, these games allow kids to make virtual financial decisions and witness the consequences, preparing them for real-world scenarios.
Hands-On Experience
The hands-on experience offered by these games goes beyond theoretical knowledge. Kids actively participate in managing virtual money, making financial choices, and observing the outcomes of those decisions. This experiential learning approach helps concepts stick better in their minds.
Building Financial Literacy
Financial literacy is a fundamental life skill, and starting early is key. Free online financial video games introduce kids to financial terms, concepts, and strategies in an accessible and enjoyable way. As they progress through the games, they become more comfortable and confident with financial jargon and practices.
Goal Setting and Patience
Many financial games involve setting goals, saving up for them, and practicing patience. Kids learn that financial success often requires delayed gratification and consistent effort. These games instill a sense of responsibility and discipline in managing resources to achieve long-term objectives.
Fun Learning
Perhaps the most significant benefit of all is that kids genuinely enjoy playing these games. Learning through enjoyment enhances retention and understanding. Instead of viewing financial education as a chore, kids see it as an exciting opportunity to explore new concepts.
Family Engagement
These games can be a great way to involve the whole family. Parents can play alongside their kids, offering guidance, insights, and encouragement. This shared activity strengthens family bonds while providing practical financial education.
Financial video games for kids offer a fantastic way to impart crucial money management skills in an engaging and interactive manner and Mortgage Calculator has plenty of that. They offer dozens of fun, free and ad-free online video games for kids across the following categories:
Real Estate Games
Money Games
Cryptocurrency Games
Farming Simulation Games
Grocery Store Games
Restaurant Simulation Games
Business Simulation Games
Software Development Games
Office Politics Games
Environmental Games
Other Fun Games
Whether it's learning about budgeting, saving, investing, or making informed financial decisions, these games provide a stepping stone toward a financially savvy future.
Be sure you are subscribed so that you don't miss a thing!
Let's connect!
Twitter | Facebook | Instagram | Bloglovin
This post was proofread by Grammarly.