Whether you have granite or natural countertops, one thing remains true; you want them to look fabulous forever. Today I've partnered with Granite Gold® to bring you five tips on how to keep your granite & Natural-Stone countertops fabulous!
5 Tips On How To Keep Granite & Natural-Stone Countertops Fabulous!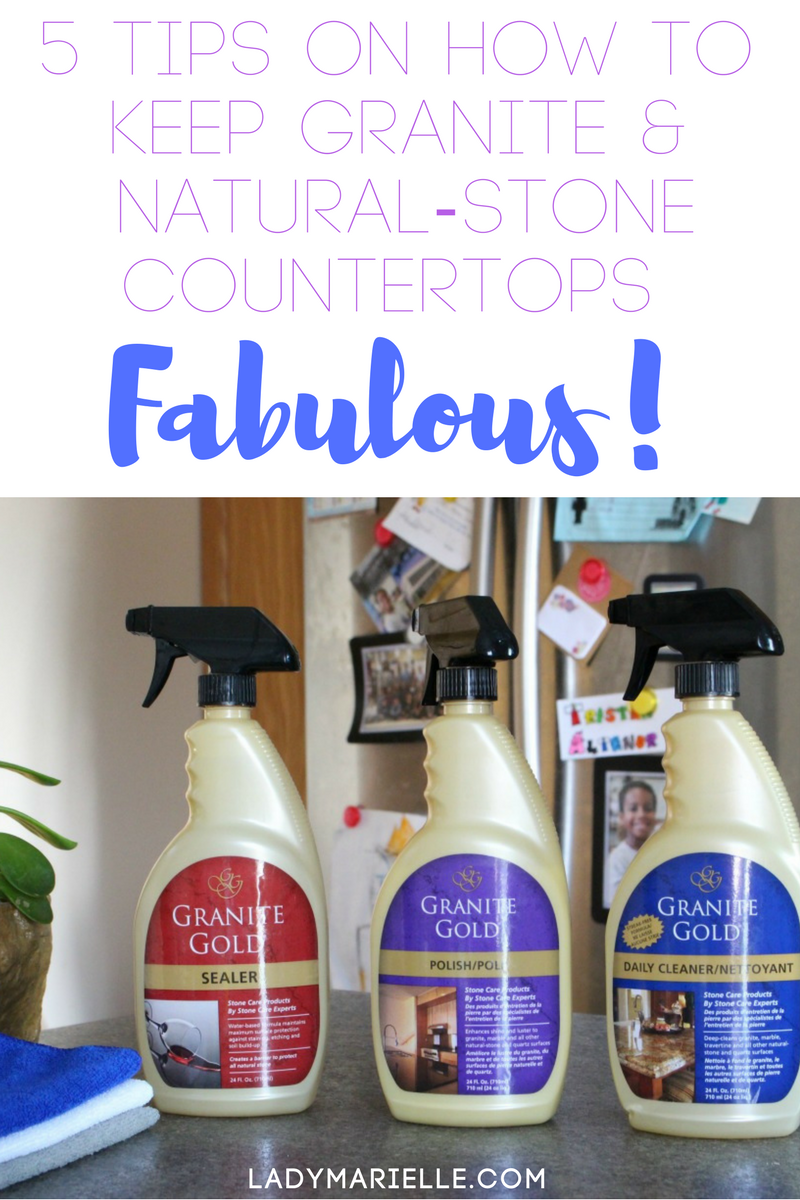 Granite and natural stones are usually the first choices when it comes to choosing a material for countertops. With the countless color options and their durability, they are a great investment when it comes to kitchen upgrades. But no matter how durable they are, you have to give them proper care for them to last longer and stay looking fabulous for years to come.
Use placemats under hot pots and pans.
Even though granite countertops are heat resistant, avoid putting hot pots directly on them. You can get some inexpensive cork placemats at the dollar store.
Clean Your Countertops daily
I cook nearly every day, which means cleaning daily is a must. To keep your countertops looking fabulous, make sure you wash them after every meal!
Avoid using regular household cleaners on your countertops
When it comes to properly cleaning your granite countertops, you have to avoid using products such as bleach and glass cleaner. Granite Gold® Daily Cleaner deep cleans granite, marble and other natural stones safely. It is non-toxic, non-acidic and contains no ammonia or phosphates.
Use a soft cloth
Use a soft non-abrasive microfiber cloth. They are tough on dirt but won't scratch your beautiful granite countertops. Which is great since you'll have to use them daily.
Use Granite Gold® 3-step process
To keep your granite and natural stone countertops beautiful, you have to include the Granite Gold® 3-steps process: Clean daily, Seal, and Polish.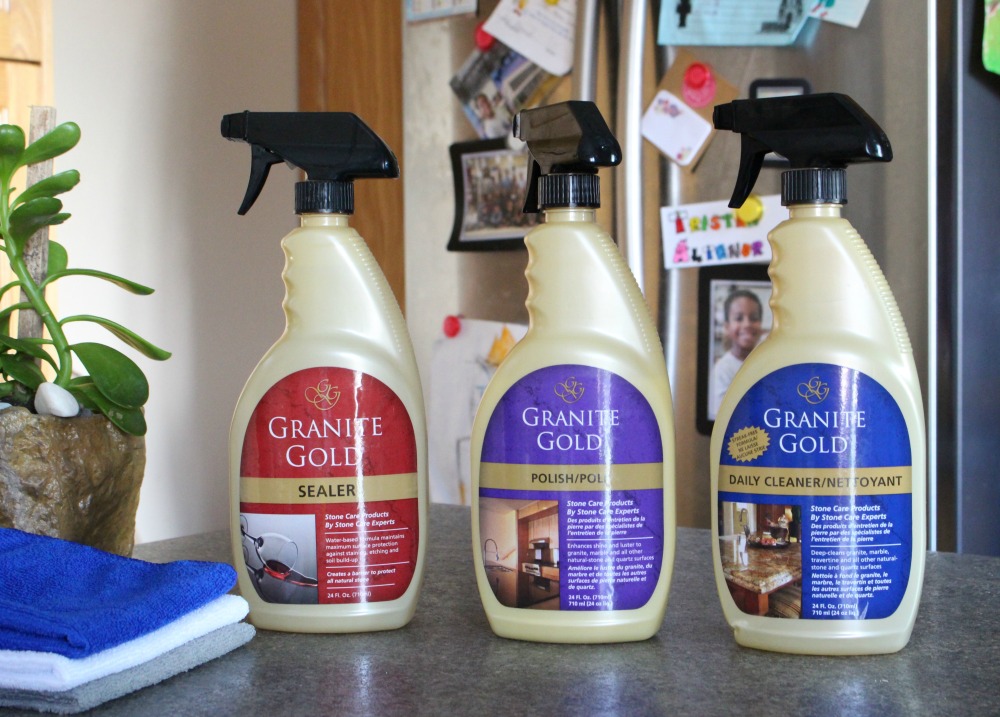 Like I mentioned earlier, the Granite Gold® Daily Cleaner is tough on stains AND non-toxic. Just spray and wipe dry with a microfiber cloth. Once the countertops are dry, use the Granite Gold® Sealer following the directions on the label. The Sealer is perfect for protecting granite countertops against staining.  24 hours after using the Sealer, use the Granite Gold® Polish to enhances the shine and luster of your granite countertops.
About Granite Gold®
Granite Gold Inc. Is a family company with a long history of stone care expertise that spans three generations, dating back to the 1950s. Co-founders and cousins Lenny Sciarrino and Lenny Pellegrino grew up in the family business, manufacturing, installing and restoring stone surfaces in homes and businesses throughout southern California.
[Tweet "Want you granite countertops to look fab for years to come? Follow these #tips! @GraniteGold #ad "]
Following these tips and using Granite Gold® 3-step process will surely keep your granite countertops fabulous. Got some tips of your own? Share them in the comment section.
Granite Gold® products are available at Bed Bath & Beyond, Winner's, Home Sense, Amazon.ca. Visit GraniteGold.ca to find a store near you.
Be sure to subscribe to my blog for an update when a new post is live!